Unwind with trendy minimalism
By Tarini Pilapitiya
A graduate of Moratuwa University Tharani Kumanayake unveils her maiden collection, Metanoia
View(s):
Is less more? Tharani Kumanayake certainly thinks so as she explores and captures the concept of "meaningful minimalism" with her debut collection "Metanoia".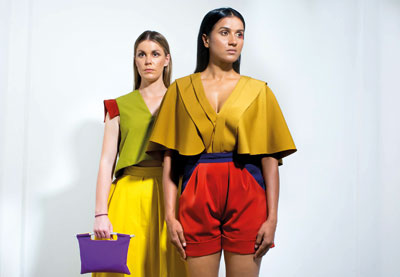 A product of the University of Moratuwa's Textile and Clothing Technology Department, Tharani's "Metanoia" (the Greek word meaning the journey of changing one's mind, self and way of life) emerged from recurring ideas throughout Tharani's four-year stint at university. Although colour blending had according to her, not been her strong point, she was bold with the colours in her collection with combinations of bright yellow and green with a dark orange, a mix of vivid orange and dark purple, mustard yellow and azure blue.
For her research Tharani hypothetically attached her brand to British-Swedish minimalistic fashion brand COS (Collection of Style) whilst also hypothetically catering to target consumers in the US known as 'experientialist minimalists'. Metanoia was aimed as a solution to assist millennials pivot from their stressful, complicated lifestyles and instead focus on the calming advantages of meaningful minimalism.
Her love for architecture and living spaces has also crept into the concept. "An interior space is the best place for someone to come and unwind, ease the weariness of their mind and relax," Tharini shares, commenting that she was greatly inspired by minimalist interior designs to connect Metanoia to the modern lifestyle.
The uniqueness of her collection is in the finer details, seen for instance in the interior design technique of an open flow method, avoiding unnecessary seams and creating seams hidden with functional elements (e.g. pockets).
The architectural aesthetic of the six outfits in her collection has also allowed her to create new designs from an innovative experimentation with the "flow of fabric".
"I first discovered techniques by watching existing minimalist designers play with their fabrics," she says, talking of designers like "Jil" Sander.
"I found that simple geometric shapes combine with the concept and inspiration and further discovered that these shapes could be used to form intricate folds, drapes and pleats without using excessive details or visually complex darts and seams," Tharani comments presenting us the sizeable portfolio of her final research.
The design stages feature a unique approach of using 2D and 3D creative pattern-making with a formal cutting method creating timelessly classic yet contemporary fashion ensembles.
"People think minimalism is lazy or boring but it's not!" she exclaims. "It's a lifestyle." A past pupil of Visakha Vidyalaya and the only girl in a family of 6, becoming a fashion designer was never in her plans for the future. She did Commerce for her A'levels and a course at AAT (The Association of Accounting Technicians of Sri Lanka before taking a leap into the world of fashion at the University of Moratuwa.
The loose structure of her design shapes is also a nod to her past research, a now published journal article on "Enhancing Feminine Look Through Optical Illusion" touching on the harmful effects of shape wear.
Even the simple accessory that complements her collection, the synthetic leather bag held firmly by the models, holds sentimental meaning. "They were made by my father," Tharani shares, recalling the midnight oil she and her father, Uchith burned throughout the months leading up to showcasing her collection. She also had a flood of support from her family and adds, "I couldn't also have ever visualized this concept without the help of all my lecturers and my friends."
And what lies ahead? "I don't want to limit myself," Tharani says, talking of plans to learn graphic designing.
Her preference for natural, relatable representations of beauty and fashion is clearly seen in her simple yet tasteful loose clothing and makeup-free face. Embodying the concept of Metanoia herself is crucial to this designer as "an outcome is difficult to obtain when you can't project what you believe into your own lifestyle". "I hate feeling stressed; I always look for something new and fresh and refrain from being competitive," Tharani says, hopeful that Metanoia can bring a peace of mind to an onlooker because "if someone sees my styles and likes them then that's all that matters."
Models : Kirsty Nicole and Ama Hettiarachchi
Make-up: Shimme Perera 
Photography: Sanjaya Vithana
Location: Chartered Architect Kumudu Munasinghe's home