Of strangers' tales
By Joshua Surendraraj
View(s):
As the saying goes, one must "never judge a book by its cover." But it's only human to do just the opposite of that. For instance one may look at a man idling and think that he's simply lazy and going nowhere in life. But maybe he has fallen on hard times. Despite what one may percieve about someone, things aren't what we make them out to be.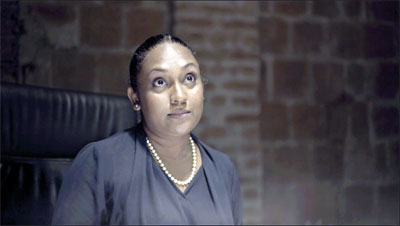 'Pavements' the newest short movie produced by Life Broadcasting Production and directed by Rajeev Colton and Kavindu Sivaraj, screened recently at the National Film Cooperation, touches upon this sensitive topic.
The film follows three independent short stories which are based on true stories. They are all connected by the tagline "we are all strangers with our own things going on."
Making movies has been a passion for Rajeev and Kavindu. They also directed and produced 'Aiya,' a short film that was nominated, in April 2017 as one of the top ten films at SATO 48 (Springfield and the Ozarks), an annual film competition based in Springfield Missouri.
But 'Pavements' is by far their toughest challenge to date. Rajeev tells us that breaking into the film industry in Sri Lanka is no easy task and the only way to do it, is to have done a few projects.
The short film 'Pavements' is the pair's first project.
The idea had hit Rajeev last December, just as he was driving home one day. He has always had the tendency to store different stories of people in his mind. This is because of his passion to work with true stories.
However, having an idea, is simply not enough. Rajeev explains that you'd still have to decide on how you'd implement this idea, especially if you're a student fresh out of University and are working on a tight budget. But no matter how tough it got the work was thoroughly enjoyable, he says.
At the screening a smiling Rajeev and a slightly shy Kavindu patiently waited till the audience took their seats.
"Wow I haven't done this since school," Kavindu is the first to speak. He goes on to relate that they had begun shooting 'Pavements' five months ago and had been at it since. He is quick to hand the mike to Rajeev, who testifies, "God is the reason why I do what I do and all the glory goes to him."
The beauty of 'Pavements' lies not only in the excellent cinematography skills of the production team, but in the simplicity of its stories and its ability to build a connection between the characters and the audience.
The stories were everyday problems that life throws at us. But these are relative issues that one would chose to turn a blind eye to and judge from afar, if you were not affected by it. The beauty of the cinema however, is its ability to portray these issues in a different light, where one would become the spectator instead of the driver. Viewed from this angle, it changes one's perspective and this what 'Pavements' is out to achieve.
Rajeev has always taken a lesson from every movie he has watched and this is just what he wanted from the short film as well. But "I didn't want people to just find one message from the movie. For example I didn't want it to be based solely on gender discrimination etc, rather I wanted it to be about life as a whole," he explains.
He adds, the main characters in the film felt like giving up when life just didn't seem to go their way. Nevertheless, they pushed on. "To the people who are dealing with something right now, keep pushing on because by not giving up you'd inspire another person."
As for the furure Rajeev and Kavindu together with their team o wish to enter their short film into a film festival in the near future.
For more updates follow their Instagram feed on @kavindusivaraj and @therajeevcolton