Mamma Mia! in Colombo this December
Global smash-hit musical
View(s):
Colombo's up and coming lifestyle hub will present the internationally acclaimed musical "Mamma Mia!" for the first time in South Asia this December. The theatrical production will feature entertainers and performers from London's West End for local theatre and performing arts lovers, here in Colombo.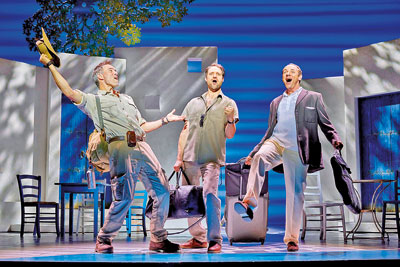 Mamma Mia! is a longstanding favorite enjoyed by over 60 million theatre and music lovers across 440 cities worldwide. It became the 9th longest running show in Broadway history when it closed its 14-year run in 2015, and is presently listed as the 7th longest running show in London's West End as at 2018. The production will run from the 22nd – 30th December 2018 at the Nelum Pokuna Mahinda Rajapaksa International Theatre and will resemble the West End production of the musical, allowing Sri Lankan theatregoers to experience globally acclaimed talent, technique and technical prowess coming together to result in a theatrical masterpiece.
The international ensemble and talented leads will be part of a 75-member strong cast and crew from global production house LittlestarServices Ltd., and will present a total of 10 shows in Sri Lanka. Well-established leading lady and West End star Shona White plays the lead character Donna Sheridan, while British stage and screen actress Lucy May Barker from the famed movie 'Women in Black' plays Sophie Sheridan, the daughter. Theatre and television actress Lottie Henshall as Lisa and Leisha Mollyneaux of 'National Theatre Live' fame as Ali are just a few of the internationally celebrated artistes that will be taking the stage in Colombo come December.The musical is expected to play a crucial role in becoming one of the biggest holiday season attractions in Colombo this year.
"What better way to add some nostalgia and entertainment to the Christmas holidays? Understanding the rapidly transforming lifestyle of our patrons and of tourists and expats who are looking for more engaging, memorable experiences during the year-end holiday season has helped us set a benchmark in Sri Lanka's arts and entertainment offerings this year," stated Dileep Mudadeniya – Vice President John Keells Group and Head of Brand and Marketing – Cinnamon Hotels & Resorts and CEO Cinnamon Life Mall. "We are elevating Colombo into a regional cultural hub that has the resources, infrastructure, experience and capacity to host international artistes, events and productions that can be experienced by both local patrons and foreign visitors alike. Cinnamon Life will be the hub for all this activity and entertainment in the very near future"
Tickets for the musical are available across four different seating categories, and are priced at Rs. 7,500, Rs. 10,000, Rs. 15,000 and Rs. 20,000. For more details or ticket reservations, please contact +94 71 711 8111 or drop an email to events@cinnamonhotels.com. Tickets can also be booked online at www.cinnamonboxoffice.com.
Cinnamon Life presents Benny Anderson and Bjorn Ulvaes' West End production of Mamma Mia – In Association with HSBC Premier and Sri Lankan Airlines.
Banking Partner – HSBC, Conceptualized by Cinnamon Hotels and Resorts, Outdoor Media partner – Emerging Media, Cinema partner – Scope Cinemas, Delivery partner Grasshoppers, Photography Partner – Sagara Lakmal De Mel Photography and Booking Engine Partner Book My Show.