An Unforgettable evening of dance and culture
Madhura Madhura Krishna…- Bharatanatyam and Odissi recital
View(s):
A Bharatanatyam and Odissi recital- 'Madhura Madhura Krishna' was performed by Thushyanthy and Gayathri to mark Krishna Janmashtami on September 2 at Saraswathy Hall, Bambalapitiya.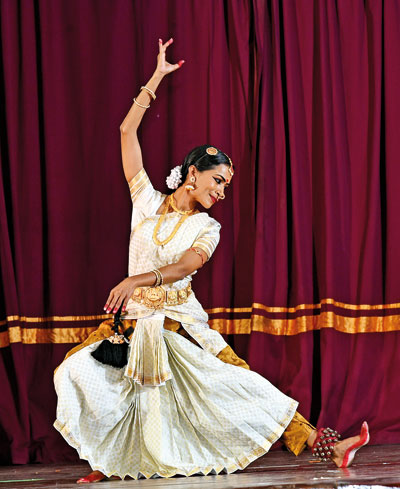 The chief guest Resettlement, Rehabilitation Northern Development and Hindu Religious Affairs Minister D.M.Swaminathan observed that these ancient traditional art forms should be protected and promoted as they have paved way to bring in unity, exchange knowledge and creat harmony through cultural diversity. The special guest Mrs. Stéphanie Périllard, Chargé d`Affaires a.i. of Switzerland stated that she was very much fascinated by these traditional dance forms which have been developed with much creativity and rhythmic footwork. She also highlighted how it has been carried to different countries through migrant diaspora and created much impact in relationships and peace building.
The two dancers Thushyanthy and Gayathri are management professionals continuing their passion for dance through a variety of performances. Thushyanthy presented the story of Krishna when he entered the arena to confront the cruel king Kans and the views towards him by the people sitting around there and Gayathri presented structural movements of oddissi.
Thushyanthy is an enthusiastic Bharatha Natyam dancer sharing her experiences through a variety of creative performances and thematic presentations. The talented dancer has learned Bharathanatyam from eminent gurus smt. Rathika Mahadeva(OZ) smt. Nalayini Rajadurai (UK) and at present, she is under the guidance of Guru Prof. C.V Chandrasekhar (India). She has undergone trainings and participated seminars and workshops conducted by experienced artistes in the field. She has performed in thematic presentations such as "Sat Chit Anand", "The Story of a Sculptor", "Sathyam Shivam Sundaram" "Raja Yoga and Natya", "Shivamrutham", "Bharatha Sankalpam", "Ma, you are the Divine" Ananda Isai Narthanam etc., on many occasions in Sri Lanka, India, and Malaysia. Her involvement in art to create harmony and peace was recognized and appreciated in one of the cultural collaboration events "Wir Sagen Danke" held in Switzerland.
Gayathri Gopal is an Odissi dancer from Singapore. She started her Odissi training under Raka Maitra in 2008. Ever since then she had been part of many performances in Singapore choreographed by Raka Maitra, notably "You Cannot Look Away" at blackbox national library, "From the Platform" and "Rasas" at Esplanade theatre. She has also had the privilege to attend several workshops conducted by eminent exponents of Odissi such as Ratikant Mohapatra, Madhavi Mudgal & Daksha Mashruwala. Gayathri juggles multiple roles as a dancer, entrepreneur, craniosacral therapist and actor. She holds a bachelor degree in business management and a masters in innovation from Singapore Management University. She was chosen as best actress at the NEZ International film festival.