Arrest of military top brass: President irked by indefinite detentions pending trials
By Our Political Editor
View(s):
Sirisena calls emergency Cabinet meeting to express concern over plan to arrest  former Navy Chief and CDS
JHU also opposed to arrest and long detention of security forces personnel
Cabinet approves new Counter-Terrorism Bill, but Wijeyadasa Rajapakshe wants a change
Aninety-minute emergency Cabinet meeting Thursday appears to have muddied the waters for the coalition, just days ahead of President Maithripala Sirisena's New York visit to address the United Nations General Assembly.
As is well known, for the UN, a major focus on Sri Lanka has been through one of its key agencies, the Geneva based Human Rights Council (UNHRC). A United States backed resolution in September 2015 over alleged violations of international humanitarian law and war crimes, both by troops and Tiger guerrillas, still remains a threat. That Sri Lanka co-sponsored this resolution, adopted unanimously, acknowledged the need to probe issues and initiate action. It became a sovereign pledge no matter whether the course of action was wise or not. It was further concretised by assurances from ministers and officials during their interactions with UN officials and western governments.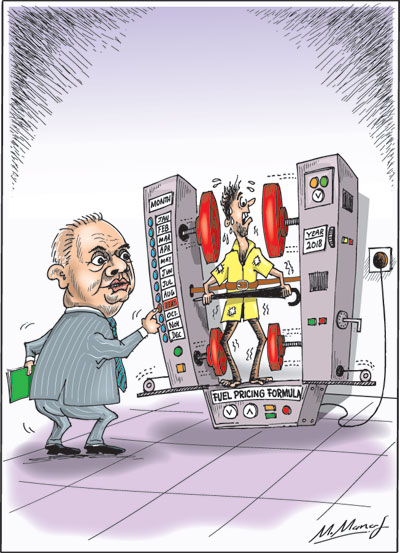 Despite periodic complaints from them, the government has, in the past three and half years, assured that many measures have been adopted and more are on the way. A milestone in this regard is the setting up of the Office of Missing Persons (OMP) to look for those who have disappeared and to issue "missing certificates" that are legally binding.
Among other measures, particularly in respect of the commitments made, are the following issues:
Sri Lanka to investigate all alleged attacks by individuals and groups on journalists, human rights defenders, members of religious minority groups and other members of civil society, as well as places of worship, and to hold perpetrators of such attacks to account and to take steps to prevent such attacks in the future;
To sign and ratify the International Convention for the Protection of All Persons from Enforced Disappearances without delay, to criminalise enforced disappearances and to begin issuing Certificates of Absence to the families of the missing as a temporary measure of relief;
To review the Public Security Ordinance Act and review and repeal the Prevention of Terrorism Act and replace it with anti-terrorism legislation in line with contemporary international best practices.
State investigative agencies have been probing many cases which come within the ambit of the US backed resolution after Sri Lanka gave the UNHRC many assurances. Matters related to some specific cases became the subject of close scrutiny by UN Rapporteurs, western nations and even the London-based Global Tamil Forum (GTF), a group that has been taking an active interest in Tamil-related issues. Hence, there is lengthy documentation on the progress or otherwise of such probes with foreign governments and UN bodies. Thus, they are able to hold the government answerable.
Just last Tuesday, the Cabinet approved a 77-page draft Counter Terrorism Law presented by Foreign Affairs and Development Assignments Minister Tilak Marapana. This was in the absence of Prime Minister Ranil Wickremesinghe who was in Viet Nam attending the ASEAN's World Economic Forum. Higher Education and Cultural Affairs Minister Wijeyadasa Rajapakshe raised strong objections to a clause which said statements made to the Police were inadmissible before courts. He argued that even in Britain, it was not so.
When reminded that the European Union has made such a request (part of the prelude to the restoration of the GSP plus tariff concessions), he asked why they should single out Sri Lanka. He also said that the provision was inconsistent with other prevailing Sri Lankan laws. Sirisena noted that there cannot be two different positions in statutes and said that the draft could be approved with a proviso to state that an amendment would follow. Such a change is to be made when the Counter Terrorism Bill reaches the Committee Stage of the debate in Parliament.
It is in this broad backdrop, ministers received telephone calls late Wednesday afternoon about an emergency cabinet meeting at noon on Thursday. Sirisena was reminded that Premier Wickremesinghe was away from Sri Lanka and to await his return. However, he felt the matters were of such particular national importance not to wait for the Prime Minister's return. No reasons were given to ministers and their telephones became busy. One was trying to find out from another why an emergency meeting just 48 hours after the regular Cabinet meeting had taken place. It soon transpired that it was over matters related to the impending arrest of Chief of Defence Staff Admiral Ravindra Wijegunaratne. Sirisena has also been concerned that senior military officials were being taken into custody, held in remand for many months and released later with no charges being filed against them.
In fact, on Tuesday evening, at a meeting he sounded a note of caution over the arrests of senior officers like Admiral Wijegunaratne. Among those in attendance were Justice Minister Thalatha Athukorale, Higher Education and Cultural Affairs Minister Wijeyadasa Rajapakshe, Foreign Minister Tilak Marapane, Police Chief Pujith Jayasundera. DIG (CID) Ravi Seneviratne, CID Director Shani Abeysekera, and officials from the Attorney General's Department. He said courts should be made aware of such matters by the Justice Minister. The ministers backed Sirisena. He was strongly critical of the Police and the Attorney General's Department and did not mince his words.
The President also made reference to the same matter when he spoke to heads of media institutions on Friday. His media unit said in a better crafted English statement that "pointing out some shortfalls in the investigations conducted since 2015 on attacks of journalists and other civilians, abductions and killings, he said, although several persons were detained in this connection, not a single person has been charge-sheeted or prosecuted. Although military officers have been detained and placed under remand custody, there were no cases filed and such actions merely bring bad reputation to the government, he pointed out. The President said that he had given instructions in a stern manner to the officials of the Criminal Investigation Department and the IGP in this regard."  He had met heads of state media institutions on Thursday.
Though set to begin at noon, the Cabinet meeting did not get off the ground until 12.30 p.m. It started with a 45-minute speech by President Sirisena. The preamble was an emphatic request from ministers present that they should not leak to the media about what was being discussed. He kept repeating this caution many times during his speech.  He referred to some specific cases under investigation and on matters related to what he perceived were threats to national security.  Other than these two aspects, some details of what transpired at the meeting were reported in Friday's media, both print and electronic. The importance here is that such matters, which are of significance to the public after the coalition's election pledges, cannot be kept in the dark. Instead, that would have been a good task to be articulated by a spokesperson both for the local and international community if misapprehensions were to be avoided.
The crux of his speech was to illustrate his concern on the longer periods military officers were being held in remand custody. He cited the cases of two of them. One was a former Sri Lanka Navy spokesperson, Commodore D.K.P. Dassanayake. He is one of those arrested over the disappearance of eleven Tamil and Muslim civilians in 2008. This arrest in particular was made just ahead of UN Special Rapporteur Ben Emmerson's visit to Colombo in July. Emmerson, in his preliminary report referred to Dassanayake's arrest in connection with the alleged disappearance of the eleven persons. Moreover, one of the many conditions by the EU for the restoration of GSP plus tariff preferences was to probe into the disappearances of the eleven civilians. That a probe was under way helped.
Yet, Dassanayake was not the one who has had the longest sojourn in remand. That dubious honour went to retired senior DIG Anura Senanayake, the confidant of former Defence Secretary Gotabaya Rajapaksa. He was in remand for more than a year. Sirisena said that Dassanayake was in remand for more than eleven months before being granted bail. Another, he said, was retired Major General Amal Karunasekera, who was once the Director General of Military Intelligence (DGMI). This was when the then Lt Gen Sarath Fonseka was the Commander of the Army. Maj. Gen. Karunasekera was taken into custody by Criminal Investigation Department (CID) detectives during their probe into the abduction and assault of the now defunct The Nation  newspaper's Associate Editor Keith Noyahr. He fled to Australia and now lives there. Detectives say that he was held in an MI safe house in Pugoda and was tortured.
Sirisena also referred to the case of Chief of Defence Staff (CDS) Admiral Wijegunaratne, the senior most serving military official who heads the apex of the unified operational command of the Army, Navy, the Air Force and Police.  He was earlier the Commander of the Navy. He had been asked to report to the CID headquarters on September 11. CID sources said a statement was to be recorded and he was to be later produced before the Colombo Fort Magistrate Lanka Jayaratne. The Magistrate had issued an order on August 29 for the arrest of Admiral Wijegunaratne if indeed the CID possessed evidence. On Friday night, the Government Information Department said in an official statement that the CID had no plans to arrest Admiral Wijegunaratne but had only wanted a statement to be recorded. It did not refer to the order made by Magistrate Lanka Jayaratne to the CID.
Admiral Wijegunaratne left Colombo past midnight signalling the dawn of Tuesday September 11 on a visit to Mexico. That is on the very day he had been summoned to appear before the CID. He had informed the CID only on late Tuesday afternoon that he would make a statement upon his return on September 19. The CDS was representing Sri Lanka at Mexico's Independence Day.
According to the Mexican government's website, the event was on September 16 (today) where there are parades and civic ceremonies. Sirisena also told ministers that the CDS would be making a statement to the CID upon his return and added that the arrests of senior officers and remanding them for long periods were unfair. He said he was the Commander-in-Chief of the Armed Forces and Minister of Defence. Yet, he had not been told about his impending arrest by the Police. He was strongly critical of the Ministry of Law and Order. He added that if indeed there was evidence against Admiral Wijegunaratne, a case should have been filed. He said as a result of this, the security forces were getting a bad name and so did the Government from the troops. In a remark that suggested that he had spoken on the telephone with Wickremesinghe in Viet Nam, he said even the Premier concurred with him.
However, other UNP sources said it was Highways and Road Development Minister Kabir Hashim who had telephoned Premier Wickremesinghe, not the President. The same sources said the UNP ministers were of the view that they should avoid taking any decision on matters relating to the Admiral Wijegunaratne affaire since they did not wish to make themselves liable for any contempt of court issues.
President Sirisena's concerns over prolonged detention of military officers cannot be dismissed outright. There have been known instances where Army officers have been arrested by the CID and later remanded for longer periods. Some of them, it was established, were cases where persons were arrested and detectives had gone looking out for evidence only thereafter. In one such case, a DIG and a Director of the CID were once found guilty by the Supreme Court which imposed fines on them.
They held that the arrest of an Army Major as a suspect in the Bindunuwewa prison massacre on October 4, 2000 was illegal. Twenty-six Tamil prisoners were killed in a low security prison. Though the previous government first claimed it was a riot by prisoners, some Police officers were later charged for alleged murder. However, they were acquitted by the Supreme Court. Efforts to reach Senior DIG (CID) Ravi Seneviratne to seek his response to such accusations even now failed. He did not respond to messages and telephone calls. Occasionally an aide said he was at "a conference."
Also adding to Sirisena's concerns were highly repugnant and damaging remarks Minister Field Marshal Sarath Fonseka made publicly over the much respected Army Commander Lt. Gen. Mahesh Senanayake. He called him a bald Idi Ameen — an accusation that was received with revulsion in high military circles. The Ministry of Defence, already in the doldrums, did not think it fit to rebut the claim or initiate any action.
The only exception was a statement by state Minister for Defence Ruwan Wijewardene. He condemned retired military officers directing criticism against those in service. Lt. Gen. Senanayake, since assuming office, has had a praiseworthy impact on his officers and men. He regularly visited camps countrywide to ascertain living conditions of soldiers. That a former Army Commander was making such disparaging remarks on a successor has not gone down well with officer cadres in particular in the security forces.
Nor did the United National Party (UNP) of which Fonseka is now a member react. There are many examples of how slow and even tardy the UNP is when it comes to such issues. Once Minister Deva Manoharan Swaminathan proposed that compensation be paid to Tiger guerrillas and their next of kin who were engaged in the separatist war. He, in fact, submitted a cabinet memorandum. State Minister Vijayakala Maheswaran wished the return of the LTTE to ensure law and order in the Jaffna peninsula. Sirisena did not refer to Fonseka by name and the Field Marshal was absent at the emergency meeting. There was heavy pressure on Sirisena to strip Fonseka of the rank of Field Marshal – a title conferred on him by the President after he was voted to office. Fonseka pledged his support to him.
There are also numerous instances where security forces personnel have remained remanded with investigations remaining incomplete. In other words, such instances were not only under the present coalition. One such case is the arrest of Colonel Ranjith Perera of the Gemunu Watch in 2009. Still in custody, Col. Perera had been allegedly involved in a conspiracy to assassinate the then President Mahinda Rajapaksa. He had provided an Army uniform and had also been re-imbursed by the LTTE for purchasing a van for five million rupees.
The assassination was to be carried out when Rajapaksa visited the cantonment town of Diyatalawa.  He had allegedly transported a Tiger guerrilla suicide cadre in his official vehicle on dry runs. Detectives claim they uncovered evidence that slain guerrilla leader Velupillai Prabhakaran had gifted a pistol to this officer. At the time of his arrest, a large bagful of local currency notes had been found at his residence. On that occasion, a senior CID official said, the Army Headquarters was informed after the arrest had been made.
The need for CID detectives to question Admiral Wijegunaratne came about after the arrest of a former Navy intelligence officer, Hettiaratchchi Mudiyanselage Chandana Prasad Hettiaratchchi. Described as the main suspect in the alleged disappearance case, he had fled to Malaysia. He had later returned under another name. CID reported to Fort Chief Magistrate Lanka Jayaratne that Rs 500,000 had been paid by the Navy to Hettiaratchchi who had been transported to outside Sri Lankan territorial waters in a navy patrol craft. He had then boarded another vessel.
When he was Navy Commander, CID detectives told Magistrate Jayaratne, there was evidence that Admiral Wijegunaratne helped the main suspect to evade arrest. They also alleged that he had destroyed evidence, aided and abetted in a murder suspect escape. On a previous occasion Magistrate Jayaratne noted publicly that there was no impediment for the CID to arrest the former Navy Commander if there was evidence since no one was above the law.
Interesting enough, the complaint against another Navy officer was made to the CID in 2009 by the then Navy Commander Admiral Wasantha Karannagoda.  He said this officer was responsible for the disappearance of the eleven persons. The probe had remained in limbo and was reactivated after the coalition was voted to power. Then it took a new turn. CID detectives insist that Admiral Wijegunaratane is in "no way" implicated in the abductions or murders.
Of the missing eleven persons, five were allegedly taken into custody on September 17, 2008 by navy personnel along with a black Tata Indica car. Police have identified them as Rajiv Naganathan (21 years –Colombo 13), Pradeep Vishvanathan (18 years -Wasala Rd, Colombo 13), Mohammed Sajith (21 years – Dematagoda), Thilakeswaram Ramalingam (17 years – Bloemendhal housing complex – Colombo 13) and Jamaldeen Dilan (Maradana).
The remaining five persons are Kasthuriarachchilage John Reid (21 years Kotahena) Amalan Leon (50 years, Arippu, Northern Province)) and his son Roshan Leon (21 years), Anthony Kasthuriarachchi (48 years – Kotahena) and Kanagaraja Jegan (32 years- Trincomalee).
After Sirisena's speech, the remaining 45 minutes were taken by different ministers expressing their points of view. One voice said the eleven were either Tiger guerrillas or those who helped them. Mangala Samaraweera, a former Foreign Affairs Minister, argued that investigations of security forces and even Police personnel were salutary. He said such action inspired the public and was also appreciated by the international community on the grounds that the government was acting against complaints. In fact, Samaraweera told the UNHRC in September 2015 that item 93 of President Sirisena's manifesto in the lead up to the January 2015 election said that if elected, he would "address issues of accountability through national independent judicial mechanisms."
Samaraweera's remarks drew an angry response from Megapolis and Western Province Development Minister Patali Champika Ranawaka. He said the ground realities were quite different. He said that whilst senior officers were being remanded, persons like former Defence Secretary Gotabaya Rajapaksa were successful in preventing his arrest and receiving bail from courts. Ranawaka's Jathika Hela Urumaya (JHU) is set to launch a campaign to prevent senior military officers being taken into custody.
One of the JHU members said they would ensure that Admiral Wijegunaratne is not taken into custody since there is a "conspiracy" behind the move. The JHU is a member of the United National Front (UNF) (albeit the UNP) government. On the other hand, the Tamil National Alliance (TNA) which, though in the Opposition, provides support to the Government, is insisting that the case involving the disappearance of eleven persons is pushed ahead. The dilemma of the TNA is its dwindling number of "achievements" to show its vote base in the north and east where rival groups are gaining ground.
Minister Lakshman Kiriella, Leader of the House, appealed to Sirisena to await the return of Premier Wickremesinghe before any decisions could be taken. Social Empowerment Minister P. Harrison, who appeared concerned about leaks to the media, wanted the matter investigated. He said that if the names of those leaking information were revealed at the Cabinet meeting, they would refrain from doing so. Finance and Media Minister Mangala Samaraweera interjected to say no investigation was necessary. He said that when one reads an account of the cabinet meeting in a media outlet, we can know who has leaked it. In a lengthy statement, Health Minister Rajitha Senaratne claimed that it was because of his efforts, that instances of large scale corruption were being probed.
Most ministers supported Sirisena's view and it was decided that he should, together with Premier Wickremesinghe, formulate the courses of action. Among those who spoke were John Ameratunga, Daya Gamage, and Wijeyadasa Rajapakshe.
The CID, as is clear, has been moving with great caution over investigations into the disappearance of the eleven persons. This explains why it has been reporting to court all important developments and seeking instructions to proceed. This is what prompted even the Magistrate to question why Admiral Wijegunaratne was not being arrested if there was evidence. On the other hand, there has also been heavy criticism on the coalition over not carrying out pledges made to investigate a plethora of cases. That is not only high profile bribery and corruption. That includes several pledges made to the international community. The coalition cannot afford to muddy the waters any further.
There is an altogether different aspect, too. As President Sirisena has been saying, there are weaknesses in the investigative and prosecuting mechanisms. If indeed that was one of the contributory causes, they should have been identified and remedied. The Police Department, after all, is responsible for almost all of the investigations, though important cases are handled by specialised arms, Police Chief Pujith Jayasundera said a drop in efficiency levels came as a result of the Police being burdened with the task of fighting terrorism. The challenges now, he points out, are to upgrade professional training. Of course, it is no easy task for his department. As for the Attorney General's Department, the common complaint has been the lack of sufficient material to prosecute though Police claim investigations were complete. Quite clearly there seems no nexus between the Justice Ministry and the Law and Order Ministry over executing government policy. Making matters worse are credible reports that some investigators have become tainted.
President Sirisena made clear this week that he would place before the United Nations his own proposals to protect Sri Lankan troops. How he hopes to carry this out in the complex world of UN diplomacy is not quite clear. If it is through a speech at the UN General Assembly, the matter will end in New York. If on the other hand, he has been advised by local foreign policy experts to take it up at the higher levels, how it would reach the UNHRC is inconceivable. After all, the UNHRC resolution on Sri Lanka has been adopted by a group of sovereign nations. The UN has no mandate to give directions to the UNHRC to reject or even reconsider a decision made by the latter. Nor does it have a mandate to consider an alternative to the resolution. Whether such a move would lead to more pressure by United States and other backers of the resolution to press hard also remains a question.
For the Police, there are newer realities, too. Hundreds of Army deserters, trained by the state to handle automatic weapons, have joined the underworld. The war led to such weapons falling into the hands of criminals outside the former theatres of war. Crime has become sophisticated and is on the rise.  Until such professional standards are raised, the Government has an unenviable task. More so when the Ministry of Law and Order, which has to play a vibrant role on all these matters, has no sense of direction.