Presidential outbursts and falling through the rabbit hole
View(s):

It is difficult not to be exasperated by the constant bewailing of what is wrong about the functioning of Government institutions by leaders of the Government, no less.

Endless illusions of justice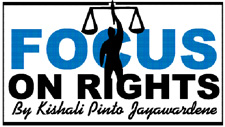 It is almost as if the coalition alliance is perpetually in Opposition mode, a part of which is noisily quarreling with each other and the other part, occupied in reciting a long litany of woes. This is despite the fact that the responsibility for redressing those failures lie only with them, none other. That is until a sadder and sorrier bunch of rascals occupy seats in power, the ghastly possibility of which we saw earlier this month with intoxicated supporters of the Joint Opposition occupying the streets of the capital city.
But at this time, the feelings of bewilderment that assails law abiding citizens in this land must probably be akin to what Alice felt when she fell down the Rabbit Hole. As she ruminated during that fall; 'how curious… I never realized that rabbit holes were so dark . . . and so long . . . and so empty', we can only empathise with that emptiness when dealing with endless illusions of justice, exhibited through a charade of court appearances, startling media headlines proclaiming the imminent arrest of this one or that one while systemic impunity continues with nary a pause.
A case in point concerns the uneasily frequent outbursts of publically displayed annoyance that President Maithripala Sirisena has seen fit to engage in during the past month. It is conceded that a certain measure of understanding is necessary in regard to the predicament that the President finds himself in when messy financial scandals surrounding state institutions erupt as a result of non-governance by the United National Party side of the coalition. But this understanding has its limits nonetheless.
A spluttering anti-corruption process
To be fair, the widely reported Presidential fury over inedible cashews being served to him during a Sri Lankan flight some weeks ago was manifested in the midst of addressing a farmers' meeting in the deep South and in the context of prioritizing local produce which has been a staple of his policies. This context, together with the collateral fact that the supplying of cashews to the national carrier had been given to a foreign supplier rather than sourced domestically, was unfortunately lost sight of by cartoonists and social media satirists engaging in ridiculing this remark.
But other exhibitions of Presidential irritation are not so easily explained away. So when the President warns public officials and politicians not to take bribes and issues a dire threat that he knows why certain projects are not being implemented, directing his focus to the Gin-Nilwala project for example this week, the question arises as to why this knowledge is not constructively directed to the authorities who are statutorily mandated with investigating such allegations in order that this becomes a matter of public record?
We have had Presidents in office before (Chandrika Kumaratunga was one example) making similar proclamations but to little practical effect. Where bribery and corruption is alleged against politicians in power and sitting public officials, the legal process must be enabled to move swiftly and efficiently rather than with spluttering hesitancy and peppered by political pronouncements by the executive. This is what characterizes the highly effective anti-corruption processes of Hong Kong and Singapore for example.
The problem of arrests without charges
Meanwhile, there are far more ominous undertones in President Sirisena's ire directed this week at the Criminal Investigations Department and the Attorney General's Department reportedly for detaining senior military officials without charges being filed against them or statements being recorded from them. At the centre of this furore were reports of the impending arrest of the country's chief of defence staff. The Presidential position taken is that these military officials deserve to be treated fairly.
At its core, this argument is no doubt, meritorious. Sri Lankan law as contained in the Constitution as well as statute and buttressed by the well-established cursus curiae of the  Supreme Court is that deprivation of liberty must only be after due and proper investigation. As the Court has peremptorily declared, no citizen can be 'arrested on vague suspicion in circumstances that shows a reckless disregard for his right to personal liberty' (per Amerasinghe J in Sirisena Cooray v Chandrananda de Silva, 1997). This was a seminal precedent in illustrating the important of the constitutional protection 'elevated' in Article 13(1) to the status of a fundamental principle, namely that each person shall be informed of the reasons for arrest.
And as explained further by the Court, the giving of reasons does not merely mean a citation of the provision under which a person is arrested. Rather, it involves a proper investigations and objective grounds for arrest. In fact, it was judicially observed that when the relevant provision of the Indian Constitution were being discussed in the Constituent Assembly, Dr. Ambedkar who was the 'moving spirit' behind the draft had explained to the Assembly on September 15, 1949 that this was being done because this right was one of the "most fundamental principles which every civilized country follows"
Where is equal outrage in other cases?
That said, it must also be said however that this right attaches itself to all citizens. No special privilege in this regard can be accorded to military officers. So on this same reasoning, the scores of Tamil civilians languishing in remand prison for years without charges being served on them or the pitiful Sinhalese dock labourer who is shoved into prison and tortured without any charges being served on him, are surely deserving of the same Presidential outrage that is directed against military officers who are arrested in similar circumstances. That is what the Rule of Law is all about, stripped down to its bare minimum.
In sum, ensuring that fairness ensues to all citizens in equal measure in criminal investigation and detention procedures is the basic duty of the State. It will be well if this is kept in mind by the executive and the legislative branches in this country. But in the dismal interim thereto, we can only chant along with Alice as she plummeted through the Rabbit Hole and muttered, 'I must be getting somewhere near the center of the earth. I wonder if I shall fall right through the earth! How funny that would be. Oh, I think I see the bottom. Yes, I'm sure I see the bottom. I shall hit the bottom, hit it very hard, and oh, how it will hurt!'
Doubtless the time for Sri Lanka hitting 'the bottom very hard' is none too distant. Certainly the hurt that this will inflict on the nation will be unparalleled, even when assessed against its gritty history.