Nexon after Nano here in Sri Lanka
View(s):
Amidst the widespread Indian media reports recently relating to Tata Motors impending announcement on the discontinuation of low priced car Nano, its local distributor, Diesel and Motors Engineering PLC (DIMO) has launched the company's compact SUV, Tata Nexon in Sri Lanka.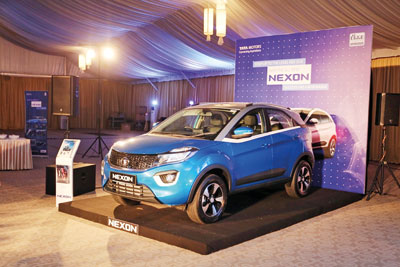 According to latest Indian news reports, Chairman of Tata Group, N Chandrasekaran was likely to announce that Tata Nano would no longer be produced.
The reason is evident as the company hasn't updated the car for new safety norms coming in 2019.
Another reason is the overall entry segment having Maruti Suzuki. Alto, Hyundai Eon and Renault Kwid is shrinking as the first time buyer is moving to the upper segments.
Tata Nexon was the first of the company's latest launches to make its debut in Sri Lanka following the impending announcement of the end of the road for Nano in India.
Tata Motors has also introduced the NEXON with HyperDrive Self-Shift Gears, the AMT version of the vehicle.
Unveiling the NEXON, Ranjith Pandithage, Chairman and Managing Director, DIMO, said, "This is our first big step into the compact SUV segment with Tata Motors, continuing our long-standing relationship with Tata Motors."
He told the Business Times recently that this situation of Tata Nano has arisen owing to the auto model change of the Indian company with a new model coming in as a replacement.
The NEXON in Sri Lanka will be available in six variants (XE, XM, XT, XZ, XZ+, XZA+) and six colours (Etna Orange, Vermont Red, Moroccan Blue, Seattle Silver, Glasgow Grey, and Calgary White).
It will be for sale in 38 DIMO outlets across the island. Launched at a price of Rs. 1.99 million for Petrol and Rs. 4.6 million for Diesel (Permit Holder Prices) for the XZA+ (Top Variant), the NEXON is one of the most popular vehicles from the company's passenger vehicle stable, company officials said.
Setting a new benchmark in safety, the NEXON recently bagged a 4-star adult safety rating by the Global New Car Assessment Programme (Global NCAP), the highest adult safety score (13.56/17.00) amongst all the models tested by Global NCAP in India.
Mayank Pareek, President, Passenger Vehicle Business Unit, Tata Motors said, "Combining contemporary design with best-in-class technology and advance features, the NEXON is meant for those who like to make a unique style statement."