Micro cars changes Sri Lanka's automotive landscape tying up Fortune 500 firms
View(s):
Sri Lanka's automobile sector needs to be improved providing comfort and convenient and affordable passenger transport service and it has prompted Micro Cars Ltd to introduce super luxury buses, low floor city buses for citizens and cars for middle and upper income families partnering with three Fortune 500 Chinese companies in recent times.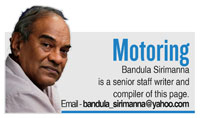 The company plans to assemble electric vehicles (EVs) in collaboration with China's Beijing Automobile International Corporation (BAIC).
With the rapid growth in demand for Electric Vehicles (EV) in the country, Micro Cars will be venturing into assembling the very, first EV in Sri Lanka with BAIC's latest Electric Vehicle EC180 EV.
Micro has also designed a modern economical rail solution in collaboration with ZF Ral Germany, a Fortune 500 company to support the mass transport system of Sri Lanka.
This was disclosed to the Business Times by Dr. Lawrence Perera – Chairman and CEO of Micro Holdings and Micro Cars Ltd when he briefed his company's present status in turning a new chapter in the transportation landscape of the country by introducing an all-new range of green and eco-friendly electric vehicles in Sri Lanka soon.
An automobile engineer by profession with well over 40 years' experience both locally and overseas, Dr. Perera established Micro Cars Ltd many years ago with 20 employees and a small factory.
The aim was to engineer and build Sri Lanka's first truly home-grown automobile and the result was the launch of 'Privilege' which was completely designed and made in Sri Lanka.
Micro tied up with the Koran automobile giant Ssangyong in 2008 and began assembling SUVs in Sri Lanka for the first time with a local value addition.
In 2010 the company tied up with Geely International, also the owner of Swedish luxury automobile brand Volvo Cars. Micro with the tie up with Geely has entered the compact car segment and today is competing shoulder to shoulder with other leading global brands.
Today Micro Cars has partnered with leading passenger vehicle manufacturers namely Geely, BAIC, SAIC (MG brand) all Fortune 500 companies and also with world renowned Bus & Coach YUTONG for public passenger transport with luxury coaches and low floor city buses, full electric and hybrid buses.
BAIC and SAIC have both made major strides in E'mobility, producing passenger vehicles with electric power trains that possess range comparable to the traditional fossil-fuel powered vehicles.
Micro has plans to shortly bring down the electric range of vehicles from these manufacturers, in line with the present eco-friendly policies presented by the government, making environmental friendly sustainable transportation accessible to all Sri Lankans.
It has also partnered with YUTONG buses for well over 10 years on the Sri Lankan roads to date, with transportation and tour operators including Sri Lanka Transport Board (SLTB) with a fleet of over 100 luxury coaches.
Dr. Perera said that his aim is to provide a convenient bus service for commuters changing the present culture of overloading of passengers to the maximum.
Micro operates with a state-of-the-art service facility in the city of Kelaniya and over 16 showrooms and 48 after sales service centres countrywide.
Today the company has diversified into a conglomerate with its subsidiaries Transmec Engineering (Asia's largest After-Sales workshop), Transmec International, Micro Construction and Euro Sports Auto Lanka (Franchisee of Lamborghini and many other luxury automobile brands) employing more than 1,000 workers.