Being Responsible on Digital Social Platforms
View(s):
There has been renewed discussion about ragging in universities over the last few weeks. There is this interesting case I wanted to bring into our discussion. You may wonder what ragging has to do with the Digital Space!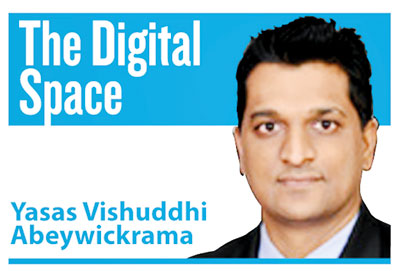 A female student from the University of Sabaragamuwa committed suicide three years ago; now it has emerged that ragging took a central part in this sad incident, and the letter that the Higher Education Minister wrote to the Police had names of two female students as suspects with their addresses. While I deplore ragging in any form in any university, it is similarly disturbing to see how these two students are vilified in public making them criminals on digital social media platforms such as Facebook, even before the Police has done a proper enquiry or the judiciary system has run its course.
The fact that the minister's letter became public is one problem. And how people use the names, addresses and pictures of the two alleged girls on social media irresponsibly is another problem. The latter has heightened to unbelievable levels, creating a very difficult situation to the said girls and to their security.
Is this acceptable?
When it comes to traditional media, there is some kind of ethics set over a long period of time, and certain processes to ensure certain things are not exposed, and also if someone is attacked unfairly, there is a right to respond as well as other actions that they could take. The legal framework is somewhat sound.
However, social media is a new phenomenon. Not only new, they are uncontrollable due to the masses being the journalists themselves. Citizen journalism at its best is on display with this empowerment and enablement. On one hand, this empowerment is good; people have the power of expression on issues relating to them. Freedom of expression in a democratic society is of paramount importance.
At stake
However, what is at stake? Who is looking after those who are attacked and what action can they take? Should we allow masses on social media take the judiciary process into their hands?
These are the challenges in the new digital spaces.
A similar situation arose when hate speech on digital spaces hit its peak in March this year which ended up arguably influencing racial riots in Kandy. The government took extreme measures by blocking Facebook and some other platforms for a limited period of time. We, the activists in this space got together to see what we could do to clear the social platforms of racially hatred content. We formed the Social Media Working Group of Sri Lanka and worked on several fronts to bring the situation under control, and our work continues. There are a lot of gaps in the processes, policies as well as in the legal framework as to how these actions on social media platforms could be handled.
On the other hand it's the responsibility of the platforms itself as to how the hate content is removed efficiently. WhatsApp and Viber present a very different set of challenges, as messages that go inside those platforms are encrypted; blocking or censoring any inappropriate content is practically impossible.
In our regular society, we expect people to be responsible. We don't attack people verbally or physically and those are the values that religion and education attempts to inculcate in people.
Values
Safeguarding such good human values are important on digital society as well. If people behave well, problems are minimal. Whatever we consider bad in the usual society, are bad on the digital society as well. Think twice before you like, share or write. Don't 'like' hate.
The Social Media Working Group of Sri Lanka developed guidelines covering To-Do and Not To Do-s on Social Media. For the broader good of the digital society, I end today's column with that.
Do's
1. Post under your name (Don't pretend to be someone else)
2. Comments should be relevant to the conversation topic
3. Think before you post – once you post, it may be there forever
  Think who will see the content
 Then carefully choose the audience in Facebook setting
 Verify the details before you react to content (before comment or share)
4. Keep the language, links, and images safe for family and friends
5. If you disagree with a post, respond by counter-arguments that improve the conversation.
6. If you see a problem, flag it and report to Facebook.
7. Always be civil and responsible in the web. It is your virtual social space where your behaviour matters.
8. Post only your own stuff (Don't copy other people's posts without attribution)
9. If you post humour, satire or social commentary:
  Use your authentic identity
 make sure it is clear that it is humour, satire or commentary
 be responsible – think whether it will hurt anyone
10. Warn your audience about what they are about to see if it includes graphic violence.
11. Other people may have different opinions and they could express them in various ways. Always do stick to your virtues.
Don'ts
1. Don't believe everything you see on Facebook
2. Do not do bullying and harassment: i.e., any activity including-not limited to;
 Identifying and shaming individuals
 posting altered images
 posting personal information which the subject may not want to be public
 Repeatedly sending people friend requests or messages
 Name-calling
 Ad hominem attacks (attacking a person rather than the content)
3. Do not post anything that a reasonable person would consider:
 Offensive
 Abusive
 Obscene, pornographic or sexually explicit
 Harassment or causing grief
 Impersonation
 Exposing private information
 Spam or otherwise vandalising the conversation
 Using misleading metadata
 Scams
 Harm (people/business/ animals)
 Fake news
4. Do not post Hate Speech or content that directly or indirectly attacks or threatens people based on:
 Race, Ethnicity or National Origin
 Religious affiliation
 Sex, gender, gender identity or sexual orientation
 Disabilities or diseases
 Political views
 They're being a public figure
5. Do not engage in, publicise or share any dangerous / criminal activities including:
 Terrorist activity
 Criminal or hate activity
 Condoning, supporting or praising leaders or activities of such organisations
 Murder, Violence or Exploitation
6. Do not use language which may encourage others to attack or harm people or which may lead to a person being endangered physically or mentally.
7. Do not infringe any party's (including reveal or share):
 Copyright (unless you have permission)
 Intellectual property or other proprietary rights
 Right of publicity
8. Do not breach privacy of others by sharing personal content without consent.
9. Do not do any illegal trade using social media, such as but not limited to:
 Prescription or illegal drugs,
 Firearms or ammunition
10. Do not post images which the subject(s) did not expect to be public (e.g., a photo meant to be private) including but not limited to:
 Altered images
 Full or partial nudity
 Digitally created content
11. Do not use a pseudonym except to protect yourself while posting legally and ethically
12. Do not use multiple accounts to pretend to be different people in the same forum
(The writer is the current President of CSSL – Computer Society of Sri Lanka and can be reached at yvabeywickrama@gmail.com)