Narendra new Serjeant-at-Arms in Parliament
View(s):

Narendra Mihindukumar Fernando has taken over as the new Serjeant-at-Arms of Parliament with effect from August 30.
Mr. Fernando (54) is an old boy of Isipathana College, Colombo and is the sixth Serjeant-at-Arms and the third to be appointed from the Parliamentary Administration staff.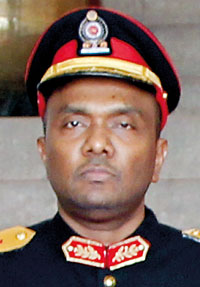 Mr. Fernando counts 36 years in the Parliamentary Service and 16 of these years were in the Department of the Serjeant-at-Arms. He has also served in various capacities/offices in the Administration Department; Legislative Services Department (All Committee Offices, Table Office, Bills Office); Finance and Supplies Department (Supplies and Services Office); Foreign Relations and Protocol Office.
He also served as Assistant Director (Administration), Assistant Serjeant-at-Arms and Deputy Serjeant-at-Arms.Mr. Fernando is a holder of a Diploma in Human Resource Management, (India) and has also undergone training Programmes in the House of Commons, UK; the House of Representatives and the Senate, Australia; State Legislature of New South Wales, Australia and Lok Sabha, India.
He has also undergone training in firefighting and explosives; diplomatic relations and protocol; event management; disaster management and asset management.
Mr. Fernando is an avid social service activist and has served as the President of the Dozen Group, a charity organisation.