Where Dakshin Dare — it's a challenge
View(s):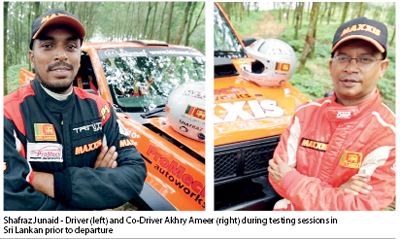 Lankan rally champs Shafraz Junaid and Akhry Ameer will take on the Maruti Suzuki Dakshin Dare, one of the biggest cross country rally challenges in the Indian sub-continent.
The Maxxis brand ambassadors who made history when they emerged second runner-up in the final round of the Asia Pacific Rally Championships in Chikmagalur last December will be elevating their challenge in the Dakshin Dare by competing in their own 4×4 Datsun/Nissan Double Cab.
The 10th edition of the Maruti Suzuki Dakshin Dare is a cross-country rally spanning 2,500+ km comprising 544 odd km of special stages nearly 2,000km of timed transport stages over five days from Bangalore to Goa. The local duo will be competing in the ultimate car category.
This will be the first-ever international participation from Sri Lanka in this endurance rally. Backed by Maxxis tires, SriLankan Airlines and HTL Logistics and personal funding the duo have been able to realize their dream rally season.
"We are grateful to all of them. Maxxis as always has been with us in the last few years and have supported us with the required tires and in some of the other areas. SriLankan has made our air travel a reality. And motor racing enthusiast Riyaz Farook assisted us through HTL Logistics to carry out the most essential task of getting our vehicle across", said Shafraz Junaid of the support from his sponsors.
The Datsun/Nissan Double Cab which has been a winner for Shafraz and Akhry for several years in the local rallies has been specially modified by ProMech Autoworks to suit the rally conditions of the Dakshin Dare and the Raid de Himalaya rally which they hope to compete also in October. The team will be supported by GT Tuners, Bangalore for servicing during the rally along with the Sri Lankan
The rally will commence on today with the ceremonial flag-off at Orion Mall in Bangalore after having completed scrutiny. The rally will thereafter traverse across Karnataka, Maharashtra states and conclude in Canacona, Goa on 7thSeptember 2018.