Vintage Cricketers Circle 2nd time lucky
Lanka Cavaliers Veterans Cricket '6s' 2018
View(s):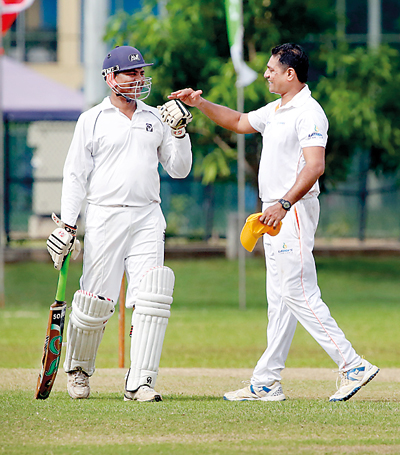 Vintage Cricketers Circle led by Pramodya Wickremasinghe, the 2017 Runners-up, made amends to their last year's defeat, to get their hands on  the trophy this time, as they convincingly beat MCA Veterans in the final of the 6th Lanka Cavaliers Veterans Inter Club Cricket '6s' 2018, concluded at the Bloomfield grounds last Sunday. A team comprises 5 Over-45 players and 1 Over-50 player.
The tournament was supported by Singer Sri Lanka, Wruth Lanka, MG-Micro Cars Ltd., fairfirst Insurance and MCA.  Awards were presented by President Lanka Cavaliers, Damian Fernando, Past Presidents, Lanka Cavaliers, Bandula Warnapura and Jayantha Seneviratne, Chairman Organisation Committee, Sirosha Gunathillaka, Tournament Coordinator, Riyaz Farook and Guest from Kerala, J.K. Mahendran.
Vintage Cricketers Circle- Pramodaya Wickramasinghe (Captain), Sajeewa Silva, Carman Mapatuna, Rohan Soysa, Suwanji Madanayake, Nilantha Bopage, Shane Fernando and Manoj Perera (Avg. age 47.6). Manager- Chris Obeyesekere.
MCA Veterans- Roshan Iddamalgoda (Captain), Niran Mahawatte, Wasanthalal Fernando, Gamini Fernando, Rasika Weeraratne and Duminda Somaweera (Avg. age 49.7). Manager- H.U.U. Buddhima.
League Results: (All matches played in 5 x 4-ball overs)  
Old Dharmapalians 26/3 (5) lost to Vintage 30/0 (2.3), MCA 41/0 (5) beat Lanka Cavaliers 34/3 (5), Old Thurstanites 45/1 (5) lost to Olcott Schools Veterans 46/0 (3), Old Dharmapalians 44/0 (5) beat Galle Veterans 38/2 (5), Lanka Cavaliers 59/1 (5) beat Colombo Masters 34/2 (5), Old Thomians, Kotte 43/2 (5) lost to Old Thurstanites 44/0 (4.2), Galle Veterans 27/4 (5) lost to Vintage 28/0 (3), Colombo Masters 38/2 (5) lost to MCA 43/2 (4) and Olcott Schools Veterans 54/3 lost to Old Thomians, Kotte 57/2 (4.2)
Semifinals: (played in 5 x 6-ball overs) Old Thomians, Kotte 37/5 (5) lost to Vintage 38/0 (2.2), MCA 61/0 (5) beat Olcott Schools Veterans 55/1 (5).
Final: MCA- 50/3 (5) , (Wasanthalal Fernando 15 Duminda Somaweera 10, Sajeewa Silva 1/16, Shane Fernando 1/10) lost to Vintage CC- 51/0 (3.1) Sajeewa Silva 36 not out (12 balls), Nilantha Bopage 12 not out)
Special Awards: Most Senior Player -Rohan R. Perera, 61 years (Colombo Masters)
Best Bowler- Suwanji Madanayake (Vintage CC)
Best Batsman- Rasika Weeraratne (MCA)
Man of the Final- Sajeewa Silva (Vintage)