MAS Linea, fairfirst, Mobitel, SLT into semi-finals
View(s):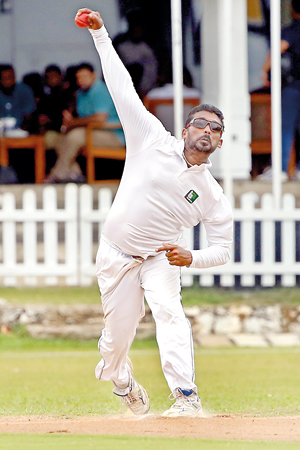 The 8th Stafford Motor Co. Ltd., 'Honda Trophy'-MCA 'G' Division 25-Over League Tournament 2018 reached its semifinal stage with MAS Linea Aqua (MAS.LA), fairfirst Insurance (fairfirst), Mobitel and Sri Lanka Telecom (SLT) registering victories over Amana Takaful (Amana), Bimputh Finance (Bimputh), Nor Lanka and Deutsche Bank AG (DB.AG) respectively, in the quarterfinals (QF) last weekend.
1st QF- Amana vs MAS.LA: Amana, who upset the fancied Asiri Hospitals in the pre-quarterfinals, were most unlucky to miss their spot in the semi-finals by a whisker.
Amana fought tooth and nail with another strong team MAS.LA, and tied the game at 168 runs, sending it to the 'tie' breaker-the 'bowl-out' contest. MAS.LA went to the semifinals beating Amana 6-4.
MAS.LA- 168 (24.3 overs) (Mangala Pradeep 59, Shalaka Rangajeewa  45, Dilan Vinod 36; Osman Zaman 4/30, Mansoor Elahic 3/16, Amila Sampath  2/40)
Amana- 168/9 (25 overs) (Shuhail Manthoom 38 n.o., Rumi Mohideen 36; Thilan Chathuranga 3/25, Mangala Pradeep 2/33)
2nd QF- fairfirst vs Bimputh: Two useful knocks by Thilina Massmulla 45 and Dulip Silva 31, helped fairfirst to a convincing 19-runs win.
fairfirst- 165/9 (25 overs) (Thilina Massmulla 45, Duleep Silva 31, Sanjaya  Attanayake 25, Asel Sigera 21; Ranga Silva 4/23, C. Chinthaka 2/33, M.  Suranga 2/42)
Bimputh- 146/7 (25 overs) (C. Chinthaka 39, K. Chamika 37, R.  Ratnagoda 23; Asel Sigera 2/36) Mobitel beat Nor Lanka by six wickets
3rd QF- Mobitel vs Nor Lanka: Nor Lanka, who did well to beat group leader SriLankan Airlines in the pre-quarter finals, melted away at the hands of Mobitel.
Mobitel bowlers Thilina Mahesh 4/4, Ranga Rajapaksa 2/10 and Krishna Weeraratne 2/13 went through the Nor Lanka batting like a hot knife through butter, as they were shot out for a paltry 51 runs in 18.4 overs. Mobitel shed little sweat on reaching their target in 15 overs.
Nor Lanka- 51 (18.4 overs) (K. Jayasinghe 15; Thilina Mahesh 4/4, Ranga Rajapaksa 2/10, K. Weeraratne 2/13)
Mobitel- 54/4(15 overs) (K. Weerathne16; K. Jayasinghe 2/2)
4th QF- DDB.AG vs SLT: Good batting by Lahiru Thambawita 57 and good bowling by Inshaka Siriwardena 3/25, steered SLT to a thrilling 13-runs win.
 SLT- 162/6 (25 overs) (Lahiru Thambawita 57, S. Divanga 31, L. Ranatunga 27  n.o., I. Siriwardena 20; Janith de Silva 3/30, Niranjan Dabare 2/25)
DB.AG- 149 /8 (25 overs) (D. Bastianpillai 28, Rally Tissera 26 n.o., Yohan  Fernando 26; I.  Siriwardena 3/28, Lasith Kumara 2/18, N. Ramachandra 2/18)
The Semifinals will be worked off at the MCA on September 8- MAS Linea Aqua vs fairfirst Insurance and September 9- Mobitel vs Sri Lanka Telecom.