Appreciations
View(s):

The Baron of aquatic and ad arenas bids farewell   

Baron de Livera  

With the death of Baron de Livera last week the realm of local marketing and print advertising mourned one of its most illustrious personages. Indeed, no one in the fraternity had been able to match the eminence of this trailblazing icon in an arena that still remains a battleground of blood and thunder in the context of high-pressure salesmanship.

Over the years, his charisma, dynamism and persistence had helped propel him into the competitive corporate sector both as a successful entrepreneur and investment consultant. In essence he was the doyen of both aquatic sports and advertising arenas.

A local journalist once doing a profile on him paid him the highest tribute with these words, "If Dale Carnegie could have written a book on 'Winning Friends and Influencing People', this charming personality could write just one slim booklet which would outsell Carnegie a thousand times over."

His grandfather Baron de Livera (Snr.), a great philanthropist, was one of Sri Lanka's most successful Ceylonese merchant princes during the colonial era. He was the founder-owner of the Cargo Boat Despatch Company and was featured in the prestigious Lloyd's 'Twentieth Century Impressions of Ceylon'. His grandson had decidedly inherited a good part of that entrepreneurial streak and also fitted into the role of creative businessman and industrialist who had enriched the boards of some of the country's leading private companies.

He headed a firm that revolutionized the country's tea packing process with a groundbreaking idea of packing the product in corrugated cartons containing moisture barriers instead of the traditional wooden chests. Apart from the fact that the cartons were cheaper than the chests and ensuring the cargo remained fresh on arrival the process was necessitated because of a worldwide shortage of timber at the time.

While at Lake House, he conjured up the innovative concept of printing bank cheques locally, a prospect unthinkable at the time when Waterloo and Sons and Bradbury Wilkinsons of England held an international market monopoly in security printing. Baron convinced the then Bank of Ceylon General Manager, the formidable Chelliah Loganathan and eventually sold him the idea.

As a result, the practice continues among all banks in the country to date saving millions in valuable foreign exchange. For Baron that accomplishment alone proved as good as a lucrative gold-strike. He earned for himself a colossal commission every year which when totted up would surpass the wildest dreams of any advertising representative then or now.

Baron's close association with the local medical fraternity came about after he helped revive the Ceylon Medical Journal, the in-house organ of the Medical Association, which had been defunct for several years. As a result, most of the specialists, physicians and surgeons at the time became his closest friends and confidants. He thus had the privilege of access to the entire extensive medical network whenever his friends, their spouses or children fell ill.

Baron was also among a surviving handful of pioneering water sports enthusiasts who helped introduce and popularise water-skiing, power-boat racing, yachting, windsurfing, canoeing and kayaking to Sri Lanka.

Certainly, he excelled himself in both water-skiing and power-boat racing by lifting the champion's trophies in both aquatic sports on the trot for several years. His skills as a virtuoso power-boat driver earned him the enviable title of 'The Flying Baron' by sports journalists.

As a youth he excelled in several other terrestrial sports such as cricket, soccer and boxing. As a schoolboy he vice-captained the Christian College cricket XI where he distinguished himself as an accomplished all-rounder. He was also a keen golfer with a handicap of 12. He also was a high-riding equestrian, taking over the reins from his father Peter de Livera as a Gentleman Rider during the golden era of the Ceylon Turf Club.

Baron's credentials as a yachtsman were equally impressive. He sailed his own yacht round the island on several occasions and navigated the vessel to neighbouring India.  He had been a member and office holder of many local clubs including the Otter Aquatic Club of which he was General Secretary, the Surf Life Saving Association of Ceylon, the Surf Club and the Colombo Swimming Club. He had also been President of the Powerboat Association and the Ski Club.

Baron was widely considered the de facto goodwill ambassador of the country's water sports.  Over the years he had been invited to share his wide-ranging expertise in developing the island's aquatic sports both as a tourist attraction and to draw in more local enthusiasts. In this sphere he had been liaising with officials of its overseas counterparts, foreign embassies and the Tourist Ministry among other organizations to resurrect the industry.

Another former Lake House journalistic colleague, the late Manny Candappa, in a recently published book refers to Baron as 'the Prince of Advertising.'  He pays him the highest tribute in this final paragraph of the profile: "I am sure Baron has never stopped to count the number of his friends because he keeps making more all the time, and effortlessly.  He is excellent company. I have never known him to hurt anyone, say or do anything offensive, even when people take advantage of his goodness to have cracks at his expense. He laughs easily even when some rib-splitting laughs are on himself."

In truth, Baron de Livera himself represented something that had changed our little world for the better. Besides, his name had become a synonym for the eternal spirit of youthful beliefs. One might be constrained to believe that he was a direct descendent of the ageless Peter Pan. And in similarity to that captivating mythological character his life has been an outstanding and wondrous adventure in an escapist 'Never Land' of his own creation.

Doubtless, like most mortals Baron had his share of ups and downs but had always displayed his ability to laugh his way through life while weathering the storms with his cheerful disposition and generosity of spirit. His charming wife, the Baroness Augusta, predeceased him some five years ago. And through it all he remained the most endearing man-about-town while retaining his youthful spirit and debonair air.

It is hard to believe that somewhere along the line that Baron the irrepressible bon-vivant had not sipped from the magical waters of the chimerical 'Fountain of Youth'. It would be apt to quote the famous American writer and physician Oliver Wendell Holmes in the context of men of the calibre of Baron:

'For him in vain the envious seasons roll,

Who bears eternal summer in his soul.'

Gaston de Rosayro
---
An uncle's tribute to a dear nephew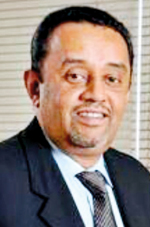 Niranjan Nagendra
To the many beautiful roses laid at your feet, I dedicate my own…………………………..
We were overcome with grief with the sudden passing away of my dear nephew Niranjan, son of my brother Sri.
Death is inevitable. It comes to all but when it comes to one who is so close it is indeed extremely sad.
Niranjan was educated at Royal College and after working for a few years in the Mercantile sector proceeded to the UK to do his Chartered Insurance Institute Examinations. He was an Associate of the Chartered Insurance Institute, UK and a Chartered Insurer and an alumni of the International Institute for Management Development, Switzerland .
Niranjan was attached to Fair First Insurance in the capacity of General Manager, Sales & Marketing.  Prior to this he was attached to Union Assurance in a similar capacity and also worked at Eagle Insurance PLC where he served as General Manager/Head of Non-Life Distribution.
Niranjan had over 23 years of local and overseas exposure in Business Development and Marketing in both life and general insurance.
Additionally he was qualified in underwriting Property, Engineering, Miscellaneous and Motor classes of Insurance.
A multi-faceted personality endowed  with rare personal qualities, Niranjan made a tremendous contribution in every human activity he undertook.
A fine conversationalist with a flair for public relations he was a great asset to his company.
Not withstanding his office and social work, Niranjan was dedicated to his family. He was a loving husband to his wife Shivanthi and a devoted father to his only child Shevinka. He was a most amazing father and husband. Shivanthi was a great strength to him in his challenging duties and looked after him with enormous care and affection.
He gave generously to the under privileged. Throug-hout his life he epitomized love and compassion for the poor and marginalized.
Two important lessons from his career one needs to record are his work ethics and devotion to clients.
Niranjan memorably had a warm smile always on his face. Due to his immense capacity for making friends, he had a wide circle of people close to him. He was a man who reached out to his friends particularly in their times of distress. He was steadfast in his loyalty to them. This was evident from the very large crowd at his funeral including many eminent personalities.
His death has created a vacuum and I have lost a dear nephew who is irreplaceable and emptiness remains in me that I cannot seem to fill.
I wish to encapsulate this appreciation by quoting William Shakespeare: "His life was gentle; and the elements so mixed in him, that Nature might stand up and say to all the world, THIS WAS A MAN!".
I thank God for his life. I will not say farewell because I know we will meet again.
Uncle Sega Nagendra
---
If I could only turn back the clock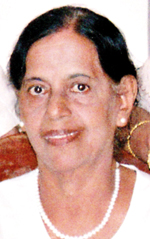 Rani Moraes
Happy birthday, Mum.
It's almost five months since you left. As your birthday approaches, for the first time I look on it with dread…I can't go and pore over birthday cards, select a gift, or plan a party…so many happy memories of years gone by and the happy times we had celebrating your birthday – it's tough and I am left wishing that I had at least one more.
If I could have one day more, only one more, I would hold your hand and tell you that I love you, hoping you would hear me and understand, remembering who I was. I would thank you for all you gave me; for the many, many sacrifices you made. And I would thank you most of all for passing on to me the legacy of true Christian faith, which you upheld to the end.
I can't say truthfully that it was all smooth sailing, sweetness and joy. We had many differences, but it took nothing from the love we shared.
Thank you too for not being the stereotypical mother. You were a maverick, you were funny – sometimes hilarious, but beneath all the jokes and arguments, Pradeep and I knew that you had such pride and belief in us (sometimes misplaced), and had the ability to see God's hand in all twists and turns that led to a better tomorrow.
If I could, I would turn back the clock to when you were you, and your mind was "sharp as a two-edged sword" (as you would constantly remind us), and you would look back at me and comprehend all I struggle to say now.
I pray that you are celebrating your birthday in heaven with Thaaththa, and that heaven is all you dreamed it to be. Fanciful as I am, I wish that– even in a dream – I could spend a day with you: a day from years past when you were strong, well and happy, free from pain. I'd run to you and hold you tight.
And we would laugh once more.
Happy birthday, Mum. Love always.
Rehani Hopman
---