Insurgents are waging losing battles against States, says global terrorism expert Dr Ucko
View(s):

Dr. David Ucko was among the international and national experts who addressed the 'Colombo Defence Seminar 2018', the Sri Lanka Army's (SLA) annual conference held for the 8th time at the BMICH on August 30-31

A global terrorism expert this week observed that the Islamic State (ISIS) is rapidly facing defeat by conventional forces similar to the predicament the Liberation Tigers of Tamil Eelam (LTTE) had faced in Sri Lanka when they switched from asymmetric tactics to conventional warfare.

"Since the defeat of the Tamil Tigers by the Sri Lankan Government we haven't seen many insurgents going toe-to-toe against States," said Dr. David Ucko, Programme Director at the College of International Security Affairs, National Defence University, USA. "They tend to lose or, at least, they don't win. Localised insurgencies must be recognized as potentially existential threats to the notion of State."

This is the "insurgents' dilemma", Dr Ucko said, noting in recent times their difficulty of challenging or defeating a State and setting up as a sustainable source of power. The track record, he pointed out, was abysmal. There are not many recent cases of insurgent groups winning militarily over a State and establishing themselves as the new authority.

He did warn, however, that there is a rise of a different kind of insurgency which acts as a disruptor. These are "localized insurgencies", he classified, where the group survives by aiming, not for regime change, but for shared sovereignty with the State. Its subversive agenda is thereby pursued without provoking a military response from the Sate.

Dr. Ucko also pointed to urban areas being under quasi control of criminal elements, with law enforcement and public institutions having given up. Such spaces–such as parts of Mexico and Colombia–could be fertile ground for many security concerns and threats.

The seminar brought academics, strategists and high-ranking military officers together in multiple sessions of dialogue and knowledge-sharing. There were around 800 participants, including 100 from abroad. The topic–'Security in an Era of Global Disruptions'- drew insight into the evolutionary nature of national security concerns and the challenges they pose to governance in an increasingly interconnected and unpredictable world order.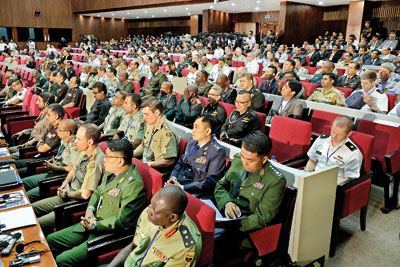 There was a broad consensus that "disruptions" are likely to increase, posing significant global and national security implications.
Key conclusions from the seminar included the need for enhanced communication between stakeholders and the public; the necessity of a "whole nation" policy approach to counter these disruptions; the requirement for regional and national preventative and migratory strategies for; and the need for joint multi-domain preparedness.
This year's theme underscores the timely need to address the evolving nature of the new threat environment, which does not fall within the scope of the traditional security, said Army Commander Lt Gen Mahesh Senanayake in his welcome address. Armed forces worldwide find themselves becoming the first responders to a range of situations where civilian life is significantly affected.
Prime Minister Ranil Wickremesinghe drew attention to non-traditional threats ranging from natural disasters, climate change and human displacement to violent extremism. Today's battlefields are growing, converging and compressing, he said, thereby creating a need for a more comprehensive and integrated effort than ever before.
Economies have progressively become the most decisive and influential factor in projecting national power beyond a nation state, the Prime Minister said. "The role of national militaries will eventually expand from safeguarding national security to building an effective international security community in order to furnish the rising demand of security for global supply chains and overseas interest," he observed.
Collaboration and best practices were needed to reduce the vulnerability of the national cyber infrastructure, Mr Wickremesinghe said, adding that technology-driven new media–including social media–was another emerging source of non-traditional threat.
Global warming, rising sea levels and erratic changes in weather will adversely affect Sri Lanka's agriculture, which accounted for seven percent of the country's GDP and employment for 23 percent of its population, Mr Wickremesinghe said. The changes will also affect Sri Lanka's energy security as 40 percent of power generation was from hydro sources. He recommended the inclusion of energy security policies designed to reduce Sri Lanka's dependency on imported energy sources be incorporated into the National Security Plan.
The national security scales are shifting from military security towards human security, said Dr Lauren Twort, a Research Fellow at the Royal United Services Institute of Britain. Threats include natural hazards and environmental calamities, urban violence in the form of crime and open warfare, and human-induced threats such as large-scale industrial pollution.
Sri Lanka's Government expenditure due to natural hazards was Rs 1.7bn between 2007 and 2010, Dr Twort said. The 2016 floods also hit Sri Lanka's industrial activities. Due to climate change, rapid economic growth, disorganized land use and reclamation have increased flood risk in Sri Lanka. She cited an Institute of Policy Studies report that estimated that natural disasters cost Sri Lanka 1% of GDP in 2017.
Disruptions in nature and human societies throughout history have led us to where we are today, said Prasad Kariyawasam, Secretary to the Ministry of Foreign Affairs, in the valedictory statement.
"For example, human population growth led to farming and migration, the exploration for new land, extracting resources from the land; scientific inquiry into modern farming techniques, medication and new discoveries to cure and treat disease; the search for new markets for trade which continues even now; space and undersea exploration; the formation of the system of Nation States and the demarcation of boundaries through war and peace; evolution of rules and regulations; the multilateral rules based international order; and the financial operating system that we know today," he said.
Disruption, Mr Kariyawasam asserted, is a fact of life that runs through and across time. These are nothing new or unique to this era. Only humans have made massive changes to our eco-system as a single species.