Home » Magazine » TV Times
TV Times
Songs of the latest film 'Sudu Appachchi' (Dear Granddad) by Rodney Vidanapathirana, a well-known teledrama director, filmmaker, lyricist and journalist were recorded at Sampath Recording Studio in Kalubowila, Dehiwala recently. To the music direction of Visharadha Manoj Peiris, voice renditions for the songs were done by Sadew Santhula, Tharudini Methsaura, Thenuka Alagiyawanna and Kithmini Kulathunga.
With the advent of modern technology, Modern Magic as a form of entertainment has created a tremendous interest amongst the youth of today. 'However these young enthusiasts need guidelines on Presentation, Stagecraft, Showmanship, Entertainment Value, Audience Appeal, Patter and Pantomime of effects' said veteran magician Lt. Col. Ronald de Alwis, President Emeritus – Sri Lanka [...]

Popular lyricist and dubbing artiste Manjula Malkanthi is a multi talented figure in the field of music and entertainment. Her latest collection of songs with popular singers in the field, is now ready to hit the air. Three of Manjula's new songs – 'Oba ma nuwan', 'Oba langin Innawanam' and 'Punchi panchi kale mang'- have [...]

Award winning lyricist and writer who used his pen to create a bridge between the Tamil and Sinahala community and promote racial harmony, Nilar N. Cassim celebrates 25 years in his creative journey as a song writer. Celebrating silver jubilee in his career, Nilar will release a flash drive title 'Sarasa Wasantha' with 100 songs [...]

Marians, under the leadership of singing star Nalin Perera along with dynamic creative musicians Bathiya & Santhush and Sanuka Wickramasinghe will come alive at Ramadia-Ranmal Holiday Resort in Moratuwa on 14th September for a mega musical extravaganza 'Marians Family Night' This is the first time Moratuwa fans will experience the combination of Bathiya and Santhush, [...]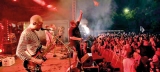 German Cultural Centre- Goethe Institute will present weekly film screening during the month of September with series of films that depict the cultural revolution and struggle against authoritarianism. The weapon used for the struggle is music. As the first movie for the month 'B-Movie' will be screened at 7 pm on September 7 at Goethe [...]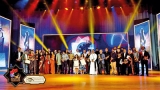 "Premaya Nam"  (Dirty, Yellow, Darkness) made by debutants Kalpana and Vindhana Ariyawansa became victorious at the 41st SIGNIS Salutation winning most number of awards. The award ceremony organised by the Sri Lanka Catholic Cinema Parshadaya, the local branch of World Catholic Organisation for Communication introduced many new talents to Sri Lankan cinema. It was held [...]
Young filmmaker Nuwan Jayathilake's debut direction 'Sulanga Apa Ragena Yavi'- 'The Wind Beneath Us" is to compete at 58th Asia-Pacific Film Festival (APFF 58) this week. The film has been selected as an official selection for 2018 'Best Story' competition of one of the oldest film festivals in the world. Annually orgnaised by Federation of [...]
"Mamai Anduwa", a poltical comedy play will go on the boards at 3.30 p.m. and 6.30 pm at National School auditorium of Neluwa on September 8. Written by Ajith Mendis, the play stars Sriyantha Mendis, Kusum Renu, Wasantha Wikramarachchi, Janaka Kumbukage, Rohan Wijethunga and Jayantha Muthuthanthri. "Mamai Anduwa", is produced and organized by Jude Srimal.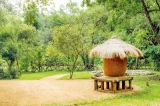 Based in the resort's quaint and traditional mud hut, the resort's new organic culinary experience has been specially created for local and international guests, and will allow them to observe a wide array of traditional cooking techniques and preparation methods, sample a delicious array of Sri Lankan dishes and flavours and learn more about local [...]

The Chamber of Tourism and Industry (CTI) launched Helicopter fun rides in Batticaloa last week. This is a part of the project carried out by the Chamber in order to promote Tourism, Investment and Economic development in the Eastern tourism areas. The inauguration ceremony held under the chairmanship of the President of the Chamber of [...]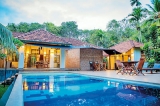 Perched on the summit of a vast coconut estate, Sri Lanka's Comilla Bungalow is the perfect setting for a luxurious getaway. Only an hour's drive from commercial capital Colombo, but a world away from the city's professional hustle and bustle and stresses, Comilla Bungalow is a true oasis of calm and absolute silence. It is [...]