"I just follow my heart"
By Oshani Alwis
Bollywood's award-winning playback singer Shreya Ghoshal is looking forward to delighting her Lankan fans when she performs in Colombo on Saturday, September 8
View(s):
The sensational voice loved by Bollywood movie fans, with covers 'Silsila Ye Chaahat Ka', 'Bairi Piya', 'Dola Re' from the most loved Bollywood hit Devdas, will soon be heard in Colombo and her fans just can't wait.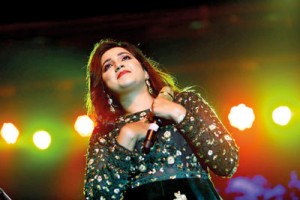 None other than India's most celebrated playback singer Shreya Ghoshal, will be performing with her band and co-singer on Saturday, September 8 at the Sugathadasa Indoor Stadium, Colombo.
Having won many awards throughout her career in music including National Film Awards for Best Female Playback Singing, Filmfare Awards and Filmfare Awards South, Shreya has worked with most of the leading music directors in the Bollywood film industry.
Lankan fans will witness an exciting evening where she performs her most favourite hits that have earned her plaudits over the years.
Shreya Ghoshal will perform live in concert on September 8 at the Sugathadasa Indoor Stadium, Colombo at 7 p.m. (doors are open from 5.p.m.). Tickets priced at Rs. 3,500 (free seating), Rs. 7,500 (bronze), Rs.10,000 (silver), Rs.12,500 (gold), Rs.15,000 (VIP Premium), Rs.20,000 (VIP Platinum) and Rs.25,000 (VVIP) are now available at The Mango Tree, Anagarika Dharmapala Mawatha, Colombo 3 and Jack Tree, Park Street, Colombo 5.
Tickets are also available via tickets.lk
Here Shreya Ghoshal responds to questions from the Sunday Times Magazine via email prior to her Colombo show:
Q: Coming from a family background which is not necessarily related to music, your father being an instrumentation engineer, your mother majoring in literature, what inspired you to learn music as a child? Who were your first gurus in music?
Although my dad dedicated his entire career to his passion for science and engineering and also my entire extended family was always either a lawyer, engineer or banker, music was always an integral part of our family, as both my parents were very culturally inclined. My mother used to sing beautifully but never did it professionally. She has been my guru since the very beginning. Our home was the centre of many community related musical and cultural activities. My dad's love for this art made sure that I learnt music from the age of 4 from my mother. Eventually I did learn from other gurus as well wherever I could. I realised the power of music quite early . It moved me, gave me an overwhelming sense of happiness beyond anything else. I spent about 12 years growing up in a remote township of scientists and engineers in Rajasthan not exposed to any distractions of a city life. So I thoroughly focused on my education and learning Hindustani classical music, Hindi film music, Bengali traditional music and also a little bit of Rajasthani folk music.
Q:Devdas, should undoubtedly be a milestone in your journey as a playback singer. How was the experience working with Sanjay Leela Bhansali and Ismail Darbar?
An extraordinary experience indeed. To work and learn from the master film maker and eventually a composer like Sanjay Leela Bhansali has always been very special to me. I was 16 when he approached me to sing for his magnum opus – Devdas. It's no joke for anyone to have that kind of conviction to cast a completely new and young voice for the most celebrated project of that year. Ismail ji's compositions were tough to master, but the whole musical team took me in their wings and adopted me in to this exciting yet challenging Hindi film music industry and over the two years of the film's making, I gathered experience of honing the techniques of singing for film music.
Q: Having worked with some of the most renowned directors and music directors in the industry, could you share an interesting experience you had while working on a film or with a particular music director?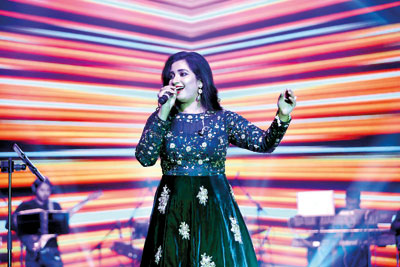 Singing for every music composer and film director has been a different experience. The creative energy, musical sensibility and style is different from artist to artist and one has to be intuitive to tap in to the soul of any composition and the emotion behind that song.
Just for an example, whenever I have sung for A.R. Rahman sir, there is no brief given about the song's situation, but the moment your hear the song you figure it out because he captures the complexities of the emotions so beautifully and then when you go on the mic he channels the best of you to improvise and lets you take a flight with his composition. It's such an organic effortless process and an experience in itself so rich and memorable.
I remember singing Mannipaya in a session in his Chennai studio. It had become quite late in the night when we finished recording. But he asked me to sing another song for the same film which was more of Raga based alaaps over a beautiful grove that he had made. He lit the prayer candle, and started recording. I believe I was singing for an hour or so and he recorded it all while playing along some beautiful progressions on the keyboard. It was one the most spiritual experiences of my life.
The energy of the studio at that hour and the divine music created an experience difficult to express in words.
Q: Among the long list of songs you have voiced for movies, do you have a personal favourite? (in terms of lyrics, or music rendition etc.)
How can I have a favourite? It's impossible to choose. They all have been created out of the musical instincts of that day, that time, that moment. Every song is unique and has its own magic.
Q: How would you define your own voice? Vocal dimensions?
I can't. Only my listeners can. My voice is just a medium of carrying out various emotions that are in my heart. I don't like being too self-aware, it stops me from reacting effortlessly to the moments of my life. I just follow my heart.
Q: You sing in many other languages apart from Hindi. How do you sing in languages which you are not very fluent in?
Music has no language as we all know. The same 12 notes of music are sung in every part of the world. So I just try to figure out the emotion of the song's composition and follow it with my instincts. A brief about the lyrics and the situation of the film helps me. But yes I am careful that my diction of the language I am singing in is correct. I try to perfect it while I am learning the song.
Q: Playback singing is by and large projecting the emotions of the actresses and actors who act on screen, through the voice of the singer. How would you adjust the tone and your voice to match the different moods that appear on screen?
Slowly the days of lip synced songs are going away. So you are not just the voice of the actress, but you are the soul of the character in the film. If the director gives a little brief about the story, it helps a lot in matching it with the onscreen portrayal of that character by the actress.
Q: Bollywood cinema indeed has a long list of playback singers; are there any inspirational playback singers you particularly like?
Absolutely, I have grown up listening to Lata ji, Asha ji, Kishore da, Rafi Saab, Yesudas ji, SPB sir, Chitra ji, Hariharan ji, the list is endless. I listen to a lot of Indian classical music. I have many favourites in every genre. They all have inspired me in many ways.
Q: What are your other interests/ hobbies apart from music?
I love to cook whenever I can find time. I love to try out different foods and travel to new places, explore new cultures.
Q: What can fans expect from your Colombo concert?
Lots! It will be a memorable evening of me singing all my hits along with my amazing band and co-singer. I will be singing all of what my fans are expecting to hear for sure. The whole journey from the very beginning of my career to the latest hits.
Send in your requests to my Twitter handle with the #ShreyaGhoshalLiveInColombo and I will surely try to add that song in my set list! See you Colombo!