German cinema and Cultural Revolution
View(s):

German Cultural Centre- Goethe Institute will present weekly film screening during the month of September with series of films that depict the cultural revolution and struggle against authoritarianism. The weapon used for the struggle is music.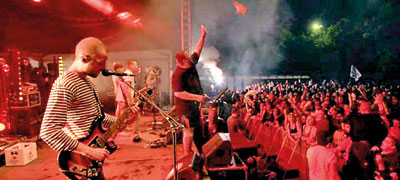 As the first movie for the month 'B-Movie' will be screened at 7 pm on September 7 at Goethe hall.
The film depicts a decade of West Berlin subculture in original footage, breathtakingly edited – telling a story of the city during the last decade before the end of the Cold War.
Music, art and chaos in the wild West-Berlin of the 1980s. The walled-in city became the creative melting pot for sub- and pop-culture. Before the iron curtain fell, everything and anything seemed possible.
The film is a fast-paced collage of mostly unreleased film and TV footage from a frenzied but creative decade, starting with punk and ending with the Love Parade, in a city where the days are short and the nights are endless. Where it was not about long-term success, but about living for the moment – the here and now.
'Wild Heart' (Wildes Herz), a film about "Feine Sahne Fischfilet", one of the most successful German punk rock bands, and their lead singer, Jan "Monchi" Gorkow, will be screened at 7 pm on September 14.
A young band which is under surveillance by the Federal Office for the Protection of the Constitution, which gives them the right to call themselves the most dangerous band in Mecklenburg-West Pomerania. A film shows how musicians fight against Nazis and feelings of emptiness and frustration, in a region where home means the beautiful flat countryside. With music that's quite unlike their home: strong, loud, joyous.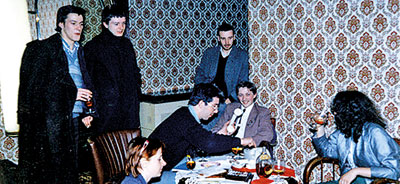 "Stay or Go?" is the title of a song by Feine Sahne Fischfilet ["Fine Cream Fish Fillet"], one of Germany's most successful punk bands. A question of relevance that has confronted several generations of Germans native to the states of the former GDR. The heart of the band: Jan "Monchi" Ganta. His political journey – from the violence-prone scene of fanatical football fans to becoming a musician figurehead in the fight against the escalating right-wing extremism – could have taken him elsewhere. The "wild heart" of the title beats within an angry, physically and emotionally overweight thirty-year-old man who has found meaning for his power and strength in contemporary antifascism
Directed by Charly Hübner, Sebastian Schultz, the film won ver.di Prize for Solidarity, Humanity and Fairness, Goethe-Institut Documentary Film Prize, Gedanken-Aufschluss-Prize and DEFA Sponsoring Prize.