Comilla: for a luxury getaway
View(s):

Perched on the summit of a vast coconut estate, Sri Lanka's Comilla Bungalow is the perfect setting for a luxurious getaway.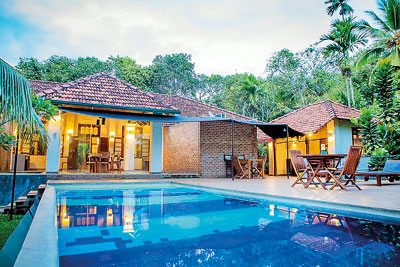 Only an hour's drive from commercial capital Colombo, but a world away from the city's professional hustle and bustle and stresses, Comilla Bungalow is a true oasis of calm and absolute silence. It is a wonderful place to recover and re-connect with nature and stillness, helped along by a quietness that can only be achieved by limits on room availability in tandem with wide-open fields.
Located near the historic town of Wathurugama, where King Walagamba built a series of rock temples in the last century B.C., this World Luxury Hotel Award winner (for 2018) features wood-hewn verandahs and Dutch period architecture, in addition to a full range of modern conveniences. With an Infinity Pool, a Private Deck, a Juice Bar, in-room Hot Chocolate facilities and Butler Service, guests benefit from near unrestricted access to both the old world and the new.
Featuring two large bedrooms in the bungalow property, as well as two detached chalets perfect for extended sojourns; the Comilla Bungalow is the answer to one's search for serenity. With an unobtrusive service philosophy and a focus on the highest quality of life, guests can make their great escape at Comilla Bungalow.
Surrounded by impressive acres of greenery, including hundred-year-old giant Mora trees, the quaint old estate house will provide serene tranquility to scores of visitors who visit this green haven. Bird life now thrives there and several species of native birds enjoy the variety of fruits that grow in season.
Initially classified as 'waste land', the 77-acre estate was sold by the colonial secretary. The land was then auctioned off to John Vincent Blair Stork, a British tea planter who, being enamoured with its lush pastures and rich soil, transformed the wild woods into a gently swaying grove of coconut palms, which was later supplemented by fields of paddy and pepper.