Bottoms up in our mad world
View(s):

How very considerate of the chief minister of the Western Provincial Council. This chief minister Isuru Devapriya wants his fellow councillors to park their sensitive bottoms on comfortable seats during council sittings. Otherwise, one might reasonably conclude, grandiose ideas will not enter their heads and the council will end up as a repository of verbal garbage of little use to man or beast.

Unlike the one-time development theory of a top-down process, our worthies in the WPC have reversed it. So now we end up with a bottom-up system. Accordingly this theory assumes that nothing of value would penetrate that part of the anatomy that lies above the necks of our hard-working members unless their worthy bottoms are treated reverentially and parked in an expensive imported chair valued at Rs 640,000 for each bottom.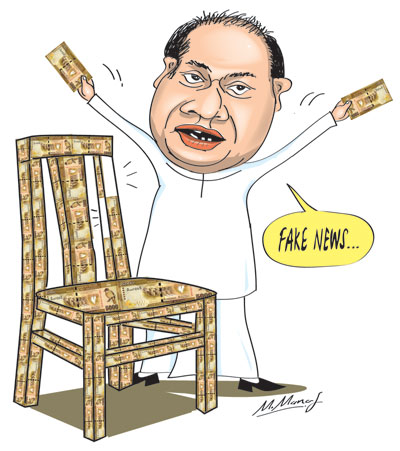 It appears that Western Province Governor Hemakumara Nanayakkara, has put a stop to this profligacy. Whether this would remain so or, Devapriya and his soft- bottomed supporters will find some dubious way to get round the current hurdle only time will tell.If Governor Nanayakkara needs another argument to buttress his current decision he could turn to medical advice from our Health Minister Rajitha Senaratne who has been elevated (by whom one is not certain) to the status of a "suwapathi" after the WHO elected him a vice-chairman of its executive board.
But to all this sycophantic flim-flam that culminated quite appropriately in the Nelum Pokuna theatre that has seen comedy and farce performed in its time, one can turn to a little later. After all there is still time for our medicine man to earn some healthy references in any modern version of a Kautilyan Arthashastra.
Of course one cannot be certain of our health minister's usefulness in keeping the local foggy (soggy?) bottoms comfortable, his specialty being open-mouthed treatment. Some say that this is why he was appointed a cabinet spokesman.
Anyway when a JVP councillor revealed the other day that the foreign-made chairs cost Rs 650,000 each chief minister Devapriya dismissed the charge as "fake news" taking a leaf out of the book of famous sayings of Donald J. Trump who is not beyond concocting some fake stuff himself, as fact checkers have exposed.
With an ear-splitting howl that would do justice to a character out of Dr Strangelove, the chief minister triumphantly announced that the chairs ordered cost Rs 640,000 and not Rs 650,000.
Now that might leave a slight dent in the collection box of those who expected to make a bigger commission from this dip into the public purse but it makes not an iota of difference to the principle that financial licentiousness should not only be damned but any beneficiaries from such transgressions be hastily dispatched to a State hostel or prescribed the famous Polonnaruwa ayurvedic medicine with the aid of a madu waligey.
But then some prospective inmates with sufficient pull find themselves moving straight from court to hospital thanks to the hospitality of members of that highly ethical association called the GMOA which is not averse to an extra buck or two to fill their deep pockets by filling hospital beds. As for the chief minister whose genuine concern to prevent leakages from the public purse is commendable, his ten thousand rupee saving on each chair should teach his critics not to spread 'fake' news. Chief Minister Devapriya is not one to rob Peter to pass on any benefits to a friendly Paul.
Such extravagance he leaves to dear Rosy in Colombo whose thoughtfulness and consideration for future incumbents of the mayoral mansion to perform their daily ablutions in five-star comfort instead of the dilapidated enclosures that pass off as washrooms needs to be appreciated.That is not all. It seems she has caught a disease that her party is so accustomed to to distribute money among the denizens of Diyawanna Oya as though the currency is being printed at the press of that house by the lake now chaired by a party pal.
Having first made a pre-election promise of an all round salary hike for state employees, they then distributed a cash bonus to MPs to run their respective offices.
Now they want to dole out more money to monitoring MPs of the Gamperaliya rural revolution which might soon be labeled Gam Rudhawa if the money passes mostly into the hands of his party minions.
No wonder then that the western province chief minister wishes to emulate the proclivities of the country's prime minister by distributing largesse to help warm the bottoms of some nondescript councillors whose contribution to the nation is as useful as the mountains of garbage at Meethotamulla.All this generosity is when the nation is in serious fiscal straits and the average person must bear the stresses and strains of daily living. Only the other day it was revealed that Minister Rishad Bathiudeen has seven cars for his use when he is officially entitled to three.
Is that fake news or what? Well one could clear it up with the minister himself or may be make an RTI request. But if the responses to such requests are anything like those that emanate from our Foreign Ministry then the Polish officials are in for a rude shock when our own legal eagle has landed in Warsaw.
Well, these days our own political maestros that lean heavily on Washington seem to find a worthy leader in Donald Trump whose trumped up accusations against the media are being exposed almost weekly.
The other day Health Minister Rajitha Senaratne took a couple of pot shots at this newspaper without naming names because of comments in the Political Commentary over which he took umbrage for questioning him.
It was all about the ha-ho was of his 'appointment' at the WHO. Was it a pro forma one overblown to make it seem like he had reached the summit of Mount Everest when he had only got as far as Nelum Pokuna.
In an interview with a State-run Sunday newspaper Senaratne was asked about this much-talked about felicitation. It wrote:
"Last week was an important week in the country's health sector. Dr. Rajitha Senaratne, Minister of Health and Indigenous Medicine was recently appointed vice president of the World Health Organization (WHO) which resulted in a felicitation ceremony in Colombo that was the subject of much debate.
Q. You were recently appointed as WHO Vice President, can you tell us how this benefits the country?
A. President and four Vice Presidents comprise the executive board bureau of WHO. The five of us are the supreme body which decides on health issues in the entire world. Representing such a supreme body could be beneficial to our country."
Not only is this trumpet-blowing but what Senaratne said is factually wrong. Anybody who has some acquaintance with how international organizations function and how appointments are made to fill certain positions would know that the executive board that the minister refers to does not have "four vice-presidents". In fact it does not have any vice-presidents let alone four.
WHO has two 'bodies'. One is the annual World Health Assembly which is convened every year in May for a couple of weeks. It discusses current health issues and probably passes several resolutions requiring or recommending action to be taken on those issues. At the commencement of the conference, it elects the conference officers. This year they were: President (Zimbabwe); 5 Vice-Presidents (Philippines, Maldives, Kazakhstan, Djibouti and Dominican Republic). These issues are usually previously agreed upon by resident ambassadors (Geneva) on a regional basis.
The other is the 34-member Executive Board that is elected for a three year term. Its principal mandate appears to be to ensure that the decisions of the Assembly are implemented and not the "supreme body" as the minister tries to make out. The election is of Member States. Thereupon, the member governments are required to nominate an individual to serve on the Board. In 2017, Sri Lanka was one of the countries elected to the Board. The Board elects its officers. The current Chairperson is the Ambassador of Brazil to the UN Geneva. The three Vice-Chairpersons are from eSwatini (Swaziland), Finland and Sri Lanka.
So it is a Member State that is elected to the Executive Board and not an individual as it is tried to be made out. The Member State so elected to the Board then nominates its representative.
It seems that those who try to portray their importance do not even seem to know whether they are a vice-president or a vice-chairman. That I am afraid is the whole truth and nothing like the tooth.
By the way there is quite a distance from suwapathi to janapathi.