A look back at the thirteen hundred days of the chalk and cheese regime change
View(s):

When I sat down this morning to write about my musings this month, I realised that the beginning of August this year marked no less than thirteen hundred days since Yahapalanaya was thrust upon us with the swearing in of Maithripala Sirisena as President of our country on January 9th 2015.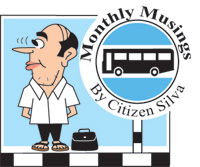 Although it seems that it was just yesterday that we citizens exercised our votes to usher in not just a Regime Change but also a System Change, time has been slowly and steadily marching on. We have been suffering under the rule of a government that is, in the words that its own Finance Minister Mangala Samaraweera blurted out at the end of last month, a "Konthey pana naethi durwala aanduwak " – a government of spineless weakness.
When Mahinda Rajapakse's Health Minister Maithripala Sirisena took the bold step of forming an alliance with the then leader of the opposition Ranil Wickremesinghe, many in this country welcomed this coming together of forces to oppose the entrenched former President and his coterie. Many however were apprehensive that this was a coming together of two politicians who were as different as chalk and cheese. As we all know, the surface of white chalk may appear at first glance to look like cheese – but the two substances are drastically different.
From a chemical viewpoint, chalk and cheese might form a mixture of sorts but they certainly cannot, because of their very nature, form a stable compound. Perhaps the only matter that Mr Chalk and Mr Cheese agreed on was the desire to depose Mahinda Rajapaksa, in which project they succeeded admirably. But after accomplishing what many at the time thought would be impossible, their differences and disagreements have led to a government characterised by indecisiveness, infighting and short-sighted ad hoc decisions.
Mahinda for all his faults will be remembered as the president who gave this country the Spirit, the Pugnacity and the Leadership to defeat Prabhakaran's LTTE . He was blunt and decisive, he called a spade a spade – and he had the guts to tell the British prime minister David Cameron and Norwegian "peace-brokers" like Erik Solheim where they get off. Sadly for our nation he did not (or would not) control his sons, sycophants and support-kaarayas from misbehaving once peace was restored to this country.
While Mahinda could be described as a fearless wolf in wolf's clothing, his two successors Ranil and Maithripala both appear to be not so straightforward. Maithripala the wannabe populist is but a sheep trying to fit into wolf's clothing, trying to make out that he, like Rodrigo Dutarte of the Phillipines, is a tough wolf with a madu valigey and the readiness to call out the death penalty on drug traffickers. Realistically, the only brave action Maithripala ever did was to challenge and take on Mahinda.
The genteel aristocrat Ranil, on the other hand, remains a wolf in sheep's clothing. The epitome of western sartorial elegance, his ovine appearance belies his wolf-like nature. He is a wannabe president with the ambition of a wolf, a political idealist but not a political realist, a man lacking the wolf-like ruthlessness that would allow him to achieve not just the top spot in his party but also the top spot in this country.
And so, while we expect our rulers to rule and govern this country, we find that these two strange bedfellows are more concerned with trying to outwit each other. With the next Presidential election approaching, Mr Chalk is spending six billion rupees to woo his voter base by trying to awaken Polonnaruva with his Pibidena Polonnaruva project – while Mr Cheese is spending eighty billion rupees reaching out to the rural areas where the UNP believes the next election will be lost or won. Whether Ranil's ambitious Gamperaliya programme of 2018 will be as successful as Lester James Pieris' 1963 Gam Peraliya movie remains to be seen.
While all this goes on, we find our leader who we expect to be decisive lurching from Grand Old Duke of York-like indecisiveness to Trump-like impulsiveness. They decide to ban glyphosphate – then they decide to rescind the ban on glyphosphate. They criticised and froze progress on the Hambantota port project – and then (realising perhaps the value of Chinese capital) they agreed to go ahead with the Hambantota port project. Whether a quid or two changed hands to encourage this change of heart we will never know.
The Chalk and Cheese government boldly announced last month that it will bring back the death penalty – but I am sure that before the end of the year (as we get closer to the next election) they will backtrack on this decision.
And speaking of backtracking, Maithripala Sirisena promised solemnly, soon after his election thirteen hundred days ago, that he would not contest another presidential election. Forgive me, my dear readers, for being cynical – but I strongly suspect that even that promise will be broken.
So while the wolf in sheep's clothing and the sheep in wolf's clothing cohabit in the same government they are already starting to begin to commence to initiate a fight against each other for the top job.
And the big bad wolf with his band of loyal brothers remains in the wings, biding his time, watching, waiting…..