World Cup preparation: Lankan cricket running out of time
View(s):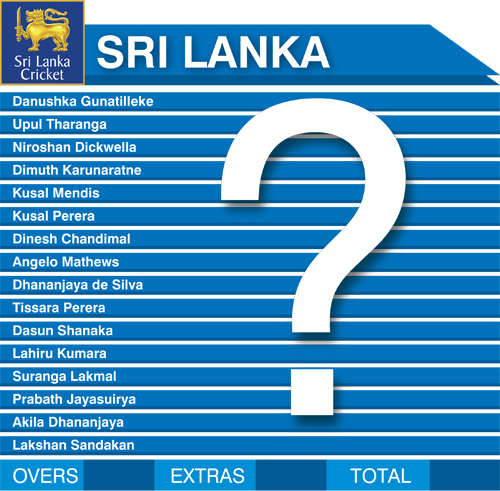 There was every reason for the slacking Lankan cricketers to rejoice. On Wednesday they ended an eleven match drought by beating South Africa by three runs in a true nail-biter, that was cannibalised by intermittent showers that nearly marred the game.
For the Lankans, it was a good match where they scored more than 300 runs in less than forty overs and then prevented the South Africans from reaching the target set-up by the Duckworth-Lewis system.
Yet, there is a point in finding out how many matches we have lost in a row, and how many times we have been beaten at the game, at which we were once ICC World Champions, and by whom.
Now, with about 14 ODIs, before the 2019 World Cup is due to take centre stage, Lankan ODI skipper Angelo Mathews was recently talking about looking beyond the Proteas. Last week, he spelled out his new strategy: "We have got to start playing on good wickets. Yes, it might take a bit of time but, I can assure you that the team will improve going forward, and once the guys get accustomed to it, we can win overseas. We will change it moving forward. We will move forward regardless of what happens. That is the change that we need to make."
He added: "We have to take a look at where we have gone wrong in the past. In the last 38 ODIs, we have won only 10, and we keep giving excuses. We can give excuses such as we have had too many captains. We have rotated too many players. The fact remains that, in the past 10 series or so, we have won only one."
As we are on the subject of an ICC World Cup at hand, I think it is thought provoking to go back to 1994 – two years before the Lankans conquered the cricketing world. There, they had lost a Test series against India. Unlike now, our International engagements in that era were few and far between. But, after the Indian loss, there was a probe about our loss. Let me pick the following points from the S. Skandakumar report issued after that disastrous tour:
1.  Considering the nature of the tour, the squad should have had greater depth in experience.
2.  Pre-tour preparations were curtailed and did not receive the attention they should have from the players.
3.  A strained relationship between the Cricket Manager and Vice Captain (VC) caused some tension in the team, even prior to the departure.
4.  There were 'camps' on tour which did not make it conducive for team effort.
5.  The tour lacked leadership.
6.  The Vice Captain's handling of the physiotherapist, in particular, did not hold him in good stead with the squad.
7.  Team meetings were not effective and there wasn't much contribution from the players. A further indication of the tension.
8.  There was an absence of motivation, particularly on the field.
9.  The Captain and Vice Captain, usually known for their individual fighting qualities, showed little, if any, on tour.
10.           The attitudes of players on the field, in general, with few exceptions, lacked: (a) National pride, (b) commitment, (c) discipline, and (d) a sense of purpose
11.           The bowling, with the exception of Muralitharan, was ineffective.
12.           The tour was interspersed with distractions of unofficial tours and some time and energy of key players were spent in coordinating these arrangements. It is learnt that visas for the return of some of the players to India were obtained whilst in India. This must have taken up time of tour in a needless exercise, from a national point of view. The Vice Captain is reported to have played a key role here.
13.           Umpiring had a very adverse psychological effect on most players.
14.           The hotels in some instances and ground transport arrangements, in general, were unsatisfactory.
15.           The Tour Manager could have been more assertive.
16.           The Cricket Manager appears to have been fair in his dealings with the players. A couple of incidents were reported, which, in our opinion, did not have any bearing on the tour.
The report also added: "A serious situation arose at National level after this disastrous tour. Several unsavoury allegations and seedy stories were flying around as to why Sri Lanka lost all three Test matches badly, each in less than four days."
The BCCSL appointed committee comprised S. Skandakumar (former Secretary BCCSL) as chairman, Brigadier S.D.N. Hapugalle, A.B.P. Tennekoon, L. Rodrigo and M. Seevaratnam with T.R. Mirando as Secretary, to "investigate all aspects of the tour that led to the poor performance".
"The tour, comprising three Tests and three ODIs, was not on Sri Lanka's original international calendar for 1994, and was arranged only after Pakistan called off their official tour to that country in the latter half of 1993," the report added.
It may have been thought provoking at that time…..but, at the same time, couldn't it have been the catalyst? Because two years hence, almost the same team turned tables and ended up ICC World Cup winners.
A quarter century on from the 1996 win, we are back on the same saddle, but the horse is still not clearing the fence. The Lankan cricketers have suffered the ignominy of losing against England, Australia, Zimbabwe, Bangladesh, Pakistan, India and South Africa and at the Champions Trophy, in recent times.
At least in 1994, the Lankans turned around after a debacle. But, since that point of time when Lanka lost the services of Mahela Jayawardena, Kumar Sangakkara and D.M. Dilshan, the Lankans have forgotten their sacred winning formula.
BEYOND THE PROTEAS
Since the loss in 1994, the Lankan team narrowed down its choices and, by 1995, it was more or less a composite XI which represented Sri Lanka — (Batting lineup) Sanath Jayasuriya, Romesh Kaluwitharana (W/K), Asanka Gurusinha, Aravinda de Silva, Arjuna Ranatunga, Roshan Mahanama, Hashan Tillekeratne, Kumara Dharmasena, Chaminda Vaas, Pramodya Wickremasinghe and Muttiah Muralitharan. Each of these players knew what his respective role was!
Fourteen ODIs to go, do we have a lineup that is settled? What would happen when the two 'naughty' lads – Dinesh Chandimal and Dhanushka Gunatilleke return to the side? Both look certain to make it to the 2019 World Cup squad, given the plight that we are in at present.
Top of the line openers – Dhanushka Gunatilleke, Upul Tharanga, Niroshan Dickwella (WK) and now Dimuth Karunaratne — are looking to fill the two slots.
Then there is the middle order that could read as – Kusal Mendis (WK), Kusal Perera(WK), Dinesh Chandimal(WK), Angelo Mathews, Dhananjaya de Silva and Tissera Perera. Then like Jack-in-the-box on Wednesday Dasun Shanaka joined the party scoring a belligerent 65 under a shower of sixes. This means more headaches for the selectors, on how are we to settle the real playing XI. Here, too at least three names will have to be omitted, wonder who they are?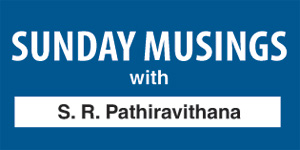 Many agree that, in English conditions, Lahiru Kumara, with his speed and wicket taking abilities in true conditions, should be playing a lot of ODIs but, has to get into the green jacket more often than not. Suranga Lakmal always gets preference over Kumara because of experience. Then, Tissera Perera was not bowled at all in the first match and, in the other, ends up taking four wickets. Then, there is talk of Lasith Malinga being in the bigger picture but, with every match he misses, he would run short of match practice.
Left-arm orthodox spinner Prabhath Jayasuriya, according to chief selector Graeme Labrooy, is being taken very seriously. But, with Akila Dhananjaya and Lakshan Sandakan, they have a choice there too.
Having choices is great under normal conditions but, with limited time options, the prevailing proposition is different.
Then, can we take Mathews seriously, as a captain. A fully fit Angelo Mathews would be hard to match. But, as a player who has to fight for a place as a specialist batsman with Dhananjaya de Silva, Niroshan Dickwella or Kusal Perera or Dasun Shanaka the options begin to narrow down. Right now, Mathews is playing selfish cricket, it looks like. Or else, he is not on top of his batting skills.
As for Hathurusinghe and company, every tangle has to be untangled. Could the Lankans turn tables in just 14 ODIs? Or else, should we propose to sack Chandika Hathurusinghe and employ English magician 'Dynamo', to alter the Lankan cricket abilities during the World Cup which is scheduled to be played in England itself?