Own goal in rugby or TMO's faux pass
View(s):

In football we often see own goals being scored. In rugby there is no such thing — there are no own goals. When you touch in defense it is either a 5-metre scrum or a 22 drop out as the case may be. Recently there was a case of an unsighted referee being uncertain as to who touched down while referring it upstairs to the TMO.

On first look of replay it is not clear as to who touched down. On replays from repeated angles it looks that it was the defending team that touched down. The TMO awards a try probably assuming that the attacking side scored going by the jersey sleeve colour that has seen patches of mud. The reaction of the commentator was to say; "an own try has been awarded to the yellows". Probably it was an apt thought considering that people call a touchdown in defense as an "own try".

While players, coaches and referees are the major contributors to the game one cannot forget the others.

Actress Elizabeth Taylor once said "I prefer rugby to soccer. I enjoy the violence in rugby, except when they start biting each other's ears". The word violence is used in a sense of the game and not violence that is unnecessary harmful.

We have moments in sport and common to rugby when our clothes are ripped off. A rugby player approach to getting your shorts ripped would be to go and change them. To the amusement of spectators this is done while the players crowd around him. Recently in match during a maul a players shorts were ripped off while the ball crossed the nearby line of touch. The player oblivious to what has happened moved to the touch line in only his red underwear and joins the lineout to the bemusement of all. Seeing this a mum type talked aloud wondering how the player is going to be lifted or supported at the crucial line-out. There were many wise comments on what and how but the best of them was "it is like the Auditor General's Report on Sri Lanka Rugby; all assets and liabilities exposed to the public".

In recent schools match the commentator howled in raptures shouting "great passing, running and star player changes direction and scores with a fantastic dive". Only to lower pace pitch and poise and humbly say "he could have had a simple try without leaping several feet into the air and loosing the ball and also getting mud on the face". It was a case of celebrating before scoring.

"Either you score or you don't from that position was describing the math stealing one over the comment the referee gave a penalty for something. Describing a hung game what was said was that Kings have a 50-50 chance in their favour. This is as good as the slight knock on you hear often or having to wonder what a put a kick means.

A man known for his wit is referee Nigel Owen. The Welsh World Cup referee in the pool match between Scotland and South Africa commented to Stuart Hogg for diving as seen at soccer to attract attention to milk a penalty. This happened at St. James' Park, the home of English soccer club Newcastle United.

"Try it again and come back in two weeks to play," Owens said to a red-faced Hogg reminding him that there is a soccer match in two weeks. But while his words may be memorable, his actions normally are all about letting the game flow: "A good referee can't make a bad game good but a bad referee can make a good game bad," is what is said. That is how Nigel would look at things realistically.

The wit does seem not to be lost to a younger generation referee who answered a senior on the coaching side a when asked how he would decide on crooked throw. Probably because of the strong wind that was blowing across the pitch. The young referee threw back the question and said "tell me what you think a crooked throw is". On being given the answer the referee said you know it and that is the way it will be done. "Gone with the Wind" was how another explained.

A few years ago there was an incident in Kandy when the referees who were harassed went up to the side line and threw the whistle to the spectator and asked him to referee. It did take a lot of coaxing to get the senior referee back on the field. Neither is it the first time that a referee has been physically abused.

The joke however is when those who have faced the abuse not empathising when a current referee is at the receiving end. It is said that faced with a choice of selecting between Alzheimer's disease and dementia he chose dementia; hence forgetfulness. He even forgot that shaking and spilling a drink is better than to forget where the bottle is. The bar stool conversations still reminds of thoughts of past rugby enthusiasts.

There was the distinct sounds that were heard from the Pavilion at CH&FC. With no malice one could clearly hear the call to the referee "may paththe ekek budi" – there is somebody sleeping on this side or the advise to Mr. Sri Lanka who is on the field "be careful not to get scratch marks on the face".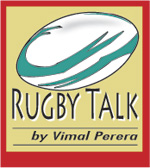 CH who has had some bad seasons in the recent past did bounce back this year. As the players went behind the post after they had scored. A wag commented "They are doing what they have been doing the last few seasons. Going and standing behind the goal post waiting for the conversion. Possibly this year we will see them converting more though it may not be at Maitland Crescent".
But what was supposed to be thought was humour when some laughed and others frowned was a feminine voice at a schools match a few seasons back shouting at the referee. I will give you my panties to wear as the whistler was approaching the tunnel and fuelled by the thought that he did not blow well as she fell he was lenient on foul play.
I remember the ardent rugby fan from Kandy, who ran a curio shop by Queens, whose relations are probably back in Sri Lanka building a harbor or a Port City. When Chang would referee he would shout "When did Chinese play rugby". He was also seen once in the stands moving from point to point and shouting at the referee "Anil you are HIV positive" after a few seconds he would say "Anil your Hair is Vanishing (HIV)".
Is this the vanishing brigade of local rugby marred by the lure of a win.
Vimal Perera is a former Rugby Referee, Coach and an Accredited Referees' Evaluator IRB