Saying it in pictures: Artists join hands for wildlife
View(s):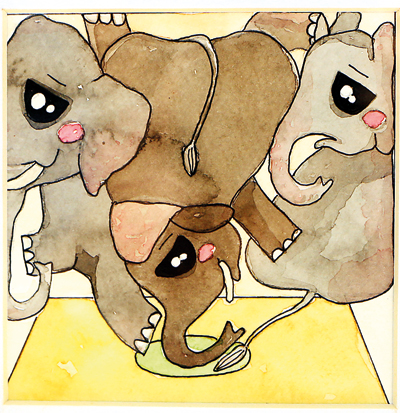 With over 270 elephants dying annually and the Purple-faced langur threatened with extinction, animal causes cry out for attention. A novel art exhibition has been organised by the Wildlife and Nature Protection Society (WNPS) to raise funds for conservation efforts.
Endangered species such as the elephant, leopard, Purple-faced langur, blue whales and dolphins are the exhibition's main focus and this is portrayed in the compact 4×4 inch paintings by artists Susil Dixon, Kasun Geethendra Pathirana, G.P. Sajini Lankadari, Dilhara Bulathgama, Virantha Davi and Gamini Abeykoon.
The habitat loss caused to animals forces them to wander into human territory in search of food, water and space leading to the Human Wildlife Conflict (HWC) intensifying over the years. Thus as a fund-raising initiative to mount the legal battles for the human-animal conflict, the 'Animal Real Estate' campaign was launched.
The campaign involves placing advertisements using wildlife art across social media and in newspapers to raise awareness of the dire situation that Sri Lanka's wildlife faces. This art exhibition cum auction organised by the Wildlife and Nature Protection Society is part of the campaign.
The wildlife paintings will be exhibited today, August 12 at the Diyasaru Park in Thalawathugoda from 7.30 to 11 a.m. and auctioned off on August 16 at the Jasmine Hall (BMICH) from 7.15 p.m. onwards. This entire initiative is supported by Dilmah Conservation.