Now, flavourful afternoon cuppa and more at Bayleaf
By Sashini Rodrigo
View(s):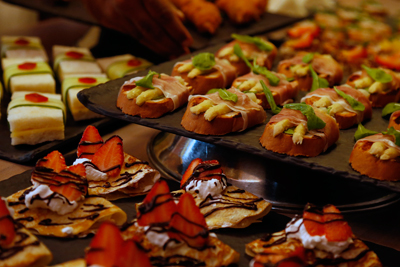 The Bayleaf's Wine and Tea Room introduced an exclusively-crafted afternoon tea experience, combining an indulgent selection of treats with carefully curated tea blends in an exciting new partnership with Zesta Teas on Wednesday, August 8.
The new menu celebrates the tradition of afternoon tea complemented by a selection of teas from the Zesta Conoisseur Collection.
Start off with an assortment of inspired savouries such as bacon and prawn stuffed capsicum, fried tortellini with spicy Pomodoro sauce, a light yet flavourful chicken and vegetable roll and more. They pair well with the artfully arranged finger sandwiches, available in a variety of fillings such as smoked salmon and cream cheese, mustard roast beef, and sweet cheese with onion and green chilli.
The sweets make up the final decadent layer of the tea stand, with choices impossible for any sweet tooth to make, like a chocolate eclair with strawberry or chocolate topping, brownie with mint ganache, and a deliciously authentic tiramisu in shot glass, to name a few.
Managing Director Harpo Gooneratne hopes that this combination of elegant food and specialty teas will raise interest in locally-produced tea amongst locals and tourists alike.
"What we're looking at doing is having tea gatherings, sampling 15 different kinds of teas specially brewed for the Bayleaf Wine and Tea Room. We're really looking forward to the new experience at the Bayleaf Restaurant."
The tea selection includes premium quality single-estate teas, bespoke blends, and infusions. The crowning glory is the Bayleaf Delight, a cheerful and fruity signature blend crafted exclusively for The Bayleaf that is equally enjoyable hot and iced.
The Wine and Tea Room boasts a variety of interesting flavours designed to appeal to different palates, starting from a simple Waltrim Estate BOP or the exceptional Ceylon Silver Tips white tea, to elaborate fusions such as Rose Bourbon, Citrus Tango and Detox. One blend that is sure to become a favourite is Pumpkin Spice, a black tea delicately laced with natural cinnamon, ginger, nutmeg and cloves, pleasantly reminiscent of warm pumpkin pies with none of the sugary guilt.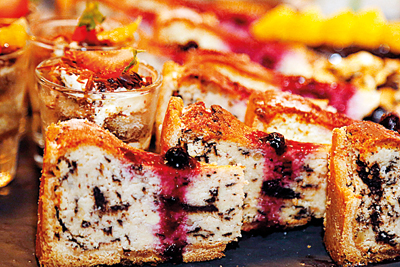 The afternoon tea set can be served at the Wine and Tea Room or in private rooms upstairs, for a setting that is both relaxing and refined.
The Zesta team will also arrange presentations for interested groups, where specialists will explain and demonstrate the processes of tea making and tea tasting to promote the local tea industry.
"After a meal, there's nothing like a good cup of tea," Harpo adds. It is this simple pleasure of life that launched the concept of afternoon tea service turning into a thriving industry, culminating in this special experience best shared amongst good company.
Afternoon tea is available daily from 2 p.m. to 6 p.m. Bookings should be made at least 24 hours prior.
For more information, call 2695920 or visit www.bayleafcolombo.com