Letters to the Editor
View(s):

Sri Lanka in dire need of those elusive leaders

An inspiring letter in the Sunday Times of August 5 by Nandanee Gunawardana, a PhD Engineer titled, "Why do doctors think they are special creations" got me thinking and reflecting. This seems to be a malady in today's society from the rampaging students on the streets,to the striking doctors, to the politicians who all consider themselves to be special creations and thus justifiably have the right to seek special privileges for themselves all in the name of fighting for the less fortunate or just rights.

They little realise that they will find themselves sooner or later pulled down from their high pedestal and brought low. However, those who venture into humbling themselves for the common good of humanity will find themselves exalted into high leadership.

In the recently concluded FIFA final between Croatia and France, though the latter won, the real winner was seen in the Croatian President who threw protocol to the wind and won the hearts of millions across the world. She hugged each player from both teams. She shrugged off power, class, prestige and perks; mingling with the ordinary men and women in the stadium each time her country played,  up to the finals. She travelled at her own expense not in business class but on economy and watched matches not from a VIP luxury seat, but together with other ordinary football enthusiasts.

Mother Theresa of Calcutta began to be known worldwide only when she started going down into the slums and gutters where the poorest received succour and fulfilment from her fellowship,where no one else would dare. She was once asked why she travelled in India not by air but by train and that too in 3rd class. She replied simply: "because there is no 4th class."

We have others who led by example – Mahatma Gandhi, was a friend of the untouchables, Nelson Mandela who created  a South Africa free of apartheid, Martin Luther King who fought through  non violence and self sacrifice, for the victims of violence. Such names remain immortal. They give hope to a selfish and egoistic society.

May this generation give birth to such elusive leaders; a special creation that could emerge when your heart is given for the happiness of others.

Gerard Victoria  Via email
---
Ending plastic pollution: Make it everybody's business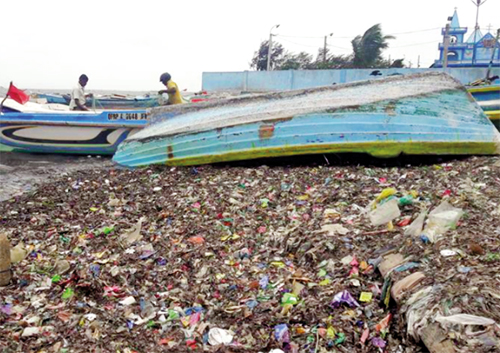 For past few years we have seen how our beaches are polluted with used plastic bottles and bags. With the introduction of degradable bags, we see less bags but the bottles still remain. Most of the Western Province coastline is so full of garbage that one cannot even walk on the beaches.Is Paradise already lost as a result of our own doing?
Plastic pollution of the sea is one of the growing hazards of today. As a result of fish consuming plastic, the consumption of fish will pose the threat of cancer in the next few years. That will effectively eliminate the entire fishing community's income and eating seafood will be something of the past.
The business community utilises one-time use plastics to increase their profits and the public in general use it for their convenience. Unfortunately they all think pollution by plastic is someone else's problem.
Collection of plastics and re-cycling cost money. If the government pays a subsidy for re-cycle collectors and centres, entrepreneurs could be motivated to open more re-cycling centres. The Government should charge a tax /cess for all users of one- time plastics. Users can surely afford to pay the cost for the re-cycling or alternately use a reusable bottle/bag and avoid the tax. Western countries already charge a tax for re-cycling at the point of sale for plastic bottles and cans. This has helped to encourage  people to reduce the usage and also give the plastic to re-cycling centres for money– in the process earning them an income too.
R.J. Dasa  Colombo
---
Thank you Prof. for enlightening us of the situation created by the SLMC
It is a praiseworthy decision by Prof. Colvin Gunaratna to resign from the Sri Lanka Medical Council as he acknowledges the 'archaic Medical Ordinance' which he claims as ineffective in achieving its primary objective of ensuring the welfare of the public of Sri Lanka. It is interesting to note that the SLMC consists of 25 members from the Medical Faculty – the Medical Teachers Association and none from other professions such as Law, Architecture, Journalism, Business Management like UK's General Medical Council (GMC). This is the secret of the bargaining and sometimes blackmailing by the Government authorities to achieve their undisputed claims, as most of their members belong to TU's. No wonder, then patients' rights and welfare truly are not their concern!
Thank you Professor for enlightening the nation of the dangerous situation created by the SLMC which breaches the true intention of its creators failing to offer the best medical care for the public, as it has been converted to serve the interests of the Medical Unions.
The time has come to revamp the SLMC to meet the requirements of the public and make necessary amendments to the laws. Representation from the other professions must be 50-50 and the total number of members could be reduced to 12 like the UK GMC.
As there is a serious shortage of medical specialists in our country, SLMC must be empowered to register such specialists from foreign countries to offer their expertise and services to patients in Sri Lanka. This would help the private sector hospitals to upgrade their services like in other developed countries and facilitate opportunities for Sri Lankan doctors to widen their medical skills to match international standards.
Specialist doctors who have obtained post graduate degrees in their countries must be acceptable to the SLMC as well. Frequent strikes by members of the GMOA are affecting the patients seeking treatments at govt. hospitals and now private hospitals. Therefore the new SLMC must register those foreign doctors to serve at our private hospitals, if they possess the required qualifications and experience as acceptable in countries the world over, only to ensure the welfare of the public of Sri Lanka.
Anthony Perkins  Via email
---
Newspaper headlines that took me back in time
The Sunday Times of August 5 had three interesting headlines on the front page.
I will start with the mystery over the Sigiriya cable car project as I was directly involved with a Pidurutalagala cable car project. This was referred to the University of Moratuwa and Vice Chancellor, Professor Wille Mendis wished that I should handle it. The proposal (perhaps mysterious even then) was for a dismantled old cable car from a European country to be installed at Pidurutalagala.
Dismantled cable cars of Europe perhaps of doubtful safety are best left in Europe and not sent to countries like Sri Lanka. My suggestion was to make a roadway using the Army. Fortunately this was accepted and the road was done at a virtually negligible cost by our Army Engineers, when compared to the cost of the"Dismantled European Cable Way."
Now I will go to the main headline "EU Extends LTTE ban for 6 months." I was a delegate to the UNESCO General conference held in 1983 in Paris. The head of our team was Minister Nissanka Wijeratne and his able Deputy was Esmond Wickremasinghe. Both wanted me  to attend the Paris conference.  A few years back both of them virtually dragged me to the UNESCO Conference in Yugoslavia. I was not interested in going there as I had been to Yugoslavia in 1970 and drove right through the country in my Morris Oxford car, with my wife and two children. But I must admit that I went to Paris with pleasure. This was after the so-called Kalu Juliya of 1983 and a Sinhala person had been killed by the LTTE in Paris.
At the conference, I made a small intervention, as they call it, which took only a few minutes. But a sad and long comment on my brief intervention by a neighbouring "friendly state" made me to ask for more time. I was given a reasonable time and I spoke about our history and about terrorists. Most of the delegates listened intently and the official photographer took a picture of me including the delegates from Switzerland who were seated next to me. Many delegates later thanked me at the end of my talk and said they learned a lot about ancient Sri Lanka.
But an English- speaking delegate much older than I came up to me and said, "Professor do not call them terrorists, they are militants." I explained later who a terrorist is and who a militant is. That is a long story which cannot be reproduced here. I used three names Loku Singho, Appu Singho, two rich men in a village and Podi Singho, a very poor man in the same village. I only had to explain the words Loku, Appu and Podi as the word Signor was known to them. So much for terrorist and militants. Perhaps the bombs blasted in the western countries now are also by militants and not terrorists. As I am now over 83 years,the person who spoke to me must be in heaven or hell as he would certainly be over 95 or even more if he was still on this Earth.
The next news also on the front page is  "20 acre multimodal transport hub in Pettah."  Some details are on page 2 but not the cost.
Though politicians hate the newspapers that publish the truth, imagine what the whole world would be if not for the news hunters who take great risks to their life and limb.
Mattala is the third item that drew my attention. The whole world is running at a loss, our whole country is running at a loss. Even Japan with all its wealth has expenditure higher than income. Only China appears to be having a surplus. But that also cannot go on indefinitely. So let Mattala and Hambantota be kept with us and let the people bear the cost until we can find efficient local people who can make ends meet in time.
Going back two years to 2016, The Sunday Times of September 4, 2016  had the front page news item "Beira project: S'pore firm may get huge contract sans tender." Everybody had seen this but not the details on page 21 which went on to say what is shocking in a country where the President gets only Rs. 90,000 per month. The Head of the Project Team was to be paid Rs. 319,950 per day and his deputy Rs. 283,049 per day. The total contract was supposed to be Rs. 54 Million which must be peanuts for the persons who squander public funds.
Former Premier Dudley Senanayake had only Rs. 500 in his bank account when he died. He drove his own Triumph Herald car costing Rs. 12,000. But now we are in Sri Lanka – the Land of Mysteries. We are getting more mysterious by the hour and by the minute.  Let us learn to get things done with our own means and our own skills, without going a-begging. Let people and politicians THINK and we will not be mysterious or poor any more.
Prof. P.A.de Silva  Via email
---
What ails our doctors?
I refer to Dr. ( Eng. ) Nandanee Gunawardena's Letter to the Editor on August 5 and I fully agree with her opinions about Sri Lankan doctors.
A majority of them think that they are some special class of people who should be worshipped by all others. They do not concentrate on medical matters and their patients, but are now involved in politics.They are trying to advise the Government even on financial and other matters which are not related to their profession.
The former GMOA was a respectable association but it has now been reduced to a cheap political trade union. I feel that the Government should not allow the GMOA to interfere with matters which do not directly relate to medical issues and treatment of patients. All professionals should be treated equally as schooling and other problems mentioned by the GMOA are not related to doctors only. Channel practice should be reviewed as it has made a majority of doctors very corrupt and careless when treating patients.
I agree with Dr. Gunawardena's suggestion that opening of private medical colleges should be encouraged since there are private institutions for all other professions. The facilities in outstation hospitals should be improved and all doctors, including the GMOA office bearers, should be compelled to serve a period in outstation hospitals.
Eng. Cecil B. Abeykoon
---
It's our duty one and all to stop these harebrained proposals regarding Sigiriya
There is a sickening regularity in the philistine schemes that the Central Cultural Fund (CCF) promotes to transform Sigiriya into a money-making Disneyland. The first attempt was to use the magnificent monument as a backdrop for 'Sound and Light ' performances. Public protests halted this project.  Not long after, came the CCF proposal to instal a 'mechanised lift' to transport paying tourists to the summit. Once again, this harebrained proposal was defeated by public protests spearheaded by the patriots of the 'Sigiriya Surakeeme Samithiya'.
Undeterred in its desire for foreign exchange, the CCF now proposes a cable car service to the summit. The flimsy pretext is this will help physically handicapped tourists! All this seems to be done behind the back of the Archaeological Department which is the lawful custodian of Sigiriya.
It is the sacred duty of all patriotic Sri Lankans to protest with all their might and main to defeat these moves.Even Arthur C. Clarke was so fascinated by Sigiriya that he wrote of a supra-dimensional 'beam' to the outer planets anchored on Sigiriya!
Tissa Devendra  Via email
---