Indulge in a chocolate adventure this month at Hilton
By Ruqyyaha Deane
View(s):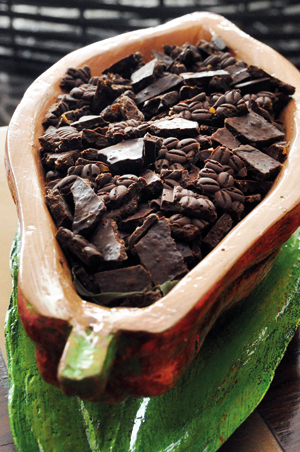 The Greek name for cocoa—Theobroma—literally means, "food of the gods" and the Hilton Chocolate High Tea certainly hit the mark with a delicious array of chocolate inspired dishes.
Their initiative #EatDrinkHilton focuses on a seasonal produce all month long. "So every month we focus on one ingredient and this month of August it's cocoa and obviously cocoa means chocolate," Hilton's Marketing Communications Manager Gigi De Silva said.
"Come and see us," newly appointed Executive Chef Robert Mujagic invites, going on to explain how every infusion of chocolate with something came into fruition through trial and error. Every item at the high tea was made from scratch, from the decadent truffles to the bread used for the sandwiches.
The high tea showcased a variety of delectable treats ranging from a 'crazy hazelnut petit' to mini smoked salmon sandwiches with wasabi cream rocket and dark chocolate.
Their homemade chocolate slabs included interesting flavours of dark chocolate with Jack Daniels and orange, dark chocolate with rum,white chocolate with cardamom, white chocolate with coconut and lime, milk chocolate with Sri Lanka Nuwara Eliya tea and a personal favourite- dark chocolate with ginger and mint all arranged in the sweetest cacao pods for tasting.
They might not be for people with a sensitive palate (especially the milk chocolate with wasabi and sake) but it was definitely worth the adventure trying out all the different combinations available.
From the buttery scones accompanied with homemade jam, the dark chocolate cherry petite with a surprise in the middle, lamingtons rolled in toasted young coconut, macaroons and cheesecake, the high tea went all out on the sweet front.
For the ones who are not chocoholics at heart, there was a somewhat limited range of savoury items which were also infused but not overpowered with chocolate.The mini devilled egg sandwich had a nice contrast with the crisp bread served with the soft eggs while the cocoa,tamarind and thyme cured Scottish salmon was a lovely palate cleanser after gorging on the several sweet options available.
Although the high tea might have only been a one time experience to promote this month's star, August seems to be full of promise for all chocoholics with the sinful chocolate seduction that Hilton provides: Cafe Kai's chocolate cakes, local and imported chocolate and chocolate beverages, L.A.B's chocolate inspired mocktails and cocktails and Graze Kitchen's delectable chocolate desserts.