Appreciations
View(s):

Remembering a giant of a man

Lakshman Kadirgamar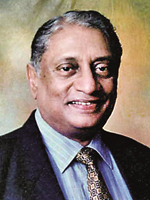 The thirteenth death anniversary of Laksh-man Kadirgamar, former Foreign Minister of Sri Lanka falls today, August 12. We publish here extracts from tributes paid to him at the ceremony in his memory on June 21, at the unveiling of the painting 'Guttila the Veena Player' at the World Intellectual Property Organization (WIPO), Geneva. The painting was gifted by his wife Suganthie Kadirgamar to the WIPO where Mr. Kadirgamar had once served before becoming Foreign Minister.
WIPO Director General Francis Gurry:
First of all I should say that Lakshman Kadirgamar was responsible for recruiting me and that was in 1985. Lakshman Kadirgamar worked here from 1976 through to 1988, a period of 12 years. And it was a very formative period for this organisation, because when I joined in 1985 the staff comprised 200 people. When LK joined it comprised about 50 persons. And intellectual property, which is a somewhat specialized subject matter as you all know, was even more unknown and recondite as a subject matter in those days.
One of the great professional contributions of Lakshman Kadirgamar, who was the Director of our Asia and Pacific Bureau, was to spread awareness in a very burgeoning Asia, growing Asian economies, of the value and importance of intellectual property. So he played an extraordinary role in this process. We now see that Asia is the source, the major source of intellectual property application worldwide. When Mr. Kadirgamar worked here, that was a very different story and he was instrumental in bringing awareness of intellectual property to Asia and Pacific.
In addition to his professional qualities, Lakshman Kadirgamar was a wonderful human being. He was a gentleman, he was an extremely gracious person. He was extremely broad-minded, extremely open-minded, with a high intellect and an openness, I think, to all cultures over the world. So it was most appropriate that he did spend 12 years in an international organisation.
For me, personally, it was really a privilege to have worked for him for three years. He taught me a huge number of things in all fields of life, not just intellectual property. And so I am absolutely delighted that we have the opportunity to honour his memory today with the unveiling of this painting.
Ambassador A.L.A Azeez:
Mr. Kadirgamar was a man of exceptional poise, talent and character. He was a brilliant legal luminary, a consummate diplomat, an inspiring orator, a clever strategist and a pragmatic leader. Above all, he was a great humanist.
The exemplary art of diplomacy and his persuasive skills that he brought to bear on his new caling in 1994 took Sri Lanka to greater heights. He did that fearlessly until he was most cruelly downed in August 2005. While the office of the Foreign Ministry was adorned by its holder, it was public knowledge that the holder was an accomplished person, even before he was inducted into that office in 1994. It was not surprising that a person of such stature made the culture of diplomacy and professionalism the mainstay of Sri Lanka's engagement with the world.
A key attribute of that culture was its emphasis on its accomplishment and result orientation. HIs highly analytical skill carried a conviction, careful nurturing of talent and creative thinking and leadership all combined to engender a constructive ambience within the foreign office leading to the flourishing of the foreign service and its professionals becoming accomplished as well. He had nothing to benefit from politics but politics had much to gain from him. That of course we all  know very well is his distinct footprint. A footprint that represents a part of his legacy that spans all spheres. Trinity College and the University of Ceylon, Balliol College, Oxford Union, the unofficial bar, the IL law and the very place we stand here today, the WIPO to which he gave up the prime of his life.
I believe he had certain dreams which he wanted to see accomplished or fulfilled as well. The dream of a peaceful, reconciled Sri Lanka and a secure, stable, sustainable world.We are aware that many strive hard even now both in Sri Lanka and abroad without visibility, without expectation of personal reward to carry out some of his dreams to fruition through small steps and in small ways.
UK Secretary of State for International Trade Liam Fox:
Lakshman was someone who I was honoured to count as a friend. I first worked with him when I was the Junior Minister at the Foreign Office in London, and in all my interactions I found him to be sharp-minded, quick-witted, and sharing the same drive for peace in Sri Lanka.
While much remains to be done to heal the wounds of the conflict in Sri Lanka, the commitments made here in Geneva are integral to Lakshman's legacy. He is famously quoted about the interaction he felt between his upbringing in Sri Lanka and his education in the United Kingdom and elsewhere. He said that Oxford was the icing on the cake, but the cake was baked at home. And that I think really sums up both the internationalism of his approach and his deep love for his country. It speaks to me of the pride and the duty that he felt towards his homeland, and as a Tamil in a country polarised by an ethnic divide, a place he tried to find solutions and create the kind of society that he wanted for his country for the future. And it was in his devotion to his country that he returned there after years in London and here in Geneva, where he was to pay the ultimate price at the hands of men of violence.
He has many achievements, but it speaks volumes about him that he is also remembered for the impact that he had here at WIPO, including recruiting the future Director General of the WTO.
And of course he talked very fondly about the time that he had here. He was not only a brilliant politician and a brilliant official, but he had a great legal mind, which is one of the things I most remember about him. But he was also someone who was intelligent, thoughtful, pragmatic, and passionate, and I have to say, as someone who negotiated with him, tough. And he was selflessly devoted in bringing all of these skills to making things better both across the Asian region and in his home country of Sri Lanka. He is someone who has been actively missed by all of us who knew him well.
And I hope that for decades to come, future delegates of WIPO member states and staff at WIPO will be prompted by this painting to learn about him, who was in many ways a giant of a man, and to follow in the legacy of someone who served and still serves as a great example to us all. in so many ways.
---
A man of humour and quiet spiritualism he  meant many things to many people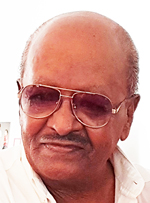 Gulistan (Duleep) Khan
He was a writer, reader, conversationist, commentator and rationalist philosopher. Professionally, he was none of these, but he was known as such among family members and friends.
Gulistan (Duleep) Khan was my father-in-law, who died on June 17 at the age of 87 after a brief illness. Twenty-two of these years, he spent with me, giving me fatherly advice, much-savoured company and now, memories to cherish.
He was a writer, for many came to him to get letters– official and personal– written in English. He wrote many appreciations of family members and friends.  When someone asked who would write his appreciation, he would say, "My son-in-law."
An avid reader during his schooldays and throughout his life, he would begin his day by reading the newspapers. Once when the papers were not delivered to the house by the newspaper agent, he called her and, in his characteristic jovial manner, told her she was 'starving' him.  Such was this retired public servant's thirst for news and information.  He would not miss the nightly TV news bulletins and he knew how to sift through the presentation and say what was an objective news item and what was fake or loaded with political bias.
Since he kept himself abreast of political developments, he could hold forth on politics and sports at any gathering. Of course, he deplored political skullduggeries with the contempt they deserve.
Our dining table conversations largely centred on politics and sports, at times, on English literature, movies and matters life, death and beyond death.
He condemned terrorism and would raise the question how could one proclaim Allahu Akbar (God is the Greatest) and  kill innocent civilians. He was not an agnostic, as some thought.  His conversations with me, I found, were an attempt to learn more about matters spiritual.  His spiritual life was largely hidden and built on the premise that one could serve God by quietly serving others.
During his free time and healthy days, he taught many young people the English language and found jobs for many. And his latent spiritualism became evident when he, on his death bed, glorified God, by repeatedly saying Allahu Akbar and La-ilaha Illallahu.
Son of Badurdeen Gulistan Khan and Haleem Bee, he was the third in a family of three girls – Zareena, Atheeba and Jezeema and four boys – Haroon, Gulistan, Dilwar and Iswar.
An old boy of St. Joseph's College, Colombo, my father-in-law shared with me many anecdotes about his school life, his attempts to become a police inspector or excise inspector and how he eventually ended up in the Public Works Department or the Government factory in Kolonnawa.  In the good old days, a government job was every youth's dream, as it, apart from the perks, made one a sought-after groom. He married Zareena, daughter of the wellknown  Adam Bhai from Dematagoda Road. Together, they shared the bliss of married life for 56 years.
He had a great sense of humour. When friendly doctors asked what his name was, he would say, "My name is Khan and I am not a terrorist" evoking laughter all round. The line became famous after the 2010 Shahrukh Khan blockbuster "My Name is Khan'. He often shared old jokes with me — and some clean ones with my children, who were the apples of his eyes. Because of his extreme love for his grandchildren – Sumaiyah and Safiyah from his daughter Sheruza, and Naveed from his son Shaliq – I once presented him a fridge magnet which had the saying: "If I had known grandchildren were so much fun, I would have had them first." He simply adored all children. A Universalist in his outlook, he abhorred divisions that created elitism and caused racial and ethnic conflicts. Perhaps, it was this progressive stance that enabled him to spend his final days reflecting God's universal love and mercy and exuding love for all.
As I kissed his forehead while a Sri Jayawardenepura hospital security guard announced that the lunch time visiting hours were over, his last words to me through the oxygen mask, were, "I love you".  Three hours later, he died peacefully. May Allah grant him Jennathul Firdouse!
Ameen Izzadeen
---
I wish I had one more chance to have a chat
Devnaka Abhisith Nadeepa Dharmasiri
The reminiscent memories of your life,
Always bring forth a smile.
If only I'd get one last chance to chat with you,
Just for a little while.
Then we could sit and have a tete-a-tete,
Just like we used to do,
When once you filled the moment with supreme delight,
And now your memories always do.
Thanks for trusting me from the start,
Although I couldn't say you had a warm heart,
Trust me, your secrets will always be,
Under the tightest lock and key.
Sayeth one poet,
"seasons change: songs do fade
Death never detaches from our fate…"
Never mind, we'll meet somewhere some day,
In heaven, where eternal glee would stay.
It fills two years for today,
And I've learnt from day to day,
Your memories will linger within my heart,
Overflowing with gleams of sunshine, flowers and hearts.
Ravindu Fonseka
---