Animal cruelty laws need immediate reform
View(s):

Animal cruelty, hardly grabs a headline, however horrendous. But there have been some exceptions – the most recent being the brutal slaying of a leopard by a mob in Kilinochchi. Leopards being a protected species under Sri Lanka's  Fauna and Flora Protection Ordinance,the country's law enforcement was quick to act, arresting the suspects and producing them in court.

In 2016, social media photos of an eagle being skinned alive resulted in the perpetrators being convicted for animal cruelty. In 2009, the massive media coverage of hundreds of goats and fowl slaughtered at the Sri Bhadrakali Amman kovil in Munneswaran, led to a group of Buddhist and animal rights organizations  seeking judicial intervention to prevent animal sacrifice, with the Court of Appeal ruling that the sacrifice violated the Butchers Ordinance and the Prevention of Cruelty to Animals Ordinance and directing the police take all necessary action to prevent such sacrifice in the future.

In this "Thrice Blessed" isle, animals are exposed to immense cruelty  –  food animals are bludgeoned to death, conditions in livestock farms are appalling, zoo animals caged for human entertainment undergo severe physical and mental suffering, pet shops are hell-holes, commercial dog breeders subject bitches to almost 'gang rape', pets are chained, confined and left without sustenance when their owners are away; stray cats and dogs are poisoned, captive elephants are severely bruised due to heavy chaining, thirikkal races, cock fights and other sports which are popular gambling options expose animals to indescribable suffering. These are only a few instances of such cruelty, abuse and exploitation.

This cruelty is perpetrated, to use UN jargon, not only by non-state actors but also by some state actors, as in the case of dog population control (as a measure for rabies eradication) where stray dogs are brutally seized and destroyed despite a Presidential "No Kill Policy" of 2006 prohibiting  killing and directing sterilization as the humane option. Last year, two state universities received severe condemnation for destroying dogs on the campus premises, cared for by compassionate students and staff – the contracts to kill had been given to a pest control company and security firm.

Our current animal cruelty laws are a mockery and the law enforcement weak.  We still operate under a colonial law, the Prevention of Cruelty to Animals Ordinance  of 1907, applicable only to domestic animals, a limited number of cruel acts, a mere Rs.100 fine for violations and which has no special enforcement authority.

Though two Presidential election manifestos pledged to reform the archaic laws, there have been no tangible results. The 2005 "Mahinda Chinthana" had among its 594 promises, one that  said "I consider cruelty to animals a disgrace on humanity.  I therefore propose to amend without delay, the outdated laws on prevention of cruelty to animals."  The 2015 Manifesto "A Compassionate Government – A Stable Society"of incumbent President Maithripala Sirisena, pledged that "Legislation will be soon introduced to prevent violence to animals." But, for animal welfare activists, there has only been deep disappointment, so far. Knowing our politicians, these pledges should have been taken cum granosalis.

It is most unfortunate that an Animal Welfare Bill recommended by Sri Lanka's Law Commission  to replace the Prevention of Cruelty to Animals Ordinance is pending enactment for over a decade.  This Bill defines "animal" to mean "any living being other than a human being", introduces many new offences, prescribes fines that could go up to Rs.125,000 and provides for a National Animal Welfare Authority for its implementation.  In 2010 through a court case, a group of Buddhist and animal welfare organizations succeeded in drawing government attention to this Bill.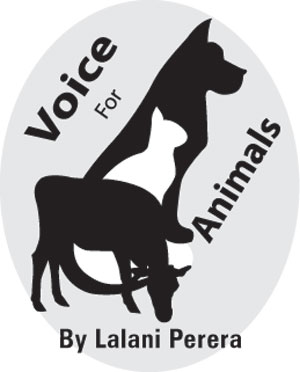 At a Parliamentary Adjournment Debate on May 6, 2014, on "Formulation of laws to prevent animal cruelty", Transport Minister Nimal Siripala de Silva, then Leader of the House and Irrigation Minister stated that he was happy to inform Parliament about the Animal Welfare Bill and that it would be brought before Parliament in the future. Minister Lakshman Kiriella, then an opposition MP, expressing the view that it is time that Members of Parliament note this problem and bring in adequate legislation, hoped the government would take notice of these provisions and bring in laws to safeguard animals. State Minister Ajith P. Perera, an opposition MP at that time, commented that this land belongs also to animals, and that animals and trees are as important as humans to preserve nature. Today, as powerful Ministers in the government, will they act as catalysts and take the Bill forward?
Since its submission to government in 2006, the Bill has faced many obstacles. Though by 2016, the contentious issues had been resolved at the highest levels, including at a meeting with the then Presidential Secretary in July 2015, and the Attorney General's department in 2014, the Bill's progress continues to be impeded due to lack of political will, bureaucratic apathy and vested interests.
Animal welfare organizations have continuously lobbied for the Bill's expeditious enactment – meeting Cabinet Ministers and Parliamentarians, conducting signature and fax campaigns, public discussions, press conferences, etc.  One organization that sought a meeting with the leader of a leftist party however, was told by his Secretary that his leader had no time to meet them – perhaps because animals, unlike undergraduates, are of no use for their political dramas!
As sentient beings animals experience distress, pain, suffering and fear. No longer are animals considered chattel; they are fast becoming non-human persons. Animal welfare is now a pan global movement. Failure to reform our outdated animal cruelty laws will have a negative impact on the nation's image. And, each day delayed means more pain, more suffering, for more animals.