A scribe who made a mark on the Sinhala arts scene
90th birth commemoration of Saman Tilakasiri
View(s):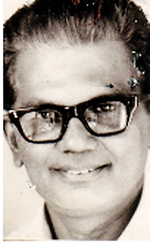 Today marks the 90th birth commemoration of Saman Tilakasiri, poet, journalist and award-winning author. He was a senior editor of Lankadeepa during the Times of Ceylon days, and then went on to become Chief Editor of the Rasavahini magazine. He also published research work on Sinhala literature and books on grammar, apart from a treasure trove of children's books, several of which won national awards.
Saman Tilakasiri was born in 1928 at Navagamuwa, Devalegama in Kegalle. He was first educated at a school founded by his elder brother, and then went on to Kegalle Maha Vidyalaya. The scribe in him seemed to have been irrepressible: he was writing prose and poetry by the age of 12 and was a newspaper correspondent for the Kegalle district while schooling.
Saman's poetry and essays on literature and current topics were published in a number of newspapers and magazine including "Sinhala Bauddhaya", "Nidahasa", "Peramuna" and "Kavi Sammelanaya". In 1952, he joined Lankadeepa as a translator. Mentored by the great D. B. Dhanapala, who was always a source of inspiration for him, Saman would embark on a distinguished career in journalism.
Saman was also part of the ferment of Sinhala Arts that reached a peak in the 1960s. He was also a lyricist, and his songs include Nilmini Dese sung by Sisira Senarathana. His children's poems were set to music and sung by Nanda Malini, while many verses were incorporated into the Sinhala school textbooks. He also contributed to the film Daskon, starring Rukmani Devi. His lyrics helped a number of singers to break through, among them W. D. Amaradeva.
Saman was also a trailblazer as a children's book writer. His story books were classic contributions to the genre as well as to Sinhala literature, with their unique style of story telling through conversational and lyrical poetic expression, enjoyed by children and adults alike. He partnered with the gifted artist G. S. Fernando in turning out these beautiful childhood favourites for many generations. A few works were also illustrated by his wife Chitra Tilakasiri, an English teacher who was also a muse for her husband.
He received many awards for his children's books. His poetry book "Pasal Lama Gee" (School Children's Songs) was adjudged the Best Children's Book in 1969. In 1979 he won an award for his poetry collection "Mal Onchilla" (Flower Swings) at the national book competition for Year of the Child, organized by UNICEF. He also translated two collections of Chinese folk tales for children (Cheena Lama Katha i & ii). However, his sad demise on January 5, 2000 meant that a number of unpublished works he was working on were left in manuscript form.
Among his best known works are Puwathpath Kalawa (a work on journalism), Niveredi Sinhala Maga (on correct Sinhala grammar), Sahithya Wimasuma (on Sinhalese literature), and the story books, Makara Baba, Peni Rupaya, and Masuru Mithuru- apart from the unique children's verse collections he bequeathed to young readers.