Synthetic drug abuse on the rise; authorities drag feet over amendments to the the National Dangerous Drugs Board Act
View(s):

While authorities dither over vital amendments to the 1984 National Dangerous Drugs Board Act, synthetic drug abuse in Colombo, the coastal belt and tourist hotspots is rising rapidly with nearly nine kilograms of these narcotics seized by different agencies in the first eight months of this year alone.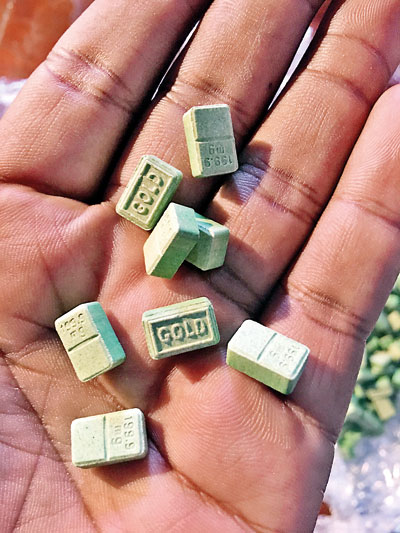 Enforcement agencies are also vastly under-resourced, lack essential equipment and require better training. These drugs are widely popular as they are available in pill, Crystal and stamp form and are cheaper, a senior police source said. They are also easier to hide.
More stocks are coming from the Netherlands, India, China and Myanmar, frequently sent via parcel post or smuggled by persons, senior Customs officers divulged. Several consignments were found in freight sent home by Sri Lankan expatriates.
Both Customs and police warned parents, educators, policymakers, doctors and young people to be better aware to combat the threat. A senior Excise Department official said prevailing legislation must be revised to stay breast abreast of the fast evolving drug trade.
Consultations were ongoing with relevant ministries, enforcement and regulatory authorities to propose amendments, said Prof Saman Abeysingha, National Dangerous Drugs Control Board (NDDCB) Chairman. But frontline enforcement officers were frustrated at bureaucracy and the slow pace. They need more legal empowerment, better equipment and training said U R de Silva, President of the Bar Association of Sri Lanka. Amending the law was vital.
The police did not have updated technology that enabled detection and testing of samples on site, increasing detection and classification. Foreign enforcement agencies have portable handheld trace detectors to screen baggage, persons and cargo at border-control and checkpoints. But here, samples have to be sent to the NDDCB or the Government Analyst's Department for verification and determining the quality and quantity of proscribed substance. This process was time-consuming.
The General Post Office (GPO) had inadequate equipment to screen all the parcels sent via post with new psychoactive substances (NPS) and other synthetic drugs. The rise in online purchasing from overseas vendors also poses a significant challenge due to the large volume of packages.
Meanwhile, the Customs Department's Marine Branch–which had boats to check mid-sea transfers and coastal vessels–has been inactive for years. It has no canine team and no handheld detection or testing equipment to aid mobile drug detection.
Where treatment for drug abusers is concerned, the system is currently made up of rehabilitation and treatment centers run by several Government and non-Governmental organizations. But police said more funding was necessary to address the sheer number of users that need treatment. Socio-cultural perceptions and stigma relating to drug use does not favour the broader issues, authorities said. And the question arises whether enough has been done to educate young people of these trending drugs.
The recent wave of drug related deaths around entertainment venues turns the spotlight on whether it is time to introduce regulations that make event organisers and venue management agencies bear some responsibility to curtail substance abuse before it claims more lives.
Since 2009, NPS have captured the attention of the international community and transformed the global synthetic drugs market, a recent report by the United Nations Office of Drugs and Crime (UNODC) says. The rapid emergence of new substances is unparalleled. They come in a variety of forms: pills, infused stamps, powder, crystals and liquid. NPS are known by a range street names, some of which are geographically specific, batch-dependent and trend specific. The diversity in form and composition of such drugs, also known as "designer drugs", are frequently altered by manufacturers in order to escape regulation and control.
An increasing number of countries are reporting seizures of NPS. Over 20 tonnes were detected in 2015 alone. Seizures of amphetamine-type stimulants (ATS) doubled in the five years prior to 2015, to reach 191 tons in 2015. Methamphetamine accounted for some 61-80 per cent annually during that period.
In Sri Lanka, seizures have increased in the recent past with the Special Task Force, Police Narcotics Bureau and partner law enforcement agencies have redoubled their efforts. The Sri Lanka Navy, Coast Guard and Air Force have helped with maritime detection, air surveillance and intelligence sharing.
Sri Lanka must be alert to large trafficking of 'ya-ba' (a synthetic drug variant) between some States in the Bay of Bengal and take proactive measure to counter it before it reaches Sri Lanka, said Shanaka Jayasekera, South Asia Programme Coordinator for UNODC. This low-cost synthetic drug in pill form is gaining popularity in the Indian Ocean Region.
According to a recent BBC report, there is also indication of China becoming a major designer and producer. These drugs will become a major challenge in the future, Mr Jayasekara said. Because of how they are manufactured, the varying composition of the different batches makes detection and prosecution difficult.
Mr Jayasekara urged the authorities to keep sight of the regional and international dynamics of drug trafficking and applauded the Government's efforts to establish international sharing and coordinating mechanisms.