Saying thank you and goodnight
In an exclusive Q and A with the Mirror Magazine, members of Boyzone talk about their farewell tour, their final album dedicated to Stephen Gately and what these 25-years have meant
View(s):
MM: Twenty-five years later how has life changed and evolved for the group that started out as boys and why a final split now?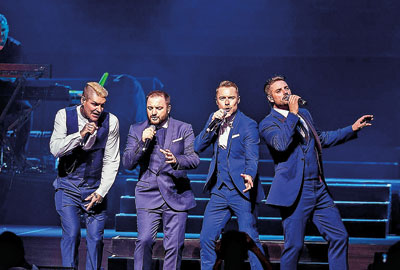 BZ: When we started out we were five young lads from the north side of Dublin that just wanted to be in a pop group. We had big dreams but never to the extent of the success we've had. It's been an incredible twenty five years but we now feel the time is right to hang up our dancing shoes and go out on a real high with a great new album and farewell tour.
MM: Having been known for your ballads as a band – How different has the process of making this album been to your previous ones and what kind of sound did you hope to capture with this last album.
The four of us have quite different musical tastes so we have all chosen three songs a piece that tend to favour our individual tastes. There's some really great songs on the new album that I think we'll surprise and please our fans. We can't wait for you all to hear it.
MM: What do you want fans to take away from this last album
BZ: We hope they'll love 'Thank you & Goodnight' as we feel it's a great way for us to sign off this final chapter of boyzone
MM:'Goodnight and Thank You' features a tribute song to Stephen Gately which is also your latest single – Tell us a bit more about the song and how it came together ?
BZ: The song came through a producer friend of Stephen's that had the original demo of the song from 2002. We were able to strip Stephen's original vocal from it and build a brand new song around his voice. It's very special for us to have his voice alongside ours again on our final album.
MM: As a farewell tour what message do you want to leave with your fans how should they remember you by and did you ever anticipate such a strong following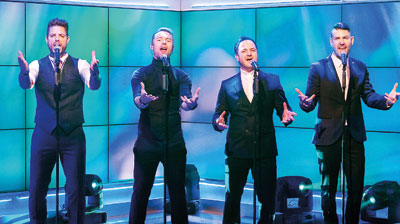 BZ: We look back over the last 25 years and feel very blessed to have such loyal fans that have been part of our journey through good times and bad. We hope that those memories will be with them forever as they will be with us four.
MM: It must be a bittersweet experience for the four of you as you perform on this last tour. Especially without Stephen -How do you get through the emotional upheavals on tour ?
BZ: When the four of us are together on stage we really do feel that Stephen is with us. Each show we take time out to pay a tribute to our brother. That is as much for the fans at the shows as it is for the four of us.
MM: As band mates and brothers what will you each take from the whole Boyzone experience
BZ: We're certainly not boyz anymore. We've grown into men, husbands and fathers over the years so to share this last tour with our families and friends from all over the world is very special. We hope that there are still some great memories to make over the next few months.
MM: As a band – what has mattered – no matter what – to all five of you through the years – ?
BZ: Our friendship, it's as simple as that. For the four of us to still be together 25 years later is a pretty cool thing… No matter what
Boyzone will kick off the Asian leg of their 'Farewell Tour'in Colombo on August 16 at the CR & FC Grounds