More than a shy gal
The Mirror Magazine this week features questions posed by fans of Colombo Music Festival headliner Diana King. Here, she reveals details of family in India, getting married and overcoming her struggle with Multiple Sclerosis
View(s):
 Lakshika Fernando's question -Having come out in 2012 – what is the message you have for the LGBT community in Sri Lanka
Being true to yourself and living an authentic life is the best decision a person could ever make. I did not know what would happen when I came out. I actually expected the worse, but nothing has felt better. It feels better than money or things or having hit songs, and it is something I highly recommend to anyone. Be yourself in spite of what others may think about you. Self approval is a freedom and a gift that we give to ourselves and it cannot be taken away from you.
 Shehani De Abrew's question :
Love your songs. What has changed for you since you began your career and when do we get to hear more music from you ?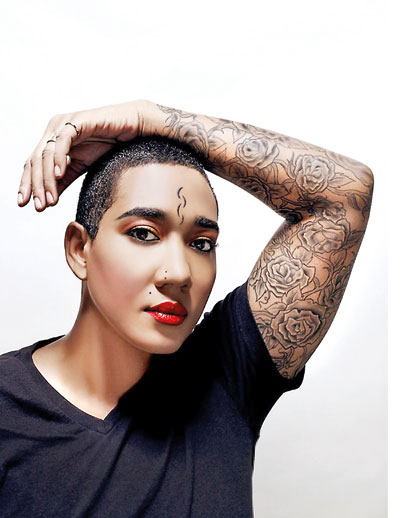 Thank you so much. I made a decision to become an independent artist in 2010. Though I truly appreciate the success I've had with the major labels (Sony and Warner) I wanted to retain my intellectual properties (my music) have more creative control and do more projects that fulfilled me rather than just make me "richer," so I started my own label "ThinkLikeAGirL Music" and now release my songs through it. I am also working with other female and non binary artist as a label head, not as an artists. It has been a secret passion of mine to share my knowledge and finances to help upcoming artists like myself who do not fit in a box, free of cost with their first projects. I proudly released my first indie album "AGirLNameKING" (one word) a few years ago. Its available on all music download and streaming platforms. New music is coming soon from myself and all these artists.
 Sandy Perera's questions :Are you excited to be in Colombo and what do you like the most about travelling to Asia ?
I am very happy to have been invited. I have been in talks with various agents and promoters to visit for a few years and now it's finally coming true. I love to travel to new countries and experience new cultures, and I love my fans and any opportunity to perform for them and do all the above is a blessing. Asia is especially dear to me, because it is the first region that fully embraced my music. I also get to visit with family in India sometimes when I am in the area. I am half African half Indian Jamaican
Adrian De Silva's question: You recently got married – what has that journey been like for you ?
I still pinch myself in disbelief. Coming from a culture and society like I grew up in Jamaica, I never thought anything like this was possible for me. When I did not accept or even fully know myself, I was married before in my 20s. Its been an awesome journey. I am more self aware and mature now and I have learned to always do my best, remember to breathe and take everything one day at a time, enjoy the present moments and always be grateful. Life is short.
 Tina Ratnayake's question : An interesting fact that few know about yourself ?
When I wrote and produced the songs from my last album "AGirLNameKING" I could not walk or feel most of my body. I was diagnosed with MS (Multiple Sclerosis) and was told I may never walk again. After months of a myriad of conflicting emotions , I realised I had to make a change. I got up one day and just walked, even though I still could not feel my legs. My doctors still cannot believe it. It was purely the power of my mind. I then learnt how to produce music and I wrote over a 100 songs. And with each song I wrote, I felt better and better, happy. I have never taken any drugs for MS. Only meditation and music. Sometimes I still cannot feel my legs and you'd never know, I am equally grateful and fascinated.