Locarno's 'Open Doors Hub' explores new South Asian talents
Text and Pix by Susitha R. Fernando - Reporting from Locarno, Switzerland
71st Locarno Film Festival, Switzerland
View(s):
Sri Lankan filmmaker Sanjeewa Pushpakumara bagged the 'Open Doors' Grant for his next film project 'Amma' (Mother) at the prestigious Locarno Film Festival 2018, last Tuesday in Locarno, Switzerland.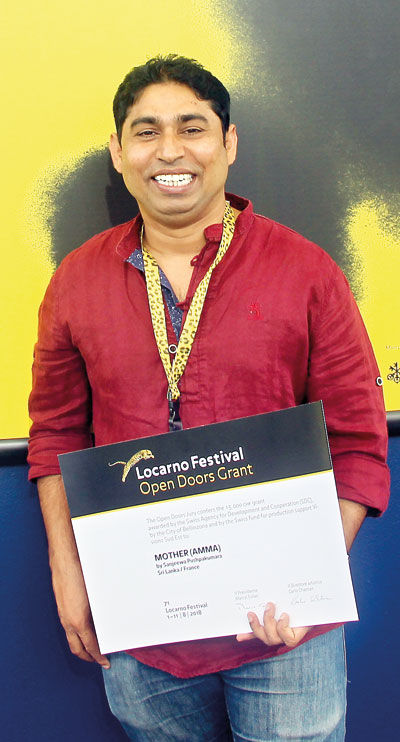 The 71st edition of Locarno International Film Festival's 'Open Doors Hub', a grant supporting a co-production platform focused for three years, was awarded to Sanjeewa. He won the second highest film development award which also confers a grant of 15,000 Swiss Francs as a production support.
'This award is for all the mothers in Sri Lanka who are still suffering due to loss of their children. In my life I have seen mothers who have lost their children. My mother has given birth to 13 children and out of them three have passed away but she continues the struggle' said Sanjeewao on an emotional note, after receiving the Award.
'I have three mothers in my life. One is my biological mother in Sri Lanka and the second mother Ludmila from the Netherlands who guided me to the film scene and the third mother is my producer Dominique' he added.
'This film project which is done with Sanjeewa is important for me. We are trying to bring out this film as soon as possible in Sri Lanka' said Dominique Welinski of the Paris-based DW productions.
Set in Sri Lanka against the backdrop of the 30 year long war, the film project is to feature two mothers, one from the North and onother from the South who are on a mission in search of their missing sons.
Kala, a fifty-seven-year-old widow, a teacher at the university, is a Tamil who lives in Jaffna. Her son, Rajan was abducted by an unknown group during the last stages of the war. Kala is on a relentless local campaign to find her son with several dozen other mothers in the same situation. She believes that Rajan was abducted by government forces. Kala receives an invitation from her old university friend Malini, a fifty-seven-year-old Sinhala lawyer, to join her in Colombo.
Malini's son, a soldier, had gone missing during the conflict. Despite being on opposite sides of the war, the two women embark on a campaign to find their children and set up a National Mothers' Front to demand accountability from the authorities and do demonstrations in Colombo.
'I grew up spending most of my life in the war zone surviving through the carnage of the bloody conflict. I feel that I am permanently scarred with psychological shrapnel of the traumatic experiences of three decades of relentless war. While the peace is fragile, vulnerable war weary communities and individuals will not be able to withstand a recurrence of war,' stated Sanjeewa in a note about his prospective film project.
'Amma is a reflection of the memories of my generation told through the lives of two women who embark upon an odyssey for truth and justice. The film explores and poses questions about love, betrayal, brutality, sacrifice, human dignity, freedom, democracy and life' he added.
The first award for 'Open Doors' at Locarno Film Festival 2018, was won by Myanmar's The Maw Naing for his film project 'Ma' (The Women ). He won Swiss Frank 35,000 for his next feature film production, "The Women,".
Produced by Youngjeong Oh, the film is to turn on the struggles of four women who have moved from remote villages to the city of Yangon, Myanmar to work and get a better life. The four women share a bedroom near the city factory area.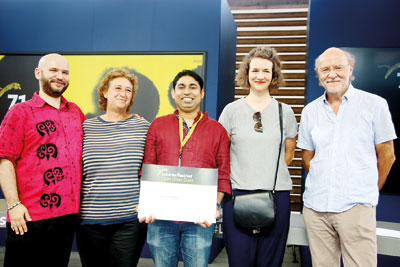 While Sanjeewa won one of the main awards in the Open Doors Hub, young film producer Sumudu Malalagama from Sri Lanka too won the 'Open Doors Lab' , Torino FilmLab Award for producer training workshop. Granted for the second successful year, the Torino Film Lab (TFL) offered a grant allowing one of the producers to take part in the TFL Meeting Event in Turin in November, as part of a group of non-European producers, under the label 'Up and Coming'.
Among the other award winners were Bangladesh's Mahde Hasan who won the CNC Award for his film project 'Sand City' . The award also included Euros 8,000.
Nepali director Min Bahadur Bham's 'A Year of Cold' received the Arte International Open Doors Prize.
Selected by a professional jury, the awards were announced following, a six-day tailor made programme, alternating pitching, coaching, group discussions, one-to-one meetings and networking activities with industry decision makers and festival guests, at 'Open Days Club', one of the film festival venues.
The Jury in its citation on the reason for the selection of Sanjeewa's film stated, 'project inspires hope in a society looking for justice after years of conflict, based on individual resistance and because we could clearly sense both the personalities and relations of the two protagonists'.
Sophie Bourdon, head of Open Doors and deputy head of Locarno Pro and one of the leading figures, who had strongly believed in the need and importance of highlighting the cinema talents in South Asia said 'focusing for three years on South Asian countries, Open Doors has shown that this region is a hothouse of talents and stories and has contributed to the development of a stronger independent South Asian community. South Asia is becoming more visible and now has a voice'.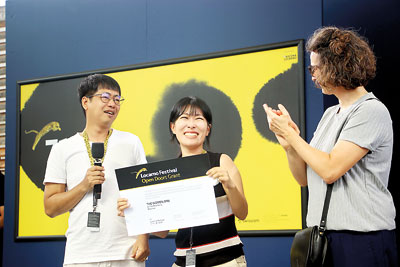 'Over this three-year period Open Doors has created a platform for a generation of directors and producers to raise their visibility and establish contacts with production models elsewhere' Carlo Chatrian, the outgoing Artistic Director of Locarno Festival emphasized. He noted that South Asia is a geographical region that is rich in culture but poorly represented at international events.
The Open Doors Hub was an international coproduction platform for the eight selected projects from throughout the South Asian region. During the festival, the selected project teams were introduced to European and international professionals in order to encourage international collaborations, mostly in terms of coproduction, funding and distribution but also of professional training.
Over the last 16 years 'Open Doors' was involved across all continents and in most regions of the global South and East. It is set to continue its eastward exploration, with a new triennial focus on South-East Asian counties; Laos, Thailand, Cambodia, Vietnam, Myanmar, Indonesia, Malaysia, the Philippines and Mongolia.
The awards ceremony of the Open Doors Hub coproduction platform and Open Doors Lab producer training workshop also marked the end of the 2016-2018 series, which focused on Southern Asia (excluding India). The new three-year cycle from 2019 to 2021 would be devoted to South-East Asia and Mongolia.
The Open Doors Hub Film Grant is supported by the Swiss Agency for Development and Cooperation (SDC) and the City of Bellinzona by the Swiss fund for production support Visions Sub EST.