Kandy Esala Perahera
The island's most flamboyant annual event with Citadel Kandy
View(s):
Held annually in the full-moon month of 'Esala', the Kandy Esala Perahera is the ultimate celebration and showcase of Sri Lanka's rich heritage and vibrant culture. The significance of the month of 'Esala' (which falls on July or August) is that it is believed to commemorate the very first teaching imparted by the Buddha, following his enlightenment. Conducted in reverence to the sacred Tooth Relic of Lord Buddha, which is contained in the ancient palace of Kandy known as 'Sri Dalada Maligawa', the flamboyant annual procession unites Sri Lankans from all corners of the island and draws culture enthusiasts from across the globe.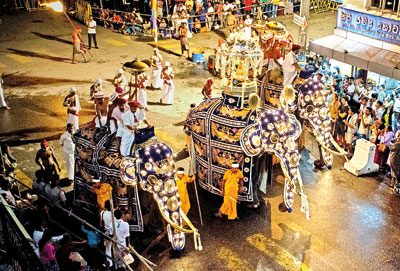 This year, the Kandy Esala Perahera is scheduled to take place from 16th to 26th August in its usual series of colourful Kumbal Peraheras, Randoli and vivacious ritualistic ceremonies – all of which will culminate in yet another iconic celebration of Sri Lanka's authentic historical and cultural heritage.
Majestic origins and timeless rituals: With an origin rooted in centuries passed, The Esala Perahera in Kandy is one of the oldest and most significant of all Buddhist festivals in Sri Lanka. The Sinhalese term 'Perahera' refers to a procession of ceremonial musicians, drummers, dancers, singers, acrobats,whip crackers, flag bearers, sword carriers, fireball dancers and various other performers accompanied by a large number of elaborately adorned elephants parading the streets in celebration of a religious event. Primarily hosted to honour the sacred Tooth Relic of Lord Buddha, the Esela Perahera is also conducted with the intention of beseeching blessings from the divinities for bountiful rains and a prosperous harvest, as well as an intercession to shower blessings on the people.
A flamboyant fusion of history, culture and religion: Exploring every facet of Sri Lankan culture and Buddhist heritage, the Esala Perahera features an endless variety of traditional local dances, including graceful Kandyan dances, striking whip and fire dances and many other folklore inspired performances. During each perahera, a myriad of festively dressed Kandyan drummers, eastern percussionists, singers and acrobats along with mahouts chaperoning dazzlingly embellished tuskers and elephants take to the streets to illuminate and enliven the procession. Idyllically located amidst all the action, Cinnamon Citadel Kandy will once again join the nation in celebrating the grand festival, whilst offering a convenient base from which guests can experience and enjoy the bustling festivities during the Perahera season.