Dineth's talent echoes through the hills
View(s):

Dineth Nilmina Bandara is a highly talented seventeen year old grade 12   student from Sri Pada College, Hatton. Dineth is very much a preferred   performer at every musical and entertainment activity at his Alma Mater and is quite at ease on both the guitar and keyboards.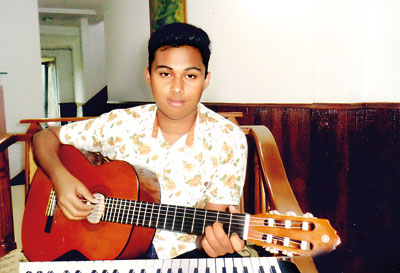 Being a bright and studious young teenager, in order to encourage him both in his studies and musical capabilities, his family members recognising Dineth's musical capacity have presented him with these musical instruments. In fact his parents had gifted him with a classical Yamaha guitar, while his grandfather, who is a keen music lover, had bought him with aYamaha PSR-E-223 keyboard.
He was spotted and brought to the notice of the TV Times by the Moratuwa Arts Forum (MAF), who came across this young lad when they visited Hatton to grant financial aid scholarships to deserving, bright students in the area.
'We got to know young Dineth by chance, during the scholarships project in Hatton. Wegot him to  perform on both guitar and keyboards and to our astonishment, we have found him having immense talent and the potential to be a top class musician' said Priya Peiris of 'La Bambas' fame, who was in Hatton for the scholarship awards with MAF. According to him, Dineth is also blessed with a good singing voice and a sound sense of vocal harmony.
Despite his outstanding musical talent, Dineth's focus at this moment is his studies and graduation to the University.
Unknown and unnoticed, musical talent has always emerged from within the misty mountain slopes in the shape and form of Dineth from Hatton.  Likewise, there should be many more such youngsters hidden amidst the cooler climes.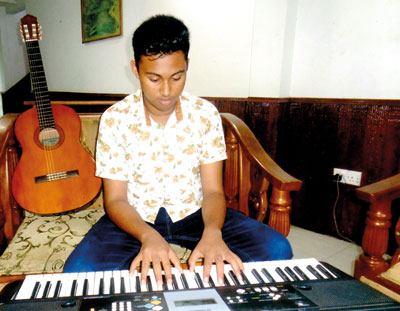 Unknown and unnoticed

This is the newest column in the TV Times, giving an opportunity to be featured in the Magazine to all young talented students in music, dancing or any entertainment activity from all over the island.

If you have outstanding ability in music, please do get in touch with us. We will put you in the limelight to brighten your future. Our address is TV Times and Entertainment, No 8, Hunupitiya Cross Road, Colombo 2.