Closer defence ties with Russia, training for Lankan troops
View(s):

Russia will become the latest partner to train Sri Lankan troops and extend defence co-operation. For this purpose, the Government has reached accord with a top level visiting delegation from Moscow. This is under a Joint Russia-Sri Lanka Working Group on Military Technical Co-operation. The terms of reference of the new arrangement were presented to last Tuesday's weekly Cabinet meeting.

Defence Ministry officials, who represented the Sri Lankan side, said that in terms of the new arrangement, Russian troops will train their Sri Lankan counterparts in the Army, Navy and the Air Force. This is both at training academies in Russia and on special visits for joint training exercises in Sri Lanka.
At present, military co-operation exists at different levels between Sri Lanka and the United States, India, Britain and China.

Under the "Yahapalana" government, military co-operation with the US has increased manifold. There are frequent US military visits and calls in Sri Lankan ports by the US Navy. There have also been joint exercises on training Sri Lankan troops on humanitarian matters.

India continues to offer top slots at its National Defence Academy and other military establishments for senior and mid-career officers. China, which has been a staunch backer of Sri Lanka by providing most of the military hardware for the separatist war against the Tiger guerrillas, also offers training slots in its academies for Sri Lankan security forces personnel.
---
SriLankan flight and cabin crew suffering from fatigue; concern over flight safety
A considerable percentage of SriLankan airlines' flight and cabin crew members seem to be suffering silently from the cumulative effects of residual fatigue which influence badly on their medical fitness in the long term, Civil Aviation Director H.M.C. Nimalasiri has warned.
The warning has gone out in a note he sent to the SriLankan management's top brass. Mr. Wimalasiri, who is also the Chief Executive Officer of the Civil Aviation Authority of Sri Lanka, on Thursday said, "This matter was echoed in the discussion that the Pilots Guild members had with this office today in the presence of Board of Civil Aviation Medical Examiners (CAME). It is observed that the airline staff making the rosters have not undergone proper training in regard to Human Factors, factors contributing to onset of fatigue in crewmembers and measures of their mitigation."
Here are significant highlights of the letter which raises issues over passenger safety in the light of fatigue by pilots and crew.
"Recent communications of representatives of Airline Pilots Guild of Sri Lanka and Flight Attendants Union of SriLankan Airlines with this office indicate that although prescriptive requirements stipulated by this office in the respective Implementing Standards in regard to Flight Time, Duty Time and Rest Periods are respected in the preparation of duty rosters of crewmembers, the underlying human factors which have direct impact on onset of fatigue in crewmembers are not given due consideration. …….
"In the premises aforementioned, you are kindly requested to take early steps to get SriLankan Airline's doctor (is also serving the CAASL as CAME of the CAASL) to approve each and every duty roster of both flight crew and cabin crew members, having examined the rosters from the view point of Aviation Medicine, prior to their implementation as a measure of remedy of the above deficiency. This practice shall continue until the rostering staff are given proper training acceptable to this office in regard to the subject matter."
---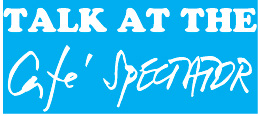 Bond scam: Ten more volumes sent to Speaker
The Attorney General's Department has sent Speaker Karu Jayasuriya ten more volumes of reports of the Commission of Inquiry that probed the Central Bank bond scandal.
This was conveyed by Speaker Jayasuriya at a party leaders meeting held in Parliament on Tuesday. Following a request at the meeting to seek the AG's view whether these could be released to the MPs, Parliament sources said Speaker Jayasuriya had spoken to AG Jayantha Jayasuriya on Thursday. Barring a few, he had advised that the rest could be released.
Those the AG had not recommended to be released are instances where inquiries are under way or potential inquiries are to begin.
Former Minister Ravi Karunanayake who represented the United National Party (UNP) at the meeting urged that all reports be released together. Hence, party leaders will decide later this month what to do, after consulting the AG.
At the same meeting, Speaker Jayasuriya declared he had received a letter from UPFA General Secretary Mahinda Amaraweera. He has said that though they were now seated in opposition benches, they were elected to Parliament on the UPFA ticket where the Betel Leaf was the symbol. Hence they could not sustain their demand to pick a member as Leader of the Opposition.
Speaker Jayasuriya also informed the party leaders of the decision by the UNP parliamentary group not to call for a pay increase for MPs. Some members at the meeting noted that the issue of MP's pension should be addressed in the light of difficulties some of them face.
---
President tweets Tamil message on Karunanidhi's death
Dravida Munnetra Kazhakam (DMK) leader Muthuvel Karunanidhi passed away this week at the age of 94.
President Maithripala Sirisena tweeted a condolence message only in Tamil.
Also tweeting a condolence message in Tamil was former President Mahinda Rajapaksa. He also sent a message in English.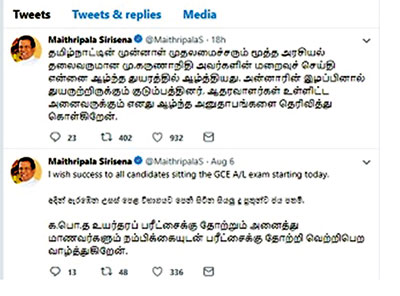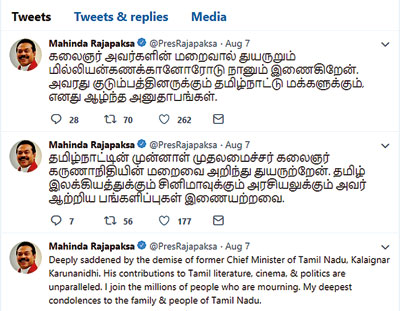 ---
PC poll debate on Aug. 24
On August 24, Parliament will once again debate on how the impending Provincial Council elections should be held.
A decision on this was made at an emergency meeting of party leaders in Parliament on Friday.
---
Minister clings to his stance on WHO post
One is not sure whether to laugh or cry at last week's remarks by Health Minister and official government spokesperson Rajitha Senaratne.
The Sunday Times (Political Commentary) reported last week that full page advertisements placed in newspapers and wide television news coverage that he was now the World Health Organisation (WHO) Vice President was factually wrong.
A journalist raised questions at his weekly media briefing held after cabinet meetings. Here are highlights of what he said:
"….The third WHO post I got was Vice Chairman of World Health Organisation (WHO). The post of Vice Chairman is given to an individual. There are 194 countries in the WHO and 35 in the Executive Committee……"
Of course every position or office is given to an individual. That is obvious in that it is a person who has to sit on that chair – not a country. Also, Dr Senaratne's advertisements claimed he was Vice President? Such a post does not exist. Anyway, one wishes him bon voyage in his ego trip.
---
President insists on Dayan for Russia
The appointment of Dayan Jayatilleke as Sri Lanka's Ambassador to Russia was eventually approved on Thursday by the High Posts Committee of Parliament after President Maithripala Sirisena spoke to some of the members and insisted on the appointment. Earlier, the committee wrote to the President objecting to the appointment.
Yet, four committee members, whose identities are not known, have said that their objections should be recorded. It is believed they are JVP MPs.
Speaker Karu Jayasuriya had accordingly recorded their dissent and also informed President Sirisena of the position.
Dr. Jayatilleke, though not a career diplomat, has served as ambassador in Geneva and Paris previously during the Mahinda Rajapaksa Administration.