Achieving US$ 28 billion National Export Strategy target is challenging
View(s):

The exhortation 'Export or Perish' has never been more relevant to Sri Lanka than today. Achieving the ambitious targets of the National Export Strategy (NES) of Sri Lanka 2018-2022 is, therefore, imperative. However, transforming this strategy into performance is challenging.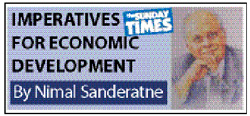 The massive trade deficits of recent years make a substantial increase in exports essential for the country's economic stability and development.  Imports exceeded exports by nearly US$ 10 billion last year. Even with a 10 percent increase in exports in the first five months of this year, the country has a massive trade deficit of US$ 4.7 billion and this is likely to exceed US$ 10 billion this year. A far higher expansion of exports, as envisaged in the NES 2018-22, is needed to contain the trade deficit to a manageable proportion.
 Export Strategy 2022
The NES 2018 2022 launched on July 19 was a bold, far reaching and ambitious one. It is innovative and forward looking. It expects to achieve exports in new areas and products rather than to only expand the traditional pattern of exports. It expects not only to expand merchandise exports, but also earn more from services. Information technology services, boat building, tourism, new manufactures and enhanced agricultural exports are part of this strategy.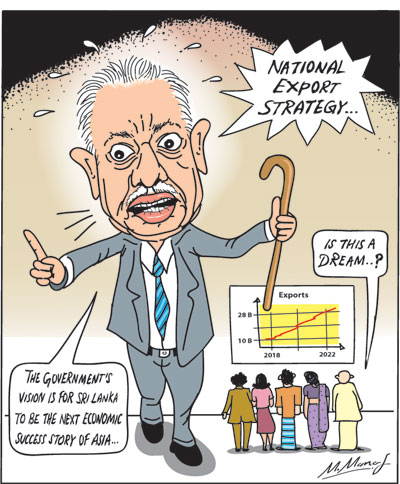 Six strategic areas
The NES focuses on six strategic areas: The country's information technology, business process management, spices and concentrates, wellness tourism, processed foods and beverages, boat building and electrical and electronic components. These encompass both merchandise and services and have been chosen on the basis of certain advantages the country possesses, evidence of comparative and competitive advantage and growing international demand.
The essence of this strategy is to expand exports from merchandise and services from the current level of about US$ 11 billion to US$ 28 billion by 2022. This substantial increase is expected to be achieved by an expansion in exports of both traditional exports like garments and rubber products, as well as newer ones like boat building. It also envisages an expansion in services exports, especially wellness tourism and information communication technology (ICT). These latter two services have shown an increase recently and hold promise of further significant increases.
Challenging
Although the expansion of exports to US$ 28 billion is an ambitious and challenging task, it is essential. The effective implementation of the NES and supportive macroeconomic policies is a sine qua non to realise the envisaged targets. Economic and other reforms that are vital for expanding exports are difficult to accomplish. Furthermore an efficient administration is essential to enable effective implementation of policies that would assist export industries to achieve their targets.
These are the serious constraints to overcome in the current political and administrative environment. The success of the export strategy depends very much on the capacity of the Government and people to provide a conducive environment for enhancing exports.
Achilles heel
The Achilles heel of the export strategy lies in its dependence on supportive macro-economic policies, economic reforms, administrative efficiency, research and hi-tech development. The country has not only been unable to achieve much in these areas, but there have been considerable obstacles and opposition.
Economic reforms have been particularly difficult to implement. Even the free trade agreements that have been signed or to be signed by the Government are opposed by interested groups which are ignorant of the economic rationale of these agreements which are an integral component of the export strategy. The characteristic indecisiveness of the government could result in wavering on these international agreements.
Opposition
The only section which is supportive of the forward-looking economic policies of the government and the export strategy, in particular, appears to be the business community and the economists who are enlightened. There is a core of even economists with moribund and ideological ideas and a political agenda, who are opposed to this strategy. They are ideological rather than pragmatic. There are no such difficulties in implementing pragmatic economic policies in South East Asian countries and erstwhile communist countries like Vietnam.
Macroeconomic conditions
Stable macroeconomic conditions are vital for expansion of exports. The current depreciation of the Rupee is on the surface an impetus for exports. When there is exchange rate volatility, the costs of production fluctuate and the competitiveness of exports is affected. As exporters have pointed out, it has a serious disadvantage too. This arises from the fact that most manufactured exports have a high import content.
Import dependency is inevitable in a country that has few resources. Countries like Malaysia and Singapore have also had exports that have a high import content. However, their macroeconomic stability has been conducive for exports.
 Energy costs
Another disadvantage to export competitiveness is energy costs. The prices of electricity and fuel are important determinants of the costs of production. Here again external shocks, such as the hike in international fuel prices which are passed on to industries and exchange rate depreciation, play a vital role in affecting the country's competitiveness in international markets.
Scientific and technical capacity
The capacity of the country to produce hi-tech exports would depend very much on the country's scientific and technical capacity. In fact, Sri Lanka is caught up in a situation where wage rates are high and, therefore, its competitiveness in low wage-exports are reducing, while the capacity to produce high-tech items is constrained by the low level of technological and scientific capability. While the Government has recognised that scientific and technical education must be expanded, the capacity to do so is limited by lack of resources, the brain drain and the regular breakdown of university education, as, for instance, the current closure of the University of Peradeniya for two months owing to protests by the Engineering Faculty.
Agricultural exports
While the NES is being implemented, there should be a parallel thrust to expand key agricultural exports. Production of tea, rubber and coconut requires to be increased to expand their export surplus. In the case of rubber, almost all the country's rubber is used for exports. This is a favourable development. However, there is a potential for increased rubber production as well as coconut production by expanding the area under cultivation. An export strategy must not devalue the high domestic value addition of these agricultural exports.
Uphill task
While the NES objectives are laudable and imperative to achieve, the capacity of the country to achieve the targets is wrought with political, administrative, technical and economic constraints.
Transforming the National Export Strategy into performance to achieve the targets is an uphill task owing to the current state of affairs in the country.