Mystery over Sigiriya cable car project
By Kanchana Kumara Ariyadasa
Minister says he knows nothing and won't allow it, but CCF officials say it is to help disabled people
View(s):
Cultural Affairs Minister Wijeyadasa Rajapakshe says he is in the dark about a feasibility study by a Chinese company to launch a cable car service to the Sigiriya rock fortress.
The minister said he had ordered an inquiry into who authorised the company to conduct the feasibility study. He told the Sunday Times he had spoken to Central Cultural Fund (CCF) Director General Prishantha Gunawardana who also claimed he was unaware of who authorised this move, following media reports that some Chinese officials were conducting the study along with officials during the past few days.
The minister vowed he would not allow such a project "under any circumstances." On Friday, the CCF's Sigiriya project manager told the Sunday Times that he permitted a Chinese company to survey the area to conduct the project's study after he obtained approval from senior CCF officials. He said this was only a study and nothing had been finalised.
Several CCF officials were later seen with Chinese officials who were said to be from the company conducting the study. The CCF officials, however, refused to divulge what they were doing with the Chinese officials and tried to avoid the media, even going to the extent of trying to hide inside a vehicle. Earlier, CCF Director General Gunawardana told the Sunday Times that there had been extensive discussions in the past to introduce some form of 'mechanical access', especially for differently-abled people to go to the top of the Sigiriya rock.
He pointed out that in many world heritage sites situated at higher altitudes, such facilities had been provided for differently-abled and elderly people.Even UNESCO had advised that such sites should be made accessible to all people and it was in this context that the CCF had held talks with a Chinese company, the DG said. He said no agreement had, however, been reached as archaeological and environmental impact assessment reports had to be taken into consideration.
If such a mechanism was to be introduced, it must be first discussed at length by the Archaeological Council and bythe wider society, he said.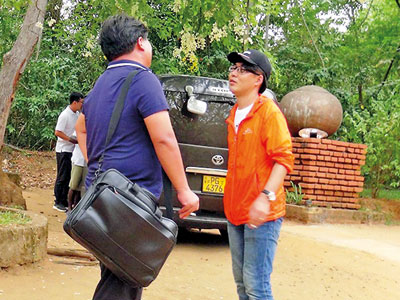 The Chinese company officials who turned up at Sigiriya to survey the site for a cable car project