Caught in the claws of narcotics monster, Lanka cries out for freedom
By Chris Kamalendran and Kasun Warakapitiya
Country in danger of becoming a narco-hub with narco-politics at the helm - Dealers prey on nightclub visitors, drugs available in vehicles parked outside
View(s):
A 22-member rugby team visited Sri Lanka in May this year to play charity matches. One night, two players chose to have some fun off the field. From the hotel where they were staying, the duo went to the Cleopatra Night Club on Galle Road in Kollupitiya –andin the wee hours of the next morning, they returned to their rooms.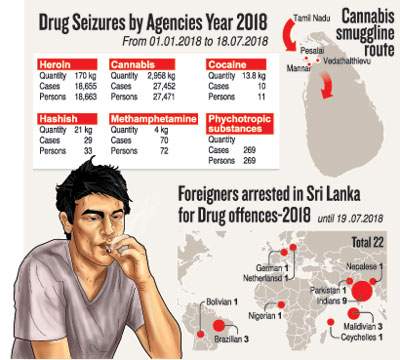 They fell unconscious and later they were found by their colleagues. The duo were rushed to a private hospital in Colombo. One was found dead on admission whilst the other was admitted to the Intensive Care Unit (ICU). He died later. They died of an opioid drug overdose and intoxication, ruled Colombo's Judicial Medical Officers Dr Ajith Tennakoon and Dr. M.N. Ruhul Haq. Opioid is a narcotic compound resembling opium in addictive properties or physiological effects. In this instance, it was found to be a blend of morphine and heroin.
The tragedy laid bare what has been going on in recent years outside the so-called night clubs that have mushroomed in many parts of the city. It is not only liquor and lovely girls, better descibed as prostitutes, that attract the clientele. The magnet is a variety of synthetic drugs — the outlets that sell them are mostly three-wheelers and vans which lie parked outside. The night club staff are aware of the "sale points" and the clubs do not object to their use in their premises.
The Sunday Times found that three types of synthetic drugs, which give altered sensations, increased energy, empathy and pleasure, are much in demand – Ecstasy, Crystal Meth (Methamphetamine) and Ice, named so for its crystal-like appearance. The latter, a substitute for heroin, is made up of toxic materials. (See box story for the types of synthetic drugs)
Now detections are made almost daily. However, a source at the Narcotics Bureau said, "what has been detected is not even the tip of the iceberg".
On Thursday night, a haul of 878 grams of Crystal Meth (ice), a synthetic drug, was detected near the Pettah floating market by Police Narcotic Bureau (PNB) and Criminal Investigations Department (CID) detectives. The raid was conducted on a tip-off that an Indian national was bringing drugs to the area. The estimated street value of the detection was Rs 10 million. The Indian national was arrested and produced in the Maligakanda Magistrate courts.
The rings that operate the synthetic drugs market are rich enough and have their own friends among politicians, policemen and various law enforcement agencies.
This week, the Police Special Task Force (STF) that is in the forefront of drug-busting operations arrested Nuwan Attanayaka alias 'police', described as a local drug lord. His mobile phone had photographs taken together with Minister Sarath Fonseka. An STF source said his phone records showed that he was in touch with Field Marshal Fonseka, who led troops to the military defeat of the Tiger guerrillas. The suspect, a former police officer, has admitted that he was involved in Minister Fonseka's political work.
Besides the synthetic drugs, an equally potent drug is the mostly available Ganja or Cannabis Sativa. The local availability, boosted by the smuggling of large quantities of this drug from South India, reveals that the country's shores are porous and vulnerable. Our investigation revealed that some in high positions of the law enforcement agencies are colluding with the smugglers for high financial gain. A recent detection reveals the extent of Kerala Ganja smuggling into the country.
(See box for comments from Deputy Inspector General (DIG) Northern Province)
In the detection, made on Thursday, August 2 in Mannar, STF personnel seized a haul of 130 kg of Kerala Ganja (Kerala Cannabis) on a tip-off from the Navy. A senior STF officer said they ambushed an individual on a Mannar beach no sooner he arrived in a fishing boat. The contraband was found in four gunny bags. The suspect, identified as Abdul Salam Asmin (39), a resident of Mannar, was handed over to the area police. Further investigations are being conducted by the PNB.
There has been a spate of other detections of Kerala Ganja in recent months. In one of the meticulously carried out operations, Police on June 14, detected 250 kilograms of Kerala Ganja with a street value of more than Rs. 25 million.
After the PNB received several tip-offs that a lorry transporting fish from Mannar was also carrying Kerala Ganja to Colombo, a ten-member police team headed by a Chief Inspector was deployed in civvies at Mahabage in Wattala. The lorry had been under surveillance for nearly two months.
The police team stopped the lorry and carried out a search which led to the detection of Kerala Ganja concealed in rigifoam boxes which were placed in-between similar boxes containing fish.
A PNB officer speaking on condition of anonymity said that cannabis or ganja is a flowering plant which has medicinal properties but when smoked it can cause hallucination, stimulation or even depression in the smoker.
The plant grows in Sri Lanka but most addicts prefer Kerala Ganja or KG grown in the southern Indian state of Kerala, he said, adding that some fishermen were involved in the smuggling of Kerala Ganja. The officer said: "We also find local and foreign networks of drug trafficking when we confiscate and check through the phone contacts of the drug transporters. Most of the operations are headed by ones who are imprisoned," he said.
"Those who run the drug mafia don't use drugs. They are only after profits," he said.
There have been long standing concerns regarding maritime narcotics trafficking into and out of Sri Lanka. Last year, the then Law and Order Minister Sagala Ratnayake noted that Sri Lanka had become a 'transit hub' for mass-scale drug smuggling.
Shanaka Jayasekara, South Asia Programme Coordinator for the UN Office on Drugs and Crime (UNODC), told the Sunday Times that Sri Lanka lies on a trafficking path known as the 'Southern Route'.
Citing the increase in heroin production in Afghanistan and heightened maritime trafficking to the South Asian region, Mr. Jayasekara warned that invariably a transit hub could become a consumer hub and with time, the influx of 'narco-money', democratic institutions could be weakened, leading to 'narco-politics'.
Recent violence related to narcotics trafficking and gang activity has again drawn public attention to the complex problem. Public outcry for tough action has prompted the President to take a more populist stand in calling for an end to the moratorium on the death penalty.
Since 1984, policymakers have time and again endorsed and sought to implement the death penalty for drug trafficking. Policymakers have largely been supportive of the idea, however, there have been a few who have argued against it. There has been strong opposition from diplomatic quarters and human rights groups to the move to re-implement the death penalty.
UNODC's Mr. Jayasekera warns that the death penalty move could hinder international cooperation on transnational crime. Countries which are opposed to the death penalty might not be willing to share intelligence, fearing that a conviction based on their information could result in death, he said. (See box story on further comments by Mr. Jayasekera)
As the law enforcement authorities intensify their efforts to crack down on drug trafficking, other institutions, including the National Dangerous Drugs control Board (NDDCB), are trying to end the menace by rehabilitating addicts and freeing them from drug dependence. (See box story on rehabilitated drug addicts)
Types of synthetic drugs
Methamphetamine Crystal meth: (Also known as Ice, as its particles resemble crushed ice particles). In comparison to heroin, it is less costly. Most often available at night clubs and at beach parties. It is mostly taken orally, but some prefer the inhalation of its smoke or the intravenous method. Its street price is Rs 10,000 a gram.

Ecstasy (Methylenedioxymethamphetamine): A recreational drug used at parties. Its effects include altered sensations, increased energy, empathy and pleasure. The highly addictive drug, which comes in the pill form. A pill costs Rs 2,500 to Rs. 3,000.

Apple drug (a type of ecstasy pill): One ofthe cheapest narcotic drugs sold in Sri Lanka and a party favourite. The pill is orally taken and the cost varies between Rs 250 and 500.

Cancer medication drugs: Certain cancer treatment drugs are taken in overdose.
Rehabilitation: Success stories from NDDCB
A 33-year-old cannabis addict, a three-wheeler driver from Thotalanga, turned up at the National Dangerous Drugs Control Board (NDDCB) office a few weeks ago and his story is one of the many success stories the NDDCB counts.

NDDCB Director T.W. Pemasiritold the Sunday Times, "The man entered the treatment and rehabilitation director's office and told me he was a cannabis addict and wanted to free himself from his addiction. I gave him an assurance but told him he needed to enter our rehabilitation centre.

"The victim explained to me that it was fellow trishaw drivers who got him into smoking and drinking and later to cannabis. They encouraged him to smoke cannabis, saying the drug provides relaxation. He soon became an addict. After some time, when he felt the cannabis did not make him high, he was introduced to heroin. It was at this point, he sought our help.

"We sent him to the Thalangama Rehabilitation Centre, one of our four centers dedicated to help people who seek to escape drug addiction. The center prepared him to mentally withstand the urge for drugs.

"During the first two months, he faced physical difficulty due to deprivation of drugs but mentally overcame the urge with sessions of therapy and other activities. He returned to society as a reformed person. He no longer smokes or uses any narcotic substance.

Another story was that of a 28-year-old cannabis addict turned heroin addict. His violent behaviour led to the death of his parents. But he was also successfully rehabilitated.

The youth was educated at popular school in Ja Ela. He smoked his first cigarette at the age of 16 during the school's big match. After he completed his Advanced Level, he was introduced to Kerala Ganja and with time, his pursuit of 'bigger kicks' made him a heroin addict.

Mr Pemasiri said that when he was sent for rehabilitation it was too late since the drug victim had sold all that his parents had to buy drugs. The parents were left with one pot and a six-stoned firewood cooker.

Once when the victim was high, he had taken his mother to the railway track with the intention of killing her. But he could not do it. The extreme pain of mind led to the death of the heartbroken mother. Following her death the father too passed away.

Also rehabilitated was a Wanathamulla youth who became a cannabis addict at the age of 17.

The victim and his two brothers grew up in an area known for its high crime rate. His interest was in football and he played for recognised teams. He had won many cups and medals.

The youth told rehabilitation officials that he was first introduced to drugs by a sub inspector who told him that Kerala Cannabis would enhance his endurance and sports abilities. The man had used his position and personality to promote the drug.

"I was deceived. I found my sporting skills eroding with the use of Cannabis. but it was too late. I had become an addict. I was unable to play and even lost my job. The situation compelled me to become a thief," he said.

The youth said his family gave up on him and branded him a thief, as he became a wanted man for several petty thefts. He lived in cemeteries and near hospitals as a beggar to avoid being caught by the Police.

He was successfully rehabilitate by the NDDCB and he now leads a normal life.
Measures taken to prevent the smuggling of narcotics
"We regularly set up random checks and check the vehicles heading to the south from the north to prevent the smuggling of narcotics," Jaffna's Deputy Inspector General of Police Palitha Fernando said.

"Since I assumed duties as DIG a year ago 70 detections have been made. Most of the time I have seen the local media regularly reporting that the Cannabis was smuggled from Tamil Nadu to Jaffna by sea.

"It is not only to Jaffna, but also to Mannar, Vedathalthievu and Pesalai. It's only the navy that has a right to check the boats in mid-sea. Most of the time the local smugglers pose as fishermen so it is very difficult for the police to identify who the genuine fishermen are."

Shanka Jayasekara, South Asia Programme Coordinator for the UN Office on Drugs and Crime (UNODC) has commended two initiatives taken by Sri Lanka to enhance intelligence sharing between regional and international stakeholders.

The first of these is the Southern Route Partnership (SRP) a contact group for national drug enforcement agencies, donors, international organizations and partner agencies to improve coordination and collaboration on counter narcotics initiatives targeting drug trafficking on the southern route. Further, in an initiative aimed at strengthening regional cooperation against transnational organized crime, the South Asian Region Intelligence and Coordinating Center (SARICC) is to be established in Colombo.

He noted that in the long run Sri Lanka needs to invest in maritime domain awareness (MDA) technology and equip law enforcement and naval personnel with the required MDA skills.

He said that with the assistance of the UNODC the Sri Lanka Navy has begun a training programme for regional law enforcement teams on Visit, Board, Search and Seize (VBSS) tactics–on how to board a suspected vessel at sea and conduct search and seize operations in accordance with international law. The training is conducted at the Navy Special Boat Squadron (SBS) Training School in Trincomalee. Two batches, including personnel from Bangladesh and Maldives have already completed the two week course.