BoC, PB, EPF purchased Emirates' SriLankan shares sans Cabinet approval
By Sandun Jayawardana
View(s):
Questions as to how SriLankan Airlines Shares, held by Emirates, were purchased by the Employees' Provident Fund (EPF) and 2 State banks in 2010, seemingly without Cabinet approval, were raised this week at the Presidential Commission of Inquiry (PCoI) appointed to investigate alleged irregularities at SriLankan Airlines (SriLankan), SriLankan Catering and Mihin Lanka.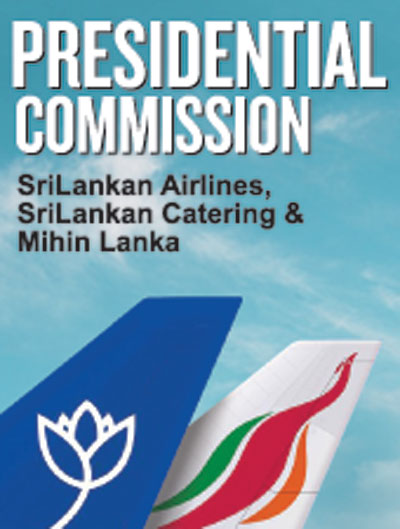 Though Cabinet approval had only been given to the Bank of Ceylon (BoC) to purchase these Shares amounting to US$ 53 million, a subsequent Board Minute of the Airline listed that People's Bank (PB), National Savings Bank (NSB) and the EPF too as Shareholders, it was revealed.
SriLankan's Security Operations Senior Manager Titus Kannangara, Company Secretary Dalrene Thirukumar, former Network & Ancillary Brands Senior Advertising Executive Manori Wijeratne, Advertising Manager Lakshika Gunathilake and Senior Manager- Marketing, Saminda Perera, gave evidence before the PCoI this week.
Meanwhile, President Maithripala Sirisena, this week, extended the PCoI's term another 6 months, till December 31, 2018. The PCoI was established on January 31, this year and its term was due to end on July 31.
The PCoI comprises Retired Supreme Court Justice Anil Gooneratne (Chairman), Court of Appeal Judge Gamini Rohan Amarasekara, Retired High Court Judge Piyasena Ranasinghe, Retired Deputy Auditor General Don Anthony Harold and Sri Lanka Accounting & Auditing Standards Monitoring Board Director General Wasantha Jayaseeli Kapugama.
Some highlights that came up before the PCoI this week:
 According to documents submitted, as at May 30, 2006, the Government of Sri Lanka (GoSL) held 26.2 million Shares (51.05%) of SriLankan, Emirates held 22.2 million Shares (43.63%) and the employees held 2.7 million Shares (5% approx.).
A letter sent in February 2010, by Emirates Chairman Sheikh Ahmed bin Saeed Al Maktoum to then Treasury Secretary Dr P.B. Jayasundera, stated that, Emirates was prepared to consider the sale of its SriLankan Shares to GoSL.
 The Valuation Dept, on a request made by SriLankan, had estimated the value of SriLankan Shares owned by GoSL at US$ 440 million. The documents submitted did not indicate whether it also valued Shares owned by Emirates or the employees.
 A Cabinet memorandum submitted on June 2, 2010, by former President Mahinda Rajapaksa, in his capacity as Minister of Finance & Planning, noted that BoC had agreed to acquire the 43.63% stake held by Emirates in SriLankan, amounting to US$ 53 million. The paper further stated that, it has been agreed to finalise the sale by June 30, 2010. Accordingly, Cabinet had approved the BoC to purchase the Shares held by Emirates and to conclude the transaction by end June 2010.
 However, Company Secretary Dalrene Thirukumar read from a SriLankan Board Minute dated August 30, 2010, which listed PB, NSB and the EPF also as registered Shareholders in the Company's Books. Accordingly, the BoC owned 12.1 million Shares, PB 4.2 million Shares, NSB 4.2 million Shares and EPF 1.8 million Shares.
 The PCoI questioned Ms Thirukumar whether there were any documents authorising PB, NSB and EPF to acquire SriLankan Shares owned by Emirates. Ms Thirukumar, who had only joined the Company in 2013, replied she had not found such a document in her office, but would check and report back to the PCoI, if such a document exists.
 Manori Wijeratne and Lakshika Gunathilake revealed in their evidence that, from 2011 to 2014, SriLankan had accepted unsolicited proposals from Kuma Stickers (Pvt) Ltd (KSPL) for advertising hoardings for the Airline, on the instructions of former SriLankan Chief Executive Officer (CEO) Kapila Chandrasena to then Advertising Manager Priya Epitawela. Last month, it was revealed at the PCoI hearings that SriLankan had given advertising contracts amounting to over Rs 415 million to KSPL and Vihanga Marketing & Advertising Services (Pvt) Ltd., which are controlled by one family.
 Ms Wijeratne said no Tender process was followed for KSPL and she could not confirm whether the Company even had ownership or leasehold rights to the hoardings, at the time it submitted the proposals. The Advertising Dept, however, went by the proposals that claimed KSPL to be the owner of the hoardings and selected them, after assessing the sites.
 An Internal Audit had flagged the issue in November 2013, and from 2014 onwards, advertising hoardings were selected through a Tender process, the PCoI was told.
 The Advertising Dept had not used Contract Review Forms (CRFs) as per procurement guidelines, until Ms Gunathilake introduced it to advertising, after coming from the Procurement Dept in 2013.
 Former Advertising Manager Nayomi Handunnetti had signed a CRF awarding an airline sponsorship to Carlton Sports Network (CSN) in an irregular manner. She had signed in all 3 places on the form and also, not circulated it among other senior managers, as was required, it was revealed.
 In June, 2013, the Airline had conducted an evaluation process to select a Media Buying Agency from among 3 advertising agents it was working with, namely Grant McCann Erickson, Saatchi & Saatchi and Trumps. Lawyers representing the Attorney General's (AG) Dept pointed out serious flaws and irregularities in the evaluation process, including the fact that some of the evaluation forms were incomplete.
 It was also revealed that the agency with the highest marks of 411 was not awarded the contract. Instead, it was given to an agency with 377 marks. Ms Wijeratne acknowledged under questioning by AG's Dept officials, that both companies were also charging the same amount as commission. She claimed she only prepared the evaluation forms and it was Ms Handunnetti who had submitted the document to senior management and approved by the CEO.
 SriLankan had spent Rs 53 million for a Pro Surfing event held at Arugambay in 2010 and 2011. When queried by the PCoI as to why so much money had been spent on one event, over two years, Senior Manager- Marketing, Saminda Perera, said it was an international event attracting professional surfers worldwide.
 Seven Security Officers of SriLankan were given 'Duty Leave' in December 2014, for an 'Organising Campaign' in Pelmadulla, during the last Presidential election. The leave was approved on a request, via email, to Human Resources (HR) by the Sri Lanka Nidahas Sevaka Sangamaya (SLNSS) Secretary. The SLNSS is affiliated to the Sri Lanka Freedom Party (SLFP).
 The 'Duty Leave' was given despite a collective agreement between the Union and Management clearly stating that employees can only be released for trade union activities and not for political work.
 SriLankan's Senior Security Operations Manager Titus Kannangara told the PCoI that the officers were released after the request followed routine procedure and came through HR. When questioned by AG's Dept officials as to which candidate's election campaign the officers would have been released, he said it would have been for the campaign of the person in power at the time.