Jumbos and us; we are so much alike
By Kumudini Hettiarachchi and Oshani Alwis
Conservationist cum photographer Dilum Alagiyawanna talks about his fascination with elephants and the mysteries of the annual 'Gathering' in Minneriya
View(s):
As the afternoon nudged itself into evening and the shadows began to lengthen, he was tired but happy.
That whole day conservation-activist Dilum Alagiyawanna had spent at the Minneriya National Park, photographing at very close range, with the blessings and permission of the Department of Wildlife Conservation (DWC), the extraordinary 'Gathering'.
The large herd of elephants, all mothers, babies, young calves and female relatives had largely ignored him, nibbling the tasty tender shoots of grass which were carpeting the floor of the receding Minneriya wewa (tank).
It was around 4 in the evening that a tiny baby fascinated by the presence of one not of its kind attempted to get closer to him inquisitively, when all hell broke loose.
The perturbed herd was about to charge him with the baby's mother in command, when from among the 'front-liners' there was a movement. Mighty and strained was the effort of an aunt to restrain the whole herd…….and restrain she did.
As the images flashed before his very eyes and camera, it was not at that tense moment that it dawned on him – but much later when he was taking a re-look at the numerous photographs in the comfort of his home at Pelawatte in Battaramulla.
"Look at this," Dilum, 51, tells us on Tuesday morning, getting those images on his tab. What he has told us with absolute conviction hits us too.
Yes, the elephant-aunt is going through the motions of stopping an angry herd from charging Dilum, just like a human exerting his/her voice of reason to stop mob justice being waged. And Dilum's photographs not only say what a thousand words cannot but also document the strong similarities between these majestic creatures and ourselves.
"Unlike any other animal, be it even a chimpanzee which is said to be very closely-related to humans, I believe that elephants are very much like us," says Dilum who is Director/Producer of Nature/Wildlife Films for Conservation — Sri Lanka (FFCSL), his own initiative.
Having given up lucrative employment as a telecommunication engineer who made good in Dubai, then tried his hand at several ventures on his return home which brought him "handsome" money, it was photography which he started as a hobby that led him along the less-travelled trails to the wilds of Sri Lanka.
Establishing links with Canon Singapore (a world renowned camera manufacturer) which oversees South and Southeast Asia, the company on realizing his passion and prowess at photography soon named him their Brand Amba-ssador, gifting him with expensive camera equipment to pursue his dream.
Pursue he did his dream, capturing with clarity whales in all their beauty off the southern coast at Mirissa, a difficult and challenging task, but the lure of the elephant surpassed all other animals.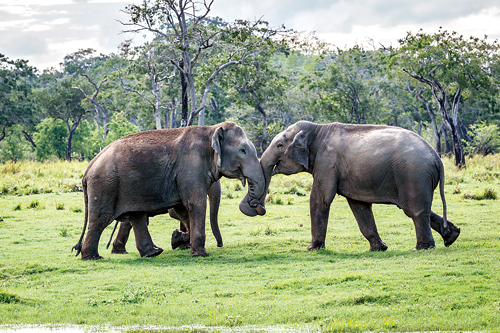 For elephants were very much a part of his boyhood, with a domestic elephant owned by politician Sarathchandra Rajakaruna which was either tethered in his family's compound in remote Narangaspitiya off Kirindawela in Gampaha or in an adjoining property, being a regular sight. Kitul trees from Dilum's garden were fodder for it.
Later, he was able to enhance his interest in photography with wide travel, while he was based in Dubai, seeing advanced technology at play.
The projects launched once Dilum took up the camera in 2008 include filming the Kandy Perahera along with a photography expert from Canon Singapore and producing a documentary with 500 of the DVDs being presented to the Dalada Maligawa, live telecasting of the perahera in 2010 to get international attention riveted on this beautiful cultural pageant and facilitating the first-ever online photographic competition in 2011 titled 'Kandy In Focus'.
Award-winning wildlife documentary to be screened
'The Great Elephant Gathering of Asia', Dilum Alagiyawanna's documentary which won the Best Animal Behaviour Award at the 13th Japan Wildlife Film Festival in Tokyo in April, is the first ever international award for a wildlife documentary film produced by a Sri Lankan.This film will be screened for the public by the Wildlife and Nature Protection Society (WNPS) at 10.30 a.m. next Sunday (August 5) at the Cinema Hall of the National Film Corporation, on Bauddhaloka Mawatha, Colombo 7.Referring to the Japan Wildlife Film Festival, Dilum says that there are only three major festivals in the world, with the others being the Jackson Hole Wildlife Film Festival in America and the Wildscreen Festival in the United Kingdom. The film on 'The Gathering' was shortlisted from 208 productions from over 40 countries and was among the 31 nominated for the final round.

The film has also been accorded the 'Official Selection' honour at the Wildlife Conservation Film Festival in New York in 2016.

Currently, Dilum is seeking a sponsor who would help put out a combo pack, a collector's item fit for anyone including royalty. It is to be a two-in-one Limited Edition Coffee Table Book and Documentary Film — Blu-Ray+DVD Combo Pack on 'The Great Elephant Gathering of Asia' in a hard cover with thumb cuts at the edge and embossed elephants seeming as if they are walking out of the pack.

The production partners are the Department of Wildlife Conservation (DWC) and Dilum's company, Ceylon Sights Private Limited.
The secrets of 'The Gathering' must be preserved
Please don't destroy the vibrant eco-system that draws the large number of elephants to Minneriya, is the urgent appeal from the heart by conservationist-photographer Dilum Alagiyawanna who points out that 'The Gathering', sometimes brings as many as 300-350 elephants there.'The Gathering' has been listed among the top 10 'Greatest Wildlife Spectacles' by Lonely Planet and is among just two from Asia. It comes ahead of Sarawak's 'Bats of Deer Cave'.The secrets of 'The Gathering' at Minneriya are embedded in the cascade tank system which encompasses Minneriya, Kaudulla and Kantalai tanks, says Dilum, pointing out that Minneriya holds around 135 million cubic metres of water for about four months of the year from December to March. Thereafter, a large volume of the water is released for agriculture, leaving only about 25 million cubic metres of water.

"As the Minneriya tank holds 135 million cubic metres of water only for four months, the grass-roots on the tank-bed don't die. As soon as the water recedes, the grass grows again," says Dilum who spends long hours at Minneriya, roughing out and surviving on basics. He leaves home in Pelawatte around 1 a.m. arriving at the Minneriya National Park's gate by 6 a.m., the first to enter and the last to leave. It was during those long hours and days that he kept questioning why such a large number of elephants came there, with the answer dawning on him as he watched them.

If, however, explains Dilum with much emotion, the water is stored longer in the Minneriya tank, this unique ecosystem will perish and die without hope of a fresh lease of life.

"Those who come in their numbers to graze on the grass, nourished by ron-mada (sediment) are nursing mothers, other females and their young," he says, adding that even if the tank is kept empty, it would adversely affect this phenomenon.

Dilum's fervent plea is: "What is taking place at Minneriya has been happening for centuries, with the biggest grassland appearing and disappearing according to this cycle. So let's leave it alone, not interfere with such a wonder, but find other technical solutions to overcome development needs."

These majestic creatures which converge on Minneriya have rewarded him amply not only by giving him a firsthand look at their way of life but also how akin to humans they are in their behaviour.

See this mother, pulling out clumps of grass, while looking directly at her baby like a human mother. She is showing the baby how to use its trunk to eat, he says showing us footage.

Dilum has also captured siblings playing and then quarrelling and the younger one running to the mother to snitch and the mother reprimanding the older one.

Recalling the incident where the elephant-aunt stopped the herd from attacking him, he says that before that incident, to him elephants were just like any other species. But that changed his perspective and he realized "how intelligent they are and how much like us".