Association of Indian Muslims of America honours veteran journalist Aziz Haniffa
View(s):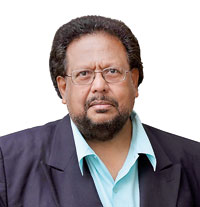 The Washington, DC,-based Association of Indian Muslims of America honoured veteran South Asian American journalist Aziz Haniffa with the "Excellence in Leadership" award on Saturday.
Mr. Haniffa, a Sri Lankan American and Executive Editor of India Abroad, was recognised for his "Outstanding Leadership and Contribution to the Community and Indian American Journalism."
The award was presented at an inter-faith celebration hosted by AIMA at the Turkish Community Center in Lanham, MD, on June 23.
In his speech accepting the award, Mr. Haniffa lauded the efforts of AIMA to a difference in the lives of the poor and needy in India, especially those of women and girl children in the areas of education and human development, leading to their overall empowerment.