On drawing the line
By Daleena Samara
View(s):
Sujith Rathnayake was busy creating a new body of works for his exhibition entitled 'One Continuous Line' when I met him in his rustic studio, amidst rubber estates and farmsteads in the heart of Athurugiriya.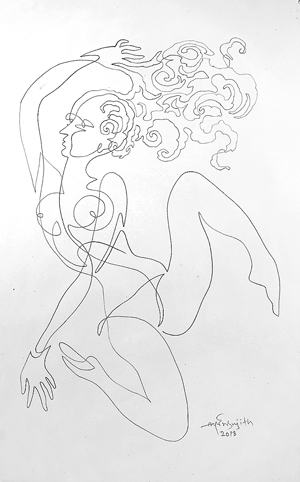 He brought out work after work of figurative line drawings, reductivist pieces deliberately devoid of elaboration, and displayed them on his adjustable working table,tilted to serve as a display board. In each, a single unbroken line snaked across white hardboard breathing life into form, capturing a moment of action and mood.
Why continuous line drawings from an artist renowned for his versatility in media? Sujith is both a painter and sculptor and well known for his mixed media contemporary works employing materials ranging from conventional inks and oils to extremes like fibreglass, steel and found objects, sometimes using inventive techniques such as rusting and burning. The choice of simple graphite on art paper and board for his new collection is a return to the very essence of composition — the line, the most fundamental of the seven elements of art, along with form, shape, tone, texture, colour and space. The artist who had let loose thus far was revisiting the roots of his art.
Sujith's artistic trajectory started as a child working alongside his artist father, a painter of traditional decorative elements in the town of Ranna in Hambantota. Thereafter he learned painting from several tutors. His choice of a degree in sculpture at the University of Kelaniya was a step into the unknown: "I was confident about my painting skills, but sculpture was something new. I learned gas building, bronze casting, wood carving etc."  These skills are incorporated in his mixed media works, adding sculptural effects to 2D works and giving any material – even the stack of used television sets and computers awaiting transformation at the back of his studio – artistic potential.  He had participated in group exhibitions such as the 'Young Contemporaries' (National Gallery, 1999) and 'Bargale Velesh' (Bangladesh Shilpakala Academy, 1999) even before graduation.In 2000, he attended the Artist in Residence programme of the Fukuoka Asian Art Museum. He has exhibited widely both at home and overseas throughout his career, and is today well recognised as one of the young generation of contemporary artists to use art as a social sounding board.
The idea of the simple continuous line in this series is not new. Unbroken line drawing, also known as 'continuous line' drawing, is a technique used in art schools to help students master their art. While line forms the basis of almost any work, modern masters like Picasso and Paul Klee brought the continuous line to prominence.
Sujith's continuous line drawings emit the palpable power of the single, unbroken line. A demonstration of the process takes just a few minutes: it is almost performative, encompassing activation, energy, engagement and completion,  a single continuous movement to found identity. Behind each work are dozens of practice sessions. Rolls of discarded board under a shelf at the back of his studio are evidence of the unseen process of creation.
The series is also a response to the passivity of the visual art process. "Performance art, for example music or drama, incorporates direct interaction between performer and audience. The performance is also conveyed without interruption. Art, however, can be executed with interruptions and in seclusion, making the spectator secondary. In creating these works, Sujith is adding an element of performance to his process: he works uninterrupted, consumed in the execution of a single creation. The graphite pencil does not leave the board from start to finish and he is possessed by the process. His roots in sculpture can be seen in the way he draws, guiding the movement from his shoulder rather than wrist, using his whole body in the execution.
The non-committal stance of this series is also a deviation from his belief that an artist has an obligation to respond to society through art.His earlier works have a lot to say. Sujith considers Sri Lanka to be an island besieged by turmoil, wracked by civil uprisings, war and natural disasters and so his works usually convey his responses to the situation around him. He was asleep in his studio on a beach down South on his birthday, the morning of the tsunami in 2004, when he woke up to find water welling around his bed. He managed to escape after the first swell and make his way to safety. He was deeply affected by the catastrophe and documented his turmoil in the series shown at the Lionel Wendt Art Gallery in 2004.
In contrast,'One Continuous Line' is uncomplicated, an honest reflection of his belief in the importance of a strong theoretical foundation in art. He has used the line to take us back to the very heart of art.
'One Continuous Line' can be seen at Paradise Road Gallery Café till July 18.