Seeing life's journey through a lens
By Yomal Senerath-Yapa
Images that talk at 'Vision Beyond the Frame' by Ravindra Ranasinghe
View(s):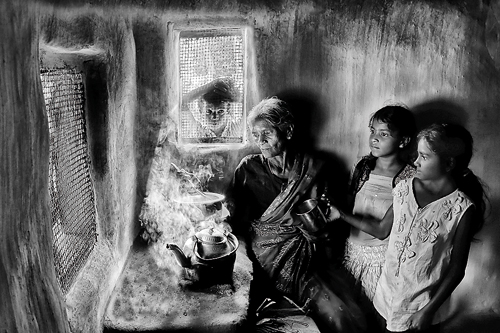 For photographer Ravindra Ranasinghe, no enduring metaphor fits life better than that of a journey.
Whether it is two small figures walking along a mist-wrapped mountain path with looming alpine trees (black and white), a pretty girl hanging on to a bus in Rajasthan, vibrant North Indian streets with all the world milling together or the eagle's-eye view of a speck of a Chinese man cycling to work — Ravindra documents life as an unending saga; poignant, moving, celebratory, colourful or black and white, but all invariably beautiful with his own brand of poetic vision.
With 'Vision Beyond the Frame', his latest exhibition, open to the public from June 30 to July 1 at the Lionel Wendt, we caught up with him for a chat this week. Ravindra is a man with a deep wanderlust and his heart's aching desire is to see the whole world, every valley and mountain.
It was eight years ago during a sojourn in Nuwara Eliya with friends that fate intervened to make him a photographer. At the studio where he went to develop the images of that trip, an impressed photographer urged Ravindra that he should submit one of the photographs to a competition. He was given application forms and went through the procedure without much thought. Nothing could have been more surprising than when he was told that he had won the Gold Medal in the Amateur Category in a competition held by the National Association of Photographers Sri Lanka.
This opened a new door and Ravindra enrolled in a photography course at the Lionel Wendt under Panduka de Silva, where he moulded his vision. Since then there has been no turning back for his journey with the camera. As and when time permits, in the midst of a busy career at Dialog, he goes in search of images that talk to him.
Ravindra is particularly fond of street photography, to capture the motion of humanity in its day-to-day drama. This is why he loves Rajasthan, where the roads are animated with so much colour, spice and bustle. It is all testimony to the deep fascination for life as a journey. He has also captured glimpses of life in China, Vietnam, Thailand and Singapore apart from his love for his native island.
When hitting the street, he usually positions himself on location by 6.30 in the morning. It is the late dawn hours with their rusty gold or the early-to-late dusk hours (after 4.30 and 5 p.m.) that produce the best pictures for Ravindra.
Since 2010, Ravindra has won many prizes, awards and accolades for his work, locally as well as internationally. The most cherished are the FIAP (International Federation of Photographic Art) Gold Medal he won for work in Vietnam — triggering much recognition — and the Gold Award in the Open Category at the State Festival of Photography in 2016 and 2017.
Ravindra's work is evidence that even in a day and age when technology can work wonders on a photograph, it is a creative mind and eye that really make a good shot. Though editing is part and parcel of modern photography, all the 'magicking' of Photoshop cannot really "dress up" a bad picture, Ravindra points out.
For the amateur, his advice: "Study your equipment, study your subject and master your eye; then you can go a long way."
Ravindra himself has been avidly following the work of Steve McCurry, who created a sensation with the portrait of the 'Afghan Girl' and so many atmospheric and unforgettable pictures for National Geographic. Locally, he admires and follows Panduka de Silva, Henry Rajakaruna and Chandrasena Perera as well as Mahinda Jeevananda. He mentions his wife Chamindri, his parents and siblings as well as colleagues, who give him strength and support, while appreciating the help extended by Anushka and Noeline Gunasinghe from CameraLK.
Ravindra Ranasinghe's exhibition at the Lionel Wendt covers a great sweep of Sri Lanka and Asia. A visually-stunning coffee table book also titled 'Vision Beyond the Frame', encapsulating the soul of Ravindra's mesmerizing work, will also be launched at the opening ceremony on June 29.