Let the 'Pillowman' lead you to the dark side
By Tarini Pilapitiya
Director Shannon Misso picks up Martin McDonagh's award-winner to depict reality
View(s):
There is a certain level of expectation when it comes to Martin McDonagh's artistic direction – and it tends to continuously lead us to a dark place.  'The Pillowman' which won two Tony Awards and an Olivier Award for Best New Play is no different. StageLight & Magic Inc., who brought to us comedic gold in the form of 'Pusswedilla', will tackle 'The Pillowman' on July 7 and 8 at the Punchi Theatre, Borella.
Among the other acclaimed works of this Academy Award winning Irish director, writer and dramatist are  'In Bruges', 'Seven Psychopaths', 'Hangmen' and most recently 'Three Billboards Outside Ebbing, Missouri'.
'The Pillowman' follows the interrogation of writer Katurian and his brother Michal by detectives Tupolski and Ariel, over a series of child murders possibly set off by Katurian's macabre fables. Playing these complex characters are Yasas Ratnayake, Swasha Perera, Biman Wimalaratne, Tracy Jayasinghe, Ashini Fernando and Bimsara Premaratne.
Painting a raw and gritty reality whilst tackling themes of self-sacrifice, love, legacy and violence, Director Shannon Misso laughingly describes her play as "messed up!"  while adding: "You don't realize that these messed up characters are bits and pieces of who we are."
A bubbly personality, Shannon has been in and out of the world of theatre, having won Best Actress at the Interschool Shakespeare Drama Competition from her schooldays at Holy Family Convent, Bambalapitiya. Previously acting in the Workshop Players' 'Blood Brothers' and Feroze Kamardeen's 'Venice', Shannon portrayed Emilia, her last appearance on stage, in 'Othello' in 2010 in a production of the Old Royalists' Association of Dramatists.
Shifting roles to being an English Literature teacher and mother – Shannon is returning to drama after eight years, with her directorial debut 'The Pillowman'. From a shortlisted pile, with the help of Dininda Paranahewa, Ashini and Swasha, Shannon came upon Martin's play. "I had a vision of wanting a realistic play that alienated people and made them think deeply of its content," she shares. McDonagh's "word heavy play" fitted well.
The story begins with an interrogation scene in a totalitarian state — Martin has left the play's context open for interpretation. Katurian, the writer of morbid fables, is interrogated by two policemen about a series of grisly child murders that were perhaps inspired by the obscure stories he pens. As the plot unravels, we also delve into the fractured relationship between the brothers and the consequences of their tragic childhood.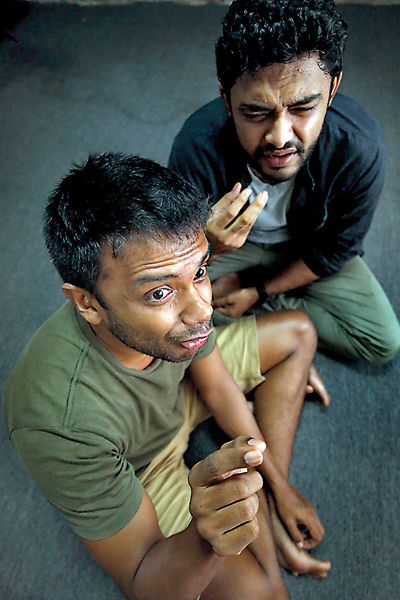 This dark comedy may elicit some nervous fidgeting.  Shannon chuckles, "I want the audience to not know how to react!" adding, "there are some instances where you will laugh unconsciously and then think, 'I shouldn't be laughing at this'."
McDonagh's use of imagery to show the child murders, described by Katurian's fables may jolt audiences out of their comfort zones. "The entire play spans a couple of hours and what's so interesting is that within it you have so many stories that tie up to the central theme and plot of the play," Shannon reveals.
The crew has experimented with the play's structure to bring the stories to life without losing the childlike effect of Katurian's storytelling. Dinendri Indatissa and Tahiri Perera, second-year students at the Academy of Design (AOD), will provide the animation — 2D hand-drawn images projected onto a screen
The use of women in this totalitarian setting is also intentional, Shannon says, casting Bimsara and Ashini as the interrogating policemen Tupolski and Ariel and Swasha and Tracy to play alter egos of Katurian and Michal. "Women are constantly typecast in certain roles," she says, having herself played virginal, submissive female roles. "We have so much capability to be the bad guy and I don't know why people just assume we can't."
In the play we have not changed gender pronouns, instead we're just using a female body to do things men would normally do, hoping to elicit the response of 'Does it make you think?', 'How does it make you feel?', 'Does it make you cringe?' to see women in these characters, she adds.
She urges the actors to play down their genders and instead play their characters as a role, completely forgetting whether it is a 'him' or a 'her'.

Following Bertolt Brecht, Shannon also strongly believes "the theatre is a classroom". Not a fan of the illusions of "smoke and mirrors", she hopes to bring forth the realities of life, bluntly commenting, "Life is dark. It's not all red roses and happiness."
In terms of characterization, Shannon says, "You find a similar pattern in every character and ultimately realize that bad things happen to good people and not everyone is good." Their adaptation explores a whole grey area, that no one is completely black or white, she says.
Although all the characters are key to unearthing the plot, Michal, the mentally-challenged younger brother of Katurian, who is seen in Act 2 struck a chord with Shannon."Michal is the most complex character — in such a short time there is so much mixed emotions, levels and dimensions to his character to look out for."
Reading since January and rehearsing the play since May, Shannon says she would like to focus on more projects on gender equality. "I enjoy projects with meaning."
'The Pillowman' is more suitable for mature audiences, given its sensitive content. "Audiences should be 18 plus or mature enough to handle the content," Shannon cautions.
'The Pillowman' will be staged on July 7 and 8 at 7 p.m. at the Punchi Theatre, Borella. Tickets priced at Rs. 500 (balcony) and Rs. 1,500 are available on Tickets.lk; The Studio (No 25, Isipathana Mawatha, Colombo 5); and the Punchi Theatre, Borella. For more updates, see their Facebook event page.