Dog-killers & CMC's bungling bureaucrats
View(s):

'Rosy under fire for trying to destroy stray dogs,' was a recent news headline that would have gone unnoticed, if not for alert animal welfare activists. Around the same time, another headline, 'Rs. 5.7 mn to refurbish toilets at Mayor's house', attracted wide publicity where the newly-elected, first female Mayor of Colombo, received severe criticism.One was a matter of life and death; the other a matter of rupees and cents. Rosy Senanayake responded to both.

This article is about the matter of life and death – of dogs. Dogs are not only man's best friend, but also his oldest. The origin of activist concern was a newspaper notice of May 16, where Colombo's Municipal Commissioner had advertised vacancies for dog killers, when a Presidential 'No Kill Policy' on dogs, declared in 2006 is still in force. Animal welfare activists immediately faxed, e-mailed and phoned the Mayor, condemning the move to recruit dog killers and pleading for the lives of stray dogs. Her response was, "It's a mistake. I have communicated with the Commissioner and requested for it to be withdrawn immediately."

Since there were incidents which gave rise to suspicion that the 'No Kill Policy' was surreptitiously being violated, Irangani de Silva of the Animal Welfare Trust, Sharmini Ratnayake of the Animal Protection Trust and this columnist, met Senanayake in February, when she was Colombo's Mayoral candidate, to make her aware  of the need for humane dog population control. She assured that there would be no killing and that only humane methods will be adopted.

None will deny that the country's stray dog population requires control. It is a rabies risk and for some, a nuisance.  But the question is how does one reduce this population? Under our outdated Rabies Ordinance and the Registration of Dogs Ordinance enacted during colonial rule, destruction was the solution and gassing, the method. That was an era where animals were considered chattels and not sentient beings with a right to life.  Today, animals are fast becoming non-human persons — receiving that status through statutes and judicial determinations.

The 'No Kill Policy' prohibited the destruction of dogs and directed vaccination and sterilization as the humane alternative to suppress rabies.That is the method recommended by the World Health Organization (WHO) and the World Organization for Animal Health (OIE) and popularly called CNVR (Catch-Neuter-Vaccinate-Release). By conducting CNVR with financial allocations received through the annual budgets, the Health Ministry and the Provincial Health Departments achieved considerable success, with human rabies deaths declining from 51 to 19 between 2008 and 2014.

In 2016, the Cabinet of Ministers entrusted the task of CNVR to the Department of Animal Production and Health (DAPH). Unfortunately, there now appears to be a breakdown in conducting these programmes, perhaps due to transitional issues. Representatives of animal welfare organizations who recently discussed with the DAPH the need to re-commence the programmes without delay and volunteered their support to have dog catchers trained by foreign trainers at no cost to the government and to care for the dogs' welfare post-surgery were  told that the programmes would commence in May.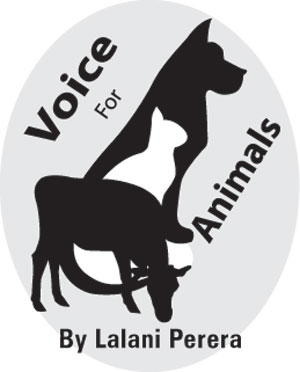 As pets, dogs are our companions; they protect us and guard our property; sniffer dogs help apprehend criminals and detect explosives; service dogs assist persons with disabilities and as scientific research reveals they even help to overcome depression, lower blood pressure, boost our immune system and help cancer detection. Even 117 years ago when the Dog Tax Ordinance (re-titled and passed  as the Registration of Dogs Ordinance in 1901) was presented in the Ceylon  Legislative Council as a measure of suppressing rabies, several members of the Council commented on the value of stray dogs.The Low Country Sinhalese Member stated: "A general dog tax would render it very difficult for villagers to have a dog and to be without a dog would be unsafe for them. Fancy a villager in the middle of a jungle with his hut and cultivation around it, which he is unable by himself to protect……without a gun or a dog! A dog to sound the alarm that his cultivation is being devastated by wild beasts…..the cultivation upon which he lives. In fact upon which he subsists."  The Kandyan Member stated, "Villagers depend to a very large extent on their dogs for the security and safety of their property,"  while the Tamil Member said that "the villager, when he sees a dark object sets the dog at it and it disappears….I am afraid ridding the country of dogs in this way will increase crime and death".
A new law to replace these archaic ordinances is now pending before the Local Government Ministry. This  law, recommended by a group of animal rights activists through a court case and by the Local Government Minister's Animal Welfare Committee, imposes a  statutory duty on local authorities to sterilize stray dogs and permits disposal  only where a dog is found to be rabid and that too only by euthanizing.
Delays in re-commencing the sterilization programmes, while the dog population is increasing, will have disastrous consequences, negating the results already achieved. Sri Lanka, being an island, cross-border importation of rabies is minimal. The target date for eradication of rabies is 2020. For that target to be realized, it is hoped that responsible authorities have by now got their act together and will collaborate with civil society animal welfare groups who despite financial constraints are continuing their own CNVR programmes to make this country a safe place both for man and man's best friend.