Appreciations
View(s):

A son's tribute to "wonderful" parents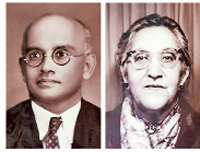 Bernard Aluwihare, MP and Dr. Florence Ram Aluwihare
This is to pay a belated tribute to wonderful parents and a reminder of their values and what they gave us. It is provoked partly by the current general chaos in the country and the increasing age of the writer.
A few months ago I went to the Aluwihare Temple library and the librarian recognised me and launched into a speech about how my father and many of the politicians of his era were clean and got poorer by doing politics, rather than the other way around.
My father was born in 1902 to an Aluwihare Kandyan chieftain — T.B. Aluwihare. His mother was a Panabokke (my grandfather's second wife after the death of the first). My grandmother sadly died of complications two days after father was born.
Grandfather was unusual in that of this marriage he sent the oldest, Richard, to fight in the British army in World War I. Later, Sir Richard became the first Sri Lankan Inspector General of Police. Incidentally, Uncle Richard returned wounded in 1917 and I removed the shrapnel from his leg in Kandy in the 1970s! Another brother was an All-Ceylon cricketer.
He sent my father to redo law in Jesus College Oxford (BCL) after he had qualified in the Law College in Colombo and did not object to my father marrying an Indian. He also 'watched' father's close friendship with Gandhiji and Pandit Nehru (my mother, my sister and I met them in 1944 in Delhi and 1947).
When my father won his first election to the State Council from Matale in 1936, he was shot in the head by the driver of a defeated candidate and fell unconscious. On hearing the news, grandfather died of a heart attack.
Father entered the State Council wearing his Gandhi costume and when the Speaker (later Sir Francis Molamure) asked him to remove the cap, he had said it was part of his whole costume, which he was prepared to remove. The Speaker capitulated. Father wore the Gandhi costume much of the time, even when in the war cabinet.
The Nehru friendship continued for years and in the early 1950s when Prime Minister Nehru visited Sri Lanka and stayed at Temple Trees, his daughter Indira stayed in our house on Melbourne Avenue!
My father had met my mother in England — she qualified as a doctor in Cambridge and Sheffield — as a result of mutual friendship (they met at Kingsley Hall as grandfather took the whole family to hear Gandhi speak), tennis matches and so on. Her father, Dr. L. Ram, was unusual as well, qualifying as a doctor in Lahore and then again in Edinburgh and working in Mexborough in England. All his children went to prestigious universities in the United Kingdom (UK) and all went back to India, except my mother who came to Ceylon.
These were values imbued in the children. Dr. Ram died of cancer in 1935. Values-wise, both sets of grandparents imbued them in their children, especially in my parents. All returned to their 'home' countries with high-level UK qualifications.
Both parents helped set up about 36 hospitals in the Matale-Dambulla electorate to help handle the mid-1930s malaria epidemic. In fact, my mother lost my parents' first child as she got malaria. In spite of living in Colombo and being in the war cabinet for a while, my father oversaw much development in health, education, income generation and in general in his electorate. He was Acting Minister of Agriculture when the Gal Oya Senanayake Samudra schemes were launched.
When the first parliamentary election was due and Independence was a reality, my father on principle refused to join the United National Party (UNP) as it had disenfranchised the so-called Indian estate labour who had voted in the 1936 (and previous) State Council elections. He lost the election and returned to teaching and practising law. Later, he had to sell valuable land in Matale especially to help pay for my education and other expenses.
He then formed the Sri Lanka Freedom Party (SLFP) with S.W.R.D. Bandaranaike and A.P. Jayasooriya and won the Matale seat in 1952, entering Parliament again. But when planning for the 1956 election, he felt the SLFP could win on its own and left on principle as he was against 'SWRDB' entering into alliances with 'leftists', feeling this might eventually lead to SWRD's death.
This letter is extant — my father was an assiduous letter writer and the veracity of much of this can be checked via his letters in the Ceylon Room of the University Library in Peradeniya.
My father lost his seat again in 1956 and rejoined the UNP, winning the seat back in March and June 1960 and being in the Cabinet of the three-month UNP government in the early 1960s. Even though he won again in mid-1960, the UNP lost the election. When he was a Member of Parliament (MP), he became unwell and there was much debate between my mother and his doctors about whether he had heart disease or a cancer (I was in Cambridge and then at the London Hospital as a student).
The eventual diagnosis was disseminated cancer and he came to England in early 1961 really to see me (officially to see if better treatment was available). We decided that my cousin Alec should contest the seat if my father died, rather than me stopping my education. My father died in England and was cremated there. There was an enormous crowd — his popularity and reputation were such as was the large circle of his and my mother's friends — at the interment of his ashes in Aluwihare in 1961 at the family graveyard.
Alec won the seat and served many years and now two of his sons are State Ministers and the other is Mayor of Matale.
Apart from the affection my father had for us including taking me to England in 1956, his service, principles, ability to think outside the box (like his father) and principles against odds, there are many other things we and Sri Lanka gained from him.
Meanwhile, my mother, Dr. (Mrs.) Florence Ram Aluwihare was born in Edinburgh in 1905 and worked in Edinburgh  after qualifying as a doctor. Later she came to Sri Lanka with my father. They lived on Melbourne Avenue where I was born. They rushed to Aluwihare when my sister was due as the Japanese bombed Colombo and I can still remember that night. My sister was born in the house at Aluwihare, such was the unusual thinking of my mother who also did obstetrics.
Returning to Colombo, she continued to work for many years from Melbourne Avenue alone and also with distinguished colleagues delivering many babies of distinguished parents.
She also thought outside the box. When I was a diphtheria carrier in the late 1940s, she got a window bar cut in my upstair-room so that I could climb a ladder in and out of the garden, without risking contaminating any of her patients!
My parents would go to the sea and Mum would swim a bit but my father used to swim to the reef and back daily, but got a shock one day when they saw an Australian swimming near and parallel to the shore — his reason being that although he was an Olympic swimmer he did not want to be outside standing distance!
My mother made/let me cook my own breakfast upstairs before going to school. She also had very high medical standards and standards of household routine, discipline and cleanliness. Both parents drove different 'old' Ford (V8 and Ford
cars then.
My parents in due course left Melbourne Avenue and lived in Dehiwala and later my mother became Warden of Sanghamitta Hall and part-time Medical Officer at the Peradeniya University from the mid-1950s till 1968. At Sanghamitta, she maintained rigid and high standards of food (usually by eating the same food as the students) and cleanliness and order, but welcomed visits from students, many of whom remember her with affection.
In 1968, she came to England and did medical work again (I had returned there for postgraduate work, my sister coming a few years later). She worked hard with integrity and skill, often against odds, all along helping to educate my sister and me, cost-wise and values-wise. Eventually she returned to us in Sri Lanka.
During all of this, she built a house on Park Road, which she has gifted to a charity that looks after educationally subnormal children, an indication of her unselfishness.
After Park Road, for a while she lived with friends and again in our house, passing away in February 1963. She had wanted a funeral the next day, but again there was a huge crowd from all over. The cremation was in Kandy and her ashes are next to my father's in Aluwihare.
Did my parents have faults? Yes, but we learnt from them as well and the good they did far outweighed any faults; neither retained grudges nor attempted to victimize those who disagreed with them.
                                                    Arjuna
---
Sunil, our Podimalli ……..
Sunil Karunanayake
It was Sunday, May 27. I made my routine visit to see my Podimalli, Sunil.  He seemed normal, but was quieter than usual.  He had buttoned his shirt wrong and I joked and corrected it. Strangely, he asked for my younger sister's home address and I promptly gave it to him. About 15 minutes after I left, I received a call asking me to come immediately. When I arrived there, he was being taken out on a stretcher by the ambulance crew.
Podimalli was the youngest in our family of six and everyone's pet.  At the age of five or six, he was adjudged the healthiest child at a New Year festival in our hometown and we were elated, but my mother appeared to be visibly disturbed.  Within two weeks, Podimalli became a victim of polio, which left him with a slight limp.
When Podimalli gained admission to Thurstan College, as our parents lived out of Colombo, he was boarded at Mr. S.M.B. Dolapihilla's residence, with Podimalli treating the Dolapihilla couple as his second set of parents. After the demise of our mother, he became closer to Mrs. Dolapihilla and made it a point to visit her regularly. Just few days before his demise, he had visited her and worshipped her many times.
Podimalli was the most organized person among the siblings. His table was  neatly arranged. His clothes were kept in an orderly way. My parents, realizing his systematic nature, entrusted all important documents to him for safekeeping.
He was a brilliant student at Thurstan and a live wire in the OBA. He chose accountancy as his profession and served many commercial establishments in key positions and was Chairman of Alliance Finance and Board member of Prima Ltd at the time of his death.
He was a multi-talented person. He was the scorer of the Thurstan cricket team in the late '60s and was elected Treasurer of CR &FC and also Treasurer of the Sri Lanka Rugby Football Union.  He worked as a sports reporter. He was a skilled writer and regular columnist on economic and business affairs to the Sunday Times. A collection of these articles was published in 2012. He also functioned as the Editor of the 'Chartered Accountant'.
In the last few years of his life, he devoted most of his free time to religious activities. He was a dayake at Sri Jayawardenarama, Kotte, member of the Borella YMBA and meditated at the Pagoda Buddhist Centre.
He was married to Anarkali and was blessed with a daughter – Suvini — whom he loved immensely.
Podimalli, has left us forever. However, his image appears before me. May he attain the supreme bliss of Nirvana in the shortest possible time.
Hichchi Ayya
---