Muddled electric vehicle plans running on low battery
By Kasun Warakapitiya
View(s):
Years after bombastic promises were made by the Government about introducing electric vehicles, more than 5,000 owners are still waiting for the day when charging infrastructure will be widely developed.
After all, shallow, knee-jerk statements have been made by various finance ministers and their policy pundits without first planning and developing the electric vehicle charging infrastructure. There were no formal public consultations for drawing up electric vehicle policies, as other well-governed countries do.
The Ceylon Electricity Board provides one electric vehicle charging station.
In 2015, Prime Minister Ranil Wickremesinghe's "Yahapalanaya'' budget proposed by Ravi Karunanayake, the then finance minister, suggested reducing taxes on electric cars by 25 percent, only to reverse course and then raise taxes.
Then, the 2017 budget of Krunanayake promoted the replacement of three-wheelers with electric cars. He proposed bank loans to buy 1,000 electric cars in the Colombo district and that 50 percent of the interest cost will be borne by the government.
The 2018 ''blue-green'' economy budget of Finance Minister Mangala Samaraweera, made a bold claim to have non-fossil fuel vehicles by 2040. All government vehicles are to be converted to hybrid or electric vehicles by 2025. He proposed reduced duties on electric cars and allocated Rs 500 million for electric buses.
Mr Samaraweera suggested removing some taxes on electric vehicle charging stations for five years.
But while the government and its finance ministers continue to muddle through with confusing policies, more than 5,000 electric cars are registered with the Motor Traffic Department. And there are not enough charging stations in the Western province or across the country. There are no battery disposal schemes.
Taxi operator Leel Mannapperuma said he bought four electric cars but the lack of charging stations impedes his services.
His hires are based on planned routes because he says that on a single charge, an electric car can only go 100 to 120 kilometres.
"Sometimes, I send another car to the designated area early to use that vehicle for hires while the car which is used for a hire to is charging for up to 6 to 10 hours at house or a hotel," he said.
While there are rapid charging centres, even these take 45 to 60 minutes, he noted. Due to the high demand, there are long lines.
He said he mortgaged his house to buy three electric cars for Rs 9 million and another new car for Rs 8 million with tax of Rs 1.1 million.
Mr Mannapperuma also is concerned about the disparity in price for charging at facilities outside Colombo. Some charge for the duration and at others, drivers have to pay per unit of electricity.
He suggested that tourist destinations such as Ella, Kandy, Anuradhapura, Polonnaruwa, Dambulla and Nuwara Eliya should have charging stations.
Founder and president of the Electric Vehicle Club, Mahisanka Abeywickrema told The Sunday Times that there are high taxes on electric car batteries.
He said that despite government proclamations, there is not even electric car charging infrastructure in the country. There are no concessions for imports of batteries either.
While the club has proposed setting up charging stations in every city, there is only one government operated charging station –– in Kelaniya –– and that is a pilot project. Mr Abeywickrema said it was also proposed that charging stations be provided at filling stations but only a few private operators offer such facilities.
Imports of used electric car batteries had been discussed.
"But the government policy says that used batteries can't be imported,'' he said, noting there there are no affordable replacements.
A new battery costs about Rs 1 million.
The Director (Development) of Ministry of Power and Renewable Energy, Sulakshana Jayawardene, said that they have started a charging station at Kelanitissa as a pilot project.
He said a unit of electricity is priced at Rs 13 and that not much income can be expected from government-operated charging stations.
The government will wait to see if the private sector would provide charging centers.
"We will not compete with the private sector, we are awaiting investments by supermarkets to set up charging stations,'' he said.
Meanwhile, the regulator, the Public Utilities Commission of Sri Lanka, plans to introduce standards for charging stations.
The commission's director of tariff and economic affairs, Kanchana Siriwardena, said that they ensure the safety, technical specifications, imports of chargers, compliance with safety guidelines and licensing of charging facilities.
He added that there are only 5,000 vehicle owners and about 60 private charging stations.
He explained that due to high taxes imports are low. So the private sector is not encouraged to set up charging stations.
Mr Siriwardena said talks are being held with the Ceylon Electricity Board and other charging facility operators to create a mechanism to charge vehicles per unit rather than by the hour.
Mr Siriwardena said that in one month's time they will finalise the technical guidelines for charging stations.
"We are also planning to provide tax concessions for vehicle chargers, charger ports and batteries to encourage people," he said.
However, vehicle industry sources said government policies, which impose high import duties, do not support electric cars.
They also say charging points must first be installed before urging people to buy electric vehicles.
One of the concerns of those using electrical cars is that vital technical information of the vehicle is not included in the registration papers.
Government policy decisions also do not offer proper information such as charging station design specifications, charging interface, plug types for fast and slow charging and battery capacity.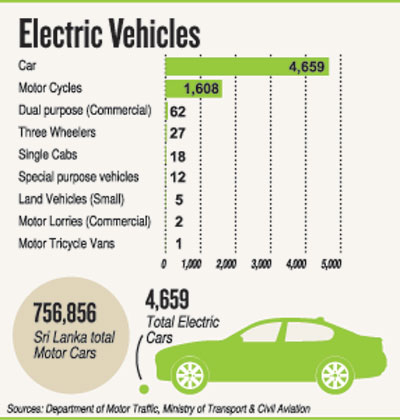 The commissioner general of the Motor Traffic Department, A H K Jagath Chandrasiri, said there are 4,659 electric cars, 62 dual purpose vehicles, five land vehicles 12 special purpose vehicles, 27 three-wheelers, two lorries, 1,608 electric bikes, 18 single cab trucks and one electric tricycle van.
He said detailed information on electric vehicles will be added to the registration records gradually.