Deaths piling up at level crossings
By Nadia Fazlulhaq
Impatient motorists the chief victims
View(s):
The CCTV camera at the Peralanda railway level crossing in Kandana area bore witness to a horrific accident captured the moment two friends on a motorbike ignored a railway traffic signal and went through the rail gates – to be hit hard by a speeding train.
At about 3pm on June 17, Senaka Wickremasinghe, 41, and Ranjith Kumarasiri, 42, both from Kelaniya, were on a motorbike waiting for the Colombo-bound train from Negombo to pass.
Just minutes before the train arrived, an impatient three-wheeler driver managed to sneak through the rail crossing despite the warning signal lights being on. This tempted the motorbike rider to assume he and his passenger would also be able to cross although the oncoming train was in sight. The motorbike collided with the train and both men died on the spot.
Recently, a 49-year-old policeman attached to the airport police, died in a similar manner when his motorbike collided with a train at the 18th Mile Post in Negombo.
There were 19 fatal vehicle-train collision accidents last year that claimed 16 lives solely due to negligence. In addition, last year, there were 12 serious accidents at railway crossings, three minor accidents and 36 other incidents that caused damage to vehicles and property. In the first quarter of this year, there were 16 level crossing accidents.
The busiest railway routes, from Colombo to Veyangoda and the coastal line, have most number of level crossing accidents, Assistant Superintendent of Sri Lanka Railways (Railway Protection Force), G.W. Sumith said.
He said plainclothed officers are deployed to monitor level crossings and take action against wrongdoers under Section 28 of the Railways Ordinance (Penalty for Rash or Negligent Act).
"The fine for using level crossings when the signals are lit is a maximum of Rs. 3,000. Most of those who are being fined and warned are motorcyclists, bicycles riders and three-wheeler drivers, the majority being middle-aged men who are too impatient to wait two minutes," he said.
The country's total railway tracks cover 1449km with close to 1,500 level crossings.
There are 882 unprotected level crossings out of which 688 are manned by community police; the remaining 194 are not protected at all.
Of the protected crossings, 438 have automatic gates, bell-and-light gates and electrical gates while 139 have mechanical gates, with 18 hand-operated gates.
National Council for Road Safety Chairman Dr. Sisira Kodagoda said the gates cover only half the width of the crossing, creating a space for motorists to move through despite the gates being officially closed with the signal lights on.
"The only cost-effective method [of making these safer] is to introduce low-weight rail gates that cover the whole crossing and placing barriers around crossings. Our railway stations and crossings are open to public movement and that is the reason for the big number of deaths and injuries on rail tracks," Dr. Kodagoda said.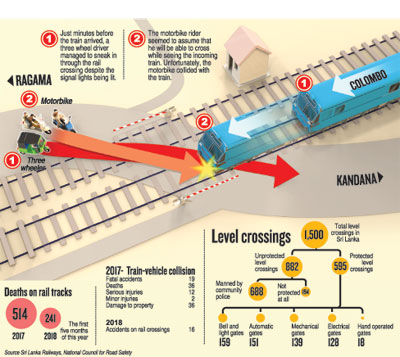 According to the council, last year 514 people have died on rail tracks. The first five months of this year have seen 241 deaths that have come from vehicle-train collisions, people hit by a train while walking on rail tracks, and suicides.
"It is disappointing that the fine of Rs.25,000 for motor traffic offences was not allowed to be implemented due to protests by bus owners," Dr. Kodagoda said. "Now the maximum fine for offences such as breaching level crossing rules is up to Rs. 3000. Many developed countries have controlled fatal accidents by introducing heavy fines."
Dr. Kodagoda said penalties were the only way to stop fatalities because "people here do not respond to awareness programmes".
The council is in the process of putting up 30 x 30-feet luminous boards stating "Railway line ahead" at roads leading to level crossings.
Dr. Kodagoda urged the Railways Department to embrace new inventions to ensure safety at level crossings, especially those developed locally, as there were many innovative ideas coming from universities and individuals.
Motorists believe a train driver can slow down when a vehicle on the crossing is sighted but even when the driver applies the brake the locomotive's speed does not decrease for another 250-400m. Most motorbike riders who meet with such accidents rarely survive; some die even after performing emergency brain surgery. "This is a loss to the state as the cost of a brain surgery is about Rs. 1.45 million," Dr. Kodagoda pointed out.
Ragama Teaching Hospital Consultant Dr. Sagari Ranasinghe described the toll of railway accidents, saying most admissions to the hospital's accident service were motorcyclists and three-wheeler drivers.
"We get accidents that have resulted in death on admission and some drivers with injuries so severe that they are left in a vegetative state," she said.
Duty Station Master Suranga Sanjeewa at one of the busiest suburban stops, Ragama Railway Station, sees an increase in negligent and impatient motorists who take risks at level crossings.
More than 300 trains travel through Ragama daily, and the station is used by about 4,000 passengers.
He said motorists were often undeterred by road bumps constructed in front of level crossings to slow down traffic despite the prospect of being fined by both police and railway authorities. "The mirrors installed at the crossings are not being used by motorists," he said.